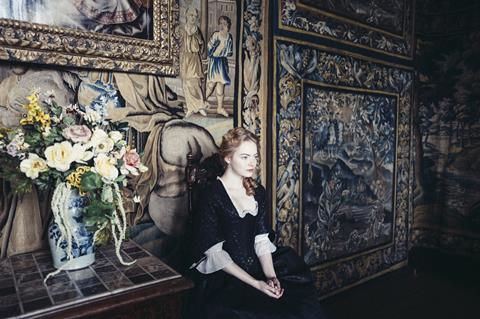 The Favourite, Vox Lux, and the first episode of Patty Jenkins's limited series I Am The Night are among the selection to play in Special Screenings, Cinema's Legacy and Midnight at AFI FEST 2018 presented by Audi.
The Special Screenings selections are: Cold War (Paweł Pawlikowski), Everybody Knows (Asghar Farhadi), Gotham Awards nominee The Favourite (Yorgos Lanthimos), ROMA (Alfonso Cuarón), the North American Premiere of Stan & Ollie (Jon S. Baird), Under The Silver Lake (David Robert Mitchell) and Vox Lux (Brady Corbet).
Documentaries inckude The Cold Blue (Erik Nelson) and Divide And Conquer: The Story Of Roger Ailes (Alexis Bloom). Also screening are an episode of the docuseries Enemies: The President, Justice & The FBI (Jed Rothstein), and the world premiere of the first episode of the limited series I Am The Night (Patty Jenkins).
This year's Cinema's Legacy programme showcasing film history highlights films directed by women, including two world-premiere restorations and new 16mm presentations.
Selections are The Cruz Brothers And Miss Malloy (Kathleen Collins, 1980), Drylongso (Cauleen Smith, 1998), The Juniper Tree (Nietzchka Keene, 1990), Meetings Of Anna (Chantal Akerman, 1978), Nitrate Kisses (Barbara Hammer, 1992), and Queen Of Diamonds (Nina Menkes, 1991).
The Midnight section features Cam (Daniel Goldhaber), In Fabric (Peter Strickland), Knife+Heart (Yann Gonzalez), and Piercing (Nicolas Pesce).
AFI FEST runs from November 8-15.