EXCLUSIVE: Well-received Cannes title goes to Germany, Australia, Scandinavia and more.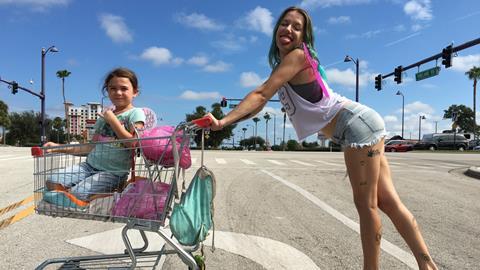 Sean Baker's The Florida Project, which premiered to rave reviews in this year's Cannes Directors' Fortnight sidebar, has racked up a series of deals for sales outfit Protagonist Pictures.
Adding to previous deals done for North America (A24), UK (Altitude) and France (Le Pacte), the film has now virtually sold out worldwide.
Territories to have now sold are: Prokino (Germany), Icon Film Distribution (Australia / New Zealand), Sun Distribution Group (Spain and Latin America), Cinema SRL (Italy), Scanbox (Scandinavia), September Films (Benelux), and FilmCoopi (Switzerland).
Rights have also gone to Klockworx (Japan), Mirror Stage Films (Taiwan), AUD (South Korea), DDDream (China), Golden Scene (Hong Kong), Filmarti Films (Turkey), Front Row (Middle East), Seven Films (Greece), MCF Megacom Film (Former Yugoslavia), M2 Films (Poland), and to Blue Lake (worldwide airlines).
The news comes as Protagonist has also scored a series of deals for fellow Directors' Fortnight premiere The Rider, including with Altitude for the UK.
"It has been an exciting Cannes for Protagonist," said Vanessa Saal, head of worldwide sales for Protagonist. "We're thrilled to have found great partners around the world for such deserving films, which we're confident will be landmarks of 2017."
The Florida Project stars Willem Dafoe alongside newcomers Brooklynn Prince and Bria Vinaite in the story about a precocious six-year-old and her rag-tag group of close friends whose summer break is filled with childhood wonder, possibility and a sense of adventure, while the adults around them struggle with hard times.
The film was directed by Sean Baker, who co-wrote the screenplay with Tangerine collaborator Chris Bergoch. The pair also produced alongside Kevin Chinoy, Andrew Duncan, Alex Saks, Francesca Silvestri and Shih Ching Tsou.
Screen's review called it "a remarkable study of poverty, family and personal responsibility".
In addition to the Directors' Fortnight selections, Protagonist Pictures' Cannes line-up also included Un Certain Regard Jury Prize winner April's Daughter from writer, director, producer Michel Franco.