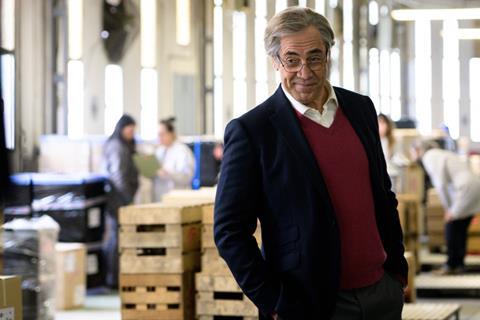 The Good Boss, produced by The Mediapro Studio and Reposado PC. took home four prizes at the Platino Awards, the ninth edition of the Ibero-American ceremony that took place in Madrid, on Sunday (May 1).
This satire about the petty boss of an industrial scales factory won best film, best director and screenplay for Fernando León de Aranoa, and best actor for Javier Bardem following its success t the Goyas in February when it won six prizes.
Blanca Portillo won the best actress award for her work in Maixabel, the Basque terrorism drama directed by Icíar Bollaín, while Pedro Almodóvar's Parallel Mothers earned best supporting actress recognition for Aitana Sánchez Gijón, best original score for Alberto Iglesias and best art direction for Antxón Gómez.
The Platino Audience award also went to Parallel Mothers.
Spanish actress Carmen Maura, whose work has often run parallel with Almodóvar's and who has starred in many of his films from What Have I Done To Deserve This to Volver, was awarded the Honorary Platino.
Winners of this ninth edition of the itinerant Ibero-American Platino Awards (Premios Platino) also included the Argentinian series El Reino by Marcelo Piñeyro and Claudia Piñeiro with three prizes: best TV creators, best series and best TV series actor for Joaquín Furriel.
The Platinos – organised by EGEDA, the Spain-based Management Association of Audiovisual Producers' Rights with FIPCA, the Ibero-American Federation of Film and Audiovisual Producers – were created in 2014 to spotlight cinema and TV productions from Spain, Portugal and Latin America.
Full list of 2022 Platinos winners
Best Ibero-American fiction film: The Good Boss
Best director: Fernando León de Aranoa, The Good Boss
Best actor: Javier Bardem, The Good Boss
Best actress: Blanca Portillo, Maixabel
Best supporting actress: Aitana Sánchez-Gijón, Parallel Mothers
Best supporting actor: Alfredo Castro, Karnawal
Best screenplay: Fernando León de Aranoa, The Good Boss
Best cinematography: Mediterráneo, Kiko de la Rica
Best original music: Alberto Iglesias, Parallel Mothers
Best sound: Akritchalerm Kalayanamitr, Memoria
Best editing: Germano de Oliveira, 7 Prisoners
Best art direction: Antxón Gómez, Parallel Mothers
Best animation film: Ainbo, La Guerrera Del Amazonas, José Zelada, Richard Claus
Best documentary: A Ultima Floresta, Luiz Bolognesi
Best first film: Karnawal, Juan Pablo Félix
Best miniseries or series creator: Claudia Piñeiro, Marcelo Piñeiro, El Reino
Honorary Platino: Carmen Maura.