Train To Busan and The Wailing also secured multiple nominations.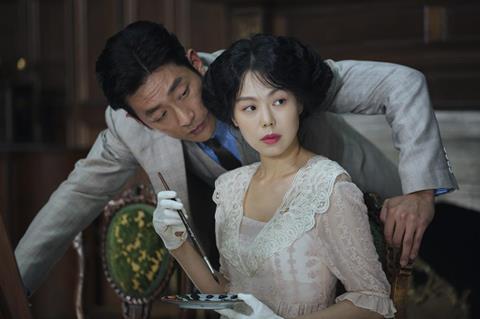 Chinese director Feng Xiaogang's I Am Not Madame Bovary, Korean director Na Hong-jin's The Wailing and Koji Fukada's Harmonium from Japan are the frontrunners at the upcoming Asian Film Awards, vying for both best film and best director.
Joining the fray for best film are Chung Mong-hong's Godspeed, which also nabs a best actor nod for Michael Hui, and Kim Jee-woon's The Age Of Shadows. Soul Mate's Derek Tsang and The Woman Who Left's Lav Diaz are also in the race for best director.
This year, 34 films from 12 countries (out of almost 1,600 submissions from 28 countries) are in contention for 15 awards. Korean cinema dominates, with festival favourite The Handmaiden [pictured] receiving the most nominations with six nods, followed by breakout hit Train To Busan with five and The Wailing with four.
I Am Not Madame Bovary receives five nominations, including best actress for Fan Bingbing. She is competing with Charo Santos-Concio (The Women Who Left), Son Ye-jin (The Last Princess), Haru Kuroki (A Bride For Rip Van Winkle) and Kara Wai (Happiness).
In addition to Michael Hui (Godspeed), the best actor category is a contest between Tadanobu Asano (Harmonium), Gong Yoo (Train To Busan), Richie Ren (Trivisa) and Fan Wei (Mr No Problem).
Other multiple nominated films include Rage and See You Tomorrow, with four nods each; Trivisa, The Age Of Shadows, Godspeed, Harmonium and The Women Who Left, with three nods each.
Jury president Chinese auteur Jia Zhangke will lead a jury comprising celebrity juror Karena Lam and other industry professionals.
Taiwan actor Cheng Jen-shou is appointed as student ambassador with the objective to further strengthen AFA's activities among young people. Cheng won best supporting actor at 2015 Taipei Film Festival for Chang Tso-chi's Thanatos, Drunk.
To celebrate the 20th anniversary of the handover of Hong Kong, the 11th edition of the Asian Film Awards will return to Hong Kong from Macau for the first time since 2013. The pan-Asian awards is organized by the Asian Film Awards Academy and financially supported by Create Hong Kong and Hong Kong Film Development Fund. The awards ceremony will be held on March 21 at the Hong Kong Cultural Centre.