Disney's Zootropolis leads Fri-Sun weekend with $3.35m (£2.36m) after only a 14% drop in its third weekend.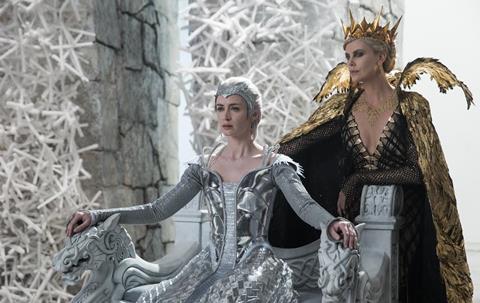 UK TOP FIVE
| Ranking | Film/Distributor | Weekend gross | Running total |
| --- | --- | --- | --- |
| 1 | The Huntsman: Winter's War (Universal) | $4.3m (£3.03m) | $4.3m (£3.03m) |
| 2 | Zootropolis (Disney) | $3.35m (£2.36m) | $26.4m (£18.6m) |
| 3 | Batman v Superman (WB) | $3.23m (£2.27m) | $47.3m (£33.3m) |
| 4 | Eddie The Eagle (Lionsgate) | $1.8m (£1.26m) | $8.1m (£5.7m) |
| 5 | Kung Fu Panda 3 (Fox) | $886,000 (£624,707) | $18.2m (£12.83m) |
UNIVERSAL
The Huntsman: Winter's War froze out Batman v Superman to top the UK box office with a seven-day bow after opening last Monday [April 4].
Universal's fantasy prequel/sequel posted an overall opening of $4.3m (£3.03m) from its 525 sites, including $2.1m (£1.45m) from Mon-Thurs. Without its previews, its Fri-Sun tally of $2.2m (£1.58m) would have seen it chart third.
It's a disappointing opening, especially as it fell short of Snow White And The Huntsman's $5.1m (£3.59m) debut from 473 sites, including $1.4m (£975,666) in previews.
That film went on to take $22.4m (£15.8m) in the UK, a total that looks too far away for Winter's War to match after its relatively soft opening and the big-hitting arrival of The Jungle Book this weekend.
Also for Universal, My Big Fat Greek Wedding 2 added $496,000 (£349,358) for $4.7m (£3.31m) after three weeks in play.
DISNEY
Zootropolis enjoyed an excellent third weekend as it led the Fri-Sun weekend at the UK box office.
Disney's animation dropped only 14% on its way to $3.35m (£2.36m) for $26.4m (£18.6m), with the past seven days seeing it add $8.5m (£6m) as it took full advantage of the school holidays, outplaying Winter's War on every day.
With the children back at school, the midweek figures will drop for Zootropolis but it should still prosper at the weekends, as long as it can wrestle some audience away from upcoming stablemate The Jungle Book.
In terms of Walt Disney Animation Studios outings, Zootropolis has overtaken Bolt's $25.5m (£17.94m) and its next targets will be Tangled's $29.1m (£20.47m) and Big Hero 6's $29.5m (£20.7m).
WARNER BROS
Batman v Superman: Dawn Of Justice dropped around 50% in its third weekend as it fell to third.
Warner Bros' superhero battle fought to a further $3.23m (£2.27m) for $47.3m (£33.3m) after 17 days in play and, as expected, has now overtaken Man Of Steel's $42.6m (£30m) result to make it director Zack Snyder's best-ever UK result.
In terms of superhero films at the UK box office, Batman v Superman is now the eighth biggest of all time, and it will shortly overtake Spider-Man 3's $47.7m (£33.55m).
Also for Warner Bros, The Man Who Knew Infinity posted a low-key $209,000 (£147,000) UK debut from its 147 sites.
LIONSGATE
Eddie The Eagle fell only 19% (excluding previews) as it enjoyed a $1.8m (£1.26m) second weekend to chart fourth.
Lionsgate's biopic is now up to $8.1m (£5.7m) and, as expected, has become director Dexter Fletcher's best-ever UK performer, topping Sunshine On Leith's $6.5m (£4.6m) result.
Eddie The Eagle will hope to hold as well in the coming weeks to give it a shot of reaching £10m.
Also for Lionsgate, London Has Fallen shot to an extra $293,000 (£206,586), a respectable 33% drop, for a strong $15.1m (£10.61m) after six weeks in play.
In its Irish release, Sing Street took $88,000 (£61,951) for $959,000 (£675,781) to date.
FOX
Kung Fu Panda 3 rounded off this week's top five after a slim 14% drop in its fifth weekend.
Fox's animated threequel chopped to a further non-final $886,000 (£624,707) for $18.2m (£12.83m) to date. Barring a late surge, it will end its run as the lowest-grossing outing of the trilogy.
Also for Fox, Deadpool stands at a terrific $53.6m (£37.76m) following a $106,000 (£74,458) ninth weekend.
Alvin And The Chipmunks: The Road Chip and Snoopy And Charlie Brown: The Peanuts Movie have amassed $23.1m (£16.31m) and $14.7m (£10.38m), respectively.
EONE
Midnight Special has achieved director Jeff Nichols' best-ever UK bow.
eOne's sci-fi started its run with $707,000 (£497,023) from its 401 sites, topping Mud's $340,000 (£238,825) although that was taken from just 71 sites.
It will hope to benefit midweek given its older-skewing audience to push on from its solid, if unspectacular, debut.
Also for eOne, The Divergent Series: Allegiant stands at $6.4m (£4.5m).
PARAMOUNT
Crossing the £5m mark in its fourth weekend, Paramount's 10 Cloverfield Lane unearthed an extra $355,000 (£250,000) for $7.2m (£5.03m) to date.
ENTERTAINMENT
Rounding off this week's top ten, Entertainment's Hardcore Henry was off target with a disappointing $288,000 (£201,702) from its 315 sites, and could struggle this coming weekend.
Also for Entertainment, The Boy has now scared up a healthy $3.4m (£2.4m) after four weeks in play.
PICTUREHOUSE ENTERTAINMENT
Bolshoi Ballet - Don Quixote and The Absent One posted debuts of $227,000 (£158,590) and $9,400 (£6,542), respectively through Picturehouse Entertainment.
STUDIOCANAL
Palme d'Or winner Dheepan opened with $198,000 (£139,546) from its 48 sites, including $45,000 (£31,555) in previews, through Studiocanal.
That marks a healthy site average of $4,125 (£2,907), and director Jacques Audiard's third-best UK bow. It's worth noting that both A Prophet and Rust And Bone received wider releases at 75 and 84 sites, respectively.
Also for Studiocanal, High-Rise stands at $2.4m (£1.71m) following a $130,000 (£91,508) fourth weekend.
CURZON ARTIFICIAL EYE
Aided by a slight expansion to 44 sites, Curzon Artificial Eye's Victoria held well with a $110,000 (£77,143) second weekend for $378,000 (£266,018).
UPCOMING RELEASES
This week sees saturation releases for Disney's The Jungle Book and Lionsgate's Criminal, while eOne's Eye In The Sky receives a wide release.
Curzon Artificial Eye's Our Little Sister, Altitude's Despite The Falling Snow, Metrodome's The Brand New Testament and Vertigo Releasing's The Sweeney: Paris are among the films receiving a limited release.