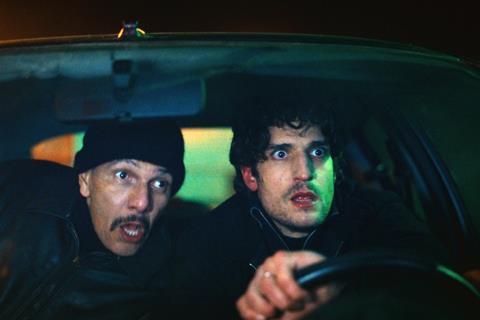 Louis Garrel's crime-infused romantic comedy The Innocent and Dominik Moll's investigative drama The Night Of The 12th are the frontrunners for France's 48th annual Cesar Awards with 11 and 10 nominations respectively.
Scroll down for full list of nominations
Cédric Klapisch's dance drama Rise and Albert Serra's political thriller Pacifiction follow with nine nominations each.
The titles are all selected in the best film category alongside Valeria Bruni-Tedeschi's Forever Young.
Despite a strong showing from French female directors at both the box office and festivals, the best director category is all-male this year. Klapisch, Garrel, Jimenez, Moll and Serra will all vie for the honour.
Following in the footsteps of this year's Oscars, and in a rare twist for the traditionally arthouse-heavy awards, commercial fare and French auteur titles share the spotlight.
Several of the films nominated have won over both Academy members and audiences including Garrel's The Innocent which first premiered at the 2022 Cannes Film Festival. The film also earned nominations for its supporting actresses Anouk Grinberg and Noemie Merlant and supporting actor Roschy Zem. The film also earned Garrel a best actor nomination, a best original screenplay nomination along with co-writers Tanguy Viel and Naila Guiget, best costumes, best original score, best sound editing and best editing. Released in October 2022, the film is still playing in local theatres and has sold over 705,000 tickets – a strong showing for an arthouse title. The film was released via Ad Vitam and Wild Bunch International is handling international sales.
Klapisch's Rise (En Corps), which sold 1.3 million tickets during its theatrical run, will vie for 10 awards. Studiocanal released the story of a classical dancer who "rises" again after a tough injury and career setback and is handling international sales. The film scored nominations for its supporting actors Francois Civil and Pio Marmai, for best original screenplay for co-writers Klapisch and renowned writer Santiago Amigorena, for most promising actress for its breakout star and real-life dancer Marion Barbeau, best sound editing, best cinemtography and best editing.
Cedric Jimenez' thriller November, another Studiocanal title, was also a commercial success in France, selling 2.4 million tickets during its 2022 theatrical run and was the second most popular French film of the year at the box office. In addition to best film, November earned nominations for best actor Jean Dujardin, supporting actresses Lyna Khoudri and Anais Demoustier, best sound editing, best editing, and best visual effects.
The Night Of The 12th continues its awards season sweep after winning the Best Film Lumiere award. The investigative drama starring Bastien Bouillon and Bouli Lanners that explores issues of gender, violence and policing politics in France also snagged several Cesar nominations in addition to best film including best adapted screenplay, best musical score, best sound editing, best cinematography, best editing and best set décor.
Set in Grenoble, the film follows a police unit as it tries to get to the bottom of a haunting murder case. Memento International has sold the film to a slew of territories including Film Movement in the US and Picturehouse Entertainment for the UK and Ireland. Released in July in France via Haut et Court, The Night Of The 12th sold a solid 500,000 tickets in the territory during its local run.
Though the subject of recent industrywide scandal, Valeria Bruni-Tedeschi's Forever Young still managed to earn a best film of the year nod in addition to nominations for its breakout star Nadia Tereszkiewicz in the most promising actress category.
The Academy removed Forever Young actor Sofiane Bennacer from the shortlist for the "Revelations" prize for most promising actor after he was accused of rape and sexual assault before banning anyone accused of such crimes from attending the ceremony.
While it was a major box office success with more than 2.4 million tickets sold and among the top three titles at the French box office last year, Olivier Dahan's Simone, A Woman of the Century (Warner Bros) earned nominations only for best costumes. The film's star Elsa Zylberstein was snubbed for her turn as iconic French feminist Simone Veil, though co-star Rebecca Marder earned a most promising actress nomination for her role in Sandrine Kiberlain's A Radiant Girl.
France's Oscar pick and Venice-winner Alice Diop's Saint Omer failed to pick up a best film nomination, but earned Diop a best original screenplay nod alongside co-writers Amrita David and Marie Ndiaye, a best cinematography nomination for Claire Mathon and a best first film nod alongside Leopold Legrand's The Sixth Child, Lise Akoka and Romane Gueret's The Worst Ones, Charlotte Le Bon's Falcon Lake and Vincent Le Port's Bruno Reidal, Confession of a Murderer. Saint Omer's Guslagie Malanda earned a most promising actress nomination. She will vie against Barbeau, Marder, Tereszkiewicz, Mallory Manecque of The Worst Ones.
In the best actor category, Pacifiction star Benoit Magimel will vie against Garrel, Dujardin, Peter Von Kant star Denis Menochet and Vincent Macaigne, star of Emmanuel Mouret's Diary of a Fleeting Affair.
The mostly male-dominated best film and director categories will be sure to spark discussion, especially following last year's awards sweep for Xavier Gianolli's Lost Illusions that scooped up seven prizes including for best film of the year after earning 15 nominations across all categories. Despite a strong, award-winning run at global film festival from Julia Ducournau's Palme d'Or winner Titane and Audrey Diwan's Venice Golden Lion winner Happening, both films were nominated in just four categories. Titane walked away from the awards empty-handed and Happening earned only a most promising actress prize for Anamaria Vartolomei.
While Bruni-Tedeschi did make it into the best film category for Forever Young and Diop did earn key nominations for Saint Omer, notably absent from the major categories are audience and critical favorites such as Rebecca Zlotowski's Other People's Children, Alice Winocour's Paris Memories and Mia Hansen-Love's One Fine Morning.
Academy president Véronique Cayla officially opened the envelope on Wednesday morning containing the 113 nominations in the 24 categories for the 2023 Awards, the country's most prestigious film prize often described as the French Oscars.
The Césars are voted on by 4,705 members of the César academy, 44% of whom are women. The participation rate for the first round of voting was 67.8%, on par with last year's figures.
Eligible films, chosen from 260 titles this year, must be French productions released theatrically in the country in 2022.
The second round of voting will begin on February 1 to close on the afternoon of February 24, just before the Friday night ceremony at famed Parisian landmark concert venue l'Olympia, broadcast live by local pay TV powerhouse Canal+ and presided over by actor Tahar Rahim.
US filmmaker David Fincher will receive a career achievement César and, for the first time in Cesar history, the ceremony will have nine hosts including local stars Leïla Bekhti, Jérôme Commandeur, Jamel Debbouze, Emmanuelle Devos, Léa Drucker, Eye Haïdara, Alex Lutz, Raphaël Personnaz and Ahmed Sylla.
Best film
The Innocent, dir. Louis Garrel
The Night Of The 12th, dir. Dominik Moll
Pacifiction, dir. Albert Serra
Forever Young, dir. Valeria Bruni-Tedeschi
Rise, dir. Cedric Klapisch
Best director
Louis Garrel, The Innocent
Dominik Moll, The Night Of The 12th
Albert Serra, Pacifiction
Cedric Jimenez, November
Cedric Klapisch, Rise
Best actress
Fanny Ardant, The Young Lovers
Juliette Binoche, Between Two Worlds
Laure calami, Full Time
Virginie Efira, Paris Memories
Adele Exarchopoulos, Zero Fucks Given
Best actor
Jean Dujardin, November
Louis Garrel, The Innocent
Vincent Macaigne, Diary Of A Fleeting Affair
Benoit Magimel, Pacification
Denis Menochet, Peter von Kant
Best supporting actress
Judith Chemla, Le Sixieme Enfant
Anais Demoustier, November
Anouk Grinberg, The Innocent
Lyna Khoudri, November
Noemie Merland, The Innocent
Best supporting actor
Francois Civil, Rise
Bouli Lanners, The Night Of The 12th
Micha Lescot, Young Forever
Pio Marmai, Rise
Roschdy Zem, The Innocent
Best female newcomer
Marion Barbeau, Rise
Guslagie Malanda, Saint Omer
Rebecca Marder, A Radiant Girl
Nadia Tereszkiewicz, Forever Young
Mallory Wanecque, The Worst Ones
Best male newcomer
Bastien Bouillon, The Night Of The 12th
Stefan Crepon, Peter Von Kant
Dimitri Dore, Bruno Reidal, Confessions Of A Murderer
Paul Kircher, Winter Boy
Aliocha Reinert, Softie
Best original screenplay
Eric Gravel, Full Time
Valeria Bruni Tedeschi, Noemie Lvovsky, Agnes de Sacy, Forever Young Cedric Klapisch, Santiago Amigorena, Rise
Louis Garrel, Tanguy Viel, Naïla Guiguet, The Innocent
Alice Diop, Amrita David, Marie Ndiaye, Saint Omer
Best adapted screenplay
Michel Hazanavicius, Final Cut
Thierry de Peretti, Jeanne Aptekman, Undercover
Gilles Marchand, Dominik Moll, The Night Of The 12th
Best original score
Irene Dresel, Full Time
Alexandre Desplat, Final Cut
Gregoire Hetzel, The Innocent
Olivier Marguerit, The Night Of The 12th
Marc Verdaguer, Joe Robinson, Pacifiction
Anton Sanko, The Passengers Of The Night
Best sound
Cyril Moisson, Nicolas Moreau, Cyril Holtz, Rise
Laurent Benaim, Alexis Meynet, Olivier Guillaume, The Innocent
Cedric Deloche, Alexis Place, Gwennole Le borgne, Marc Doisne, November
François Maurel, Olivier Mortier, Luc Thomas, The Night Of The 12th
Jordi Ribas, Benjamin Laurent, Bruno Tarriere, Pacification
Best first film
Bruno Reidal, Confession Of A Murderer dir. Vincent Le Port
Falcon Lake dir. Charlotte Le Bon
The Worst Ones dir. Lise Akoka, Romane Gueret
Saint Omer dir. Alice Diop
The Sixth Child dir. Leopold Legrand
Best international film
As Bestas
Close
The Cairo Conspiracy
Eo
Triangle of Sadness