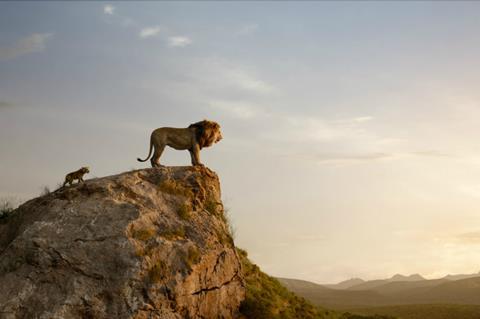 Today's GBP to USD conversion rate: 1.22
| Rank | Film (Distributor) | Three-day gross (Aug 2-4) | Total gross to date | Week |
| --- | --- | --- | --- | --- |
| 1 | The Lion King (Disney) | £5.2m | £50.7m | 3 |
| 2 | Fast & Furious: Hobbs & Shaw (Universal) | £4.9m | £6.4m | 1 |
| 3 | Toy Story 4 (Disney) | £1.4m | £55.4m | 7 |
| 4 | Spider-Man: Far From Home (Sony Pictures) | £853,000 | £32.9m | 5 |
| 5 | Angry Birds 2 (Sony Pictures) | £700,000 | £700,000 | 1 |
Disney
The Lion King was down 52% this weekend, adding £5.2m for a cume of £50.7m to date. The film remained top of the weekend chart, though Universal's Hobbs & Shaw took more including previews.
The Lion King has become the third release to cross £50m in the UK this year, all of which have been Disney titles (Avengers: Endgame and Toy Story 4). The title is also now director Jon Favreau's highest-grossing UK release, topping The Jungle Book (£46.2m).
Toy Story 4 was down 47% in the chart this weekend with £1.4m, placing it third. The film is now up to £55.4m in the UK.
Aladdin was down 48% with £95,000 taking it to £36.3m to date.
Universal
Fast & Furious: Hobbs & Shaw, the spin-off from the long-running Fast & Furious franchise, opened to a £4.9m weekend from 610 sites, an average per-cinema of £8,048. Including previews, the film's running total is £6.4m.
That result puts the debut in line with 2009 entry Fast & Furious, which also opened with £4.9m (£13.7m including hefty previews). More recent films in the series have started with significantly higher weekends: 2017's The Fate Of The Furious (£14m), 2015's Furious 7 (£12.7m), and 2013's Fast & Furious 6 (£8.7m). Those numbers suggest, in the UK at least, franchise fatigue may have set in for the high-octane action series.
Yesterday added a further £364,212 and is on £12m in the UK. The Secret Life Of Pets 2 is up to £18.9m after posting £33,691 this weekend, while The Dead Don't Die is on £555,962 after adding £18,206.
Sony Pictures
Spider-Man: Far From Home is up to £32.9m in the UK after posting a further £853,000 this weekend. It's now the second-highest grossing Spider-Man film and is fast closing on Spider-Man 3's £33.6m.
Angry Birds 2 opened to £700,000 from 565 locations this weekend, a site average of £1,239. That's significantly down on the previous film based on the popular mobile game, which opened with £2.1m in the UK and ended on £10.7m.
The Intruder added £12,000 for £101,000 after two weeks.
The Bravest took £5,000 from 14 screens over its opening three days.
Altitude
Horrible Histories: The Movie - Rotten Romans added £230,786 in its second weekend, a substantial 60% drop on its opening session. Including mid-weeks, the film is up to £1.5m from its UK run.
Entertainment Film Distributors
The Current War added £120,600 in its second weekend and is now up to £926,084. Midsommar took £58,972 and is on £2.5m.

Picturehouse Entertainment
Animals, Sophie Hyde's indie UK-Australia-Ireland co-production that premiered in Sundance this year, opened to a healthy-looking £76,158 weekend from 73 sites, a per-cinema average of £1,043. Including previews, the film is on £106,610.
If word of mouth replicates the strong reviews, the film could hold onto some screens and have a long tail. With the market currently so unfavourable for UK indie titles, the Animals result looks a positive one. Still to come is the film's release in Ireland, also via Picturehouse, which begins from this Friday (Aug 9).
Dogwoof
Leonard Cohen documentary Marianne & Leonard posted a superb hold this weekend, dropping only 16% on its way to £70,000. The film has now reached £318,000 from its UK run.
Apollo 11 took a further £24,000 and is up to £1.3m.
Lionsgate
The Queen's Corgi added £50,262 for £1.8m so far.
Curzon
Ritesh Batra's Mumbai-set romance Photograph began its UK run with £27,599 from 31 sites, an average of £890. Including previews, the film is on £32,685. Batra's previous films, The Sense Of An Ending and The Lunchbox, took £1.2m and £487,006 respectively.