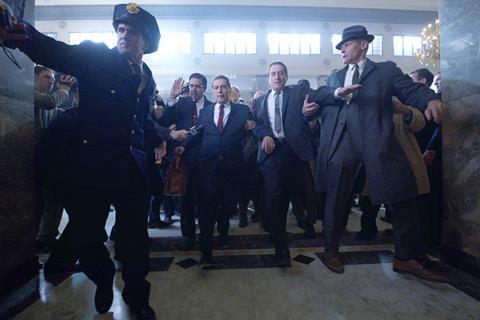 The international premiere of Martin Scorsese's The Irishman will close the BFI London Film Festival (LFF) on Sunday October 13.
There will also be simultaneous preview screenings of the Netflix mob drama taking place at cinemas across the UK.
The Irishman is world premiering at the New York Film Festival on September 27, and is expected on open on select theatres as well as on Netflix later this year, a similar release pattern to ROMA in 2018.
The film is based on Charles Brandt's non-fiction book I Heard You Paint Houses and stars Robert De Niro as Frank Sheeran aka The Irishman, who has links to the Bufalino crime family and may have been involved in the murder of Teamsters union boss Jimmy Hoffa, who disappeared in 1975. Al Pacino portrays Hoffa, with Joe Pesci playing Pennsylvania mob boss Russell Bufalino.
Scorsese and the cast are expected to attend the LFF premiere. The director commented: "This picture was many years in the making. It's a project that Robert De Niro and I started talking about a long time ago, and we wanted to make it the way it needed to be made. It's also a picture that all of us could only have made at this point in our lives."
As previously announced, the world premiere of Armando Iannucci's The Personal History Of David Copperfield will open this year's LFF on October 2.
The BFI London Film Festival takes place from October 2-13. The full line-up will be announced on August 29.