Ridley Scott's Sci-Fi added $27m; Tony Chan's Fall In Love Like A Star opened with $15.5m to take second place.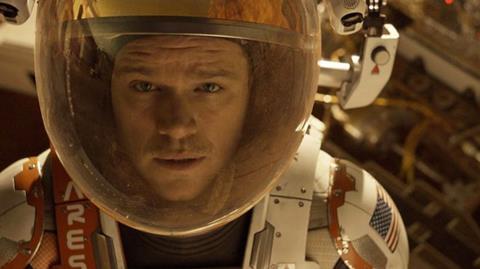 With four local and two Hollywood releases leaping into the weekly chart, Fox's The Martian held onto the top spot for the second week straight in China. Ridley Scott's space epic added $27.04m from $76.17m after 12 days.
Bride Wars director Tony Chan's latest film Fall In Love Like A Star fared the best among the newcomers. Starring Tiny Times actress Mini Yang and rising actor Li Yifeng, the romantic drama opened at second place, raking in $15.54m over its four-day opening weekend.
Point Break, which opened in China three weeks ahead of its US debut, took the third place and earned $12.01m from its three-day opening weekend. China's DMG Entertainment is a co-producer of the effects-laden action remake. With its world premiere held in Beijing, it became the first Hollywood title to have a global launch taken place in China.
Other new Chinese entries included Sun Zhou's sci-fi comedy Impossible with popular local comedians Wang Baoqiang and Shen Yang, which came in fifth with $8.52m from its first three days; followed by Zhang Ziyi-produced sci-fi romance comedy Oh My God which took $6.25m, also from its first three days.
The second new Hollywood title was Paramount's children's comedy The SpongeBob Movie: Sponge Out Of Water, which failed to make a splash and landed softly on seventh place with $5.21m after six days.
Andrew Chien's debut feature Go Lala Go 2 came in ninth with $4.15m over its three-day opening weekend. The romantic comedy features a main cast from Taiwan, including Ariel Lin, Vic Chou and Chen Bolin.
Taiwan megahit Our Times dropped to fourth place, with $11.06m for $51.98m after 18 days; Hong Kong-Chinese mystery thriller The Vanished Murderer went down to eighth, with $4.55m for $10.88m after 10 days; and Chinese-Korean action-comedy Bad Guys Always Die rounded up the weekly chart with $2.42m for $7.35m after 10 days.
Local martial arts drama The Master will open on December 10; followed by Ron Howard's Rush and local comic thriller North By Northeast on December 11.