Universal crosses $3bn worldwide as initial 'Dark Universe' film scores $174m global debut.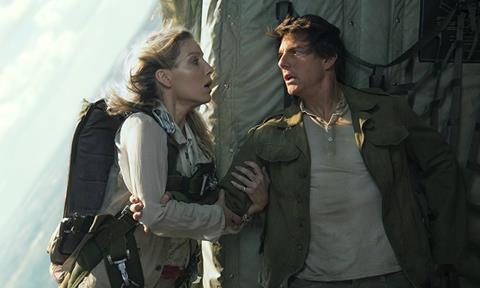 UNIVERSAL PICTURES INTERNATIONAL
The Mummy, directed by Alex Kurtzman and starring Tom Cruise and Sofia Boutella, debuted on $141.8m in 63 territories and set the record as Tom Cruise's biggest international opening weekend ever. When combined with North America's $32.2m, the worldwide total is $174m.
The Mummy is now Cruise's biggest worldwide opening weekend ever as it tops War Of The World's $167.4m.
Universal crossed $3bn globally on Sunday, which is the fifth time the studio has reached this milestone in its 105-year history. Additionally, Universal crossed $2bn internationally on Friday for the third time ever.
These studio records were driven by blockbusters such as The Fate Of The Furious, the sixth film ever to cross $1bn internationally, as well as results from Fifty Shades Of Grey, Split, Get Out and Illumination's Sing.
The Mummy, Universal's first instalment of its 'Dark Universe' series of monster films, is the number one film internationally and globally, opening in first place in 46 territories.
China debuted as the action tentpole's top market on $52.2m, which is Cruise's biggest debut.
South Korea produced $17.8m in its weekend debut. Tuesday's opening day of $6.6m is the biggest opening day ever for any film in South Korea.
Russia debuted at number one on $7.6m and 56% market share, while Mexico generated $5.1m for first place.
The UK had a second place debut on $4.4m, Australia generated $3.6m for second place, while Brazil debuted at number two on $3.6m.
Taiwan generated $4.9m, India $4.6m, Indonesia $4.5m, Spain $2.8m, Malaysia $2.6m and Hong Kong $2.3m.
Germany produced a $2.2m debut, while the Middle East delivered $2.1m, Singapore $1.9m, Thailand $1.8m and Italy $1.7m.
The Philippines has generated $1.7m, Argentina $1.4m, Colombia $1.1m and the Netherlands $820,000.
The film will open in five territories this week, including France.
Universal Pictures' The Mummy launched internationally on 675 International IMAX screens for a $9m debut, with $4.6m coming from 400 IMAX screens in China.
Jordan Peele's Get Out, from Blumhouse, crossed $250m in worldwide box office on Sunday. The film generated $1.2m in 33 territories for a total of $74.6m. When combined with North America's $175.4m, the worldwide total is $250m.
Spain was the top producing market over the weekend on $291,000 for $3.7m. South Korea held at number 7 on $205,000 for $15.4m. It is the highest grossing horror-thriller for a foreign film of all time replacing The Conjuring.
Mexico came in at number eight in week three after generating $120,000 for $1.9m. The UK stands at $12.7m, France $8.5m, Germany $4.8m and Australia $4.5m. There are no new openings.
The Fate Of The Furious grossed $800,000 in 42 territories to lift the international tally to $1.007bn. The action tentpole stands at $1.231bn worldwide and is the 11th highest grossing film of all time.
Japan is the top holdover at number four in week seven on $336,000, down 33% for $35.1m. It is the highest grossing of all the Fast And Furious films in Japan.
In China, F. Gary Gray's film has reached $387.6m (2.7bn RmB). It is the highest grossing foreign film of all time in China.
Top grossing territories are Brazil on $41.8m, The UK on $37.5m, Mexico $36.3m, Germany $32.4m, France $29.8m, Russia $29.2m, South Korea $27m, the Middle East $22.3m and Australia $21.4m.
Taiwan has generated $21.4m, Argentina $20.8m, India $19.8m, Indonesia $19.3m, Italy $15.8m, Spain $14.5m, Colombia $12.7m, Malaysia $12.2m and Panama and Central America $11.6m.
WARNER BROS PICTURES INTERNATIONAL
Wonder Woman stands at $230.2m after adding $58.1m from 57 markets.
The film directed by Patty Jenkins and starring Gal Gadot was number one in the UK, Brazil, France, Australia, and many others.
DC's latest superhero tentpole has already surpassed the international lifetime gross of Captain America: The First Avenger after 13 days of release.
Latin America dropped 43% from the film's opening weekend, with the regional total already exceeding that of Ant-Man and Iron Man. Asian markets, excluding China, has already outgrossed the lifetime totals of Suicide Squad, Man Of Steel, Guardians Of The Galaxy 1 and 2, Thor, Iron Man, Wolverine and Logan.
France debuted at number one on $4.9m from 655 screens and a 52% market share of the top five films. This is 83% ahead of Captain America: The First Avenger and 17% ahead of Ant-Man.
China produced $12.6m (86.6m RmB) for second place in week two. The running total is now $68.4m (469.6m RmB), which has already surpassed the lifetime grosses of Man Of Steel, Iron Man, Thor and Captain America.
The UK generated $4.4m for $16.1m and the number one spot, dropping just 31% from opening weekend, while Brazil generated $5.2m for $15.8m.
Mexico produced $3.7m for $15.5m, South Korea added $2m for $13.4m, while Australia generated $4.1m for $10.7m and first place.
The Philippines maintained the number one position, generating $2.3m for $8.2m, Taiwan added $1.6m for $7.4m, Indonesia $914,000 for $7.1m, and Russia $1.6m for $6.8m. Germany will debut this week.
Warner Bros and DC's Wonder Woman earned a further $1.4m 175 IMAX screens, elevating the IMAX global sum past $25m. Wonder Woman opens in IMAX in The Netherlands, Germany, and Austria this week.
King Arthur: Legend Of The Sword generated $1.5m this weekend from 62 territories for $96.5m internationally.
Russia is the top market on $12m, followed by China $8.1m, the UK $6.3m, Mexico $5.9m, Germany $5.6m and France $5.6m.
Brazil has generated $4.8m, Australia $4m, South Korea $3m, and Indonesia $3m. The film debuts in Japan this week.
WALT DISNEY STUDIOS MOTION PICTURES INTERNATIONAL
Pirates Of The Caribbean: Dead Men Tell No Tales added $34.8m in its third international weekend for $464.4m.
Joachim Rønning and Espen Sandberg's film crossed the $600m milestone having taken in $600.2m globally, including $135.8m from North America.
Disney's tentpole continues to perform well across Europe with Pirates holding on to the number one spot for the third consecutive weekend in Germany, Belgium, Finland, Lithuania, Netherlands, Denmark and Poland.
In China, the film generated $7.6m for $161.2m to remain the top market. The film is Russia's number one release of 2017 and the fourth biggest release of all time in the market as it reached $35.7m, also becoming the number one Disney live-action release of all time there.
Latin America dropped only 48%, led by strong holds in Chile, down 23%, a 25% drop in Uruguay, and a 34% drop in Argentina.
When compared with the same suite of markets at today's rates, Pirates Of The Caribbean: Dead Men Tell No Tales is currently running 15% ahead of Pirates 4 and 31% ahead of Pirates 3.
China is the top market, followed by Russia, Germany on $21.4m, South Korea $21.1m, the UK $20.5m, and France $19.7m.
Mexico has produced $14.7m, Brazil $13.3m, Italy $11.8m, Spain $10.6m and Australia $9m. Taiwan stands at $7m, Netherlands $6.4m and Argentina $6.3m. The film opens in Japan on July 1.
Marvel's Guardians Of The Galaxy Vol. 2 added $2.2m from 50 territories for $466.8m, making it the fifth highest grossing MCU release of all time internationally.
James Gunn's sequel stands at $833.2m to become the fifth highest grossing MCU release of all time globally.
Disney's tentpole displayed good holds several markets in its seventh weekend, like Australia, which saw a 35% decrease, while Spain dropped 46%.
In its fifth weekend of release, Guardians Vol. 2 dropped by just 39% in Japan to take its total there to $9.5m.
China is the top market on $99.3m, followed by the UK on $52.1m, and Germany on $29.1m. Russia has reached $27.8m, France $24.3m, Australia $24.1m, Brazil $20.9m and South Korea $20.7m.
Beauty And The Beast added $2.9m from 20 territories for $744.9m.
In Japan, the live-action film earned $2.6m in its eighth weekend, decreasing by just 4% from last weekend and taking the market tally to $98.1m.
Japan is the top market, followed by the UK on $90.3m, China on $85.8m, Brazil $41.5m, and South Korea $37.5m.
PARAMOUNT PICTURES INTERNATIONAL
Baywatch stands at $47.2m after two weeks, adding $10.7m from 34 markets, including two new openings in Poland and Trinidad.
The film starring Dwayne Johnson and Zac Efron grossed $2.4m in Germany for $9m, while Australia generated $1.6m for $5.1. The UK produced $1.5m for $9m, Russia collected $645,000 for $3.1m, while Austria brought in $580,000 for $1.9m.
The Netherlands generated $468,000 for $1.4m, Italy $433,000 for $1.5m, Switzerland $408,000 for $1.5m, and Malaysia $304,000 for $1.2m.
Seth Gordon's action comedy debuts in Brazil, Mexico and Spain this week.
FOX INTERNATIONAL
Captain Underpants: The First Epic Movie added $1.7m from 10 markets for $2.7m internationally.
Norway debuted on $405,000 for first place, while Spain debuted at number three on $867,000.
Alien: Covenant discovered a further $1.6m in 43 markets, bringing the international tally to $110.4m, with China set to release this week on June 16.
The Boss Baby brought in $1.3m lifting the international total to $315.7m.
Launching in the UK and Australia on $880,000 and $291,000, respectively, My Cousin Rachel earned $1.2m in its opening weekend.
Diary Of A Wimpy Kid: The Long Haul grossed $1.1m in 16 markets. The UK and Germany held strong, dipping only 38% and 42%, respectively, from the previous weekend. The film stand at $8.7m internationally. There are no new openings this week.
Logan brought in a further $835,000 for $4.6m in its second week of release in Japan. The international total for the film has reached $389.3m.