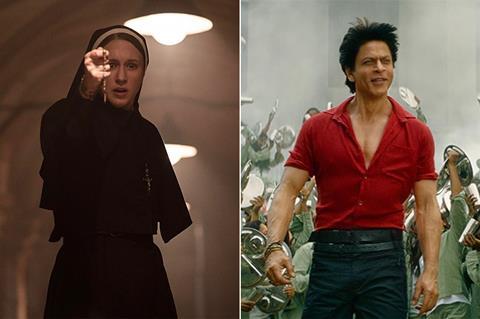 World box office September 8-10
| Rank | Film (distributor) | 3-day (world) | Cume (world) | 3-day (int'l) | Cume (int'l) | Territories |
| --- | --- | --- | --- | --- | --- | --- |
| 1. | The Nun II (Warner Bros) | $85.3m | $85.3m | $52.7m | $52.7m | 70 |
| 2. | Jawan (various) | $62.7m | $64.1m | $56.5m | $56.5m | 78 |
| 3. | The Equalizer 3 (Sony) | $23.6m | $23.6m | $107.6m | $11.5m | 51 |
| 4. | Oppenheimer (Universal) | $22.4m | $890.9m | $890.9m | $19.4m | 84 |
| 5. | Dust To Dust (various) | $21.4m | $22m | $21.4m | $22m | 1 |
| 6. | My Big Fat Greek Wedding 3 (Universal) | $12.6m | $12.6m | $2.6m | $2.6m | 22 |
| 7. | Barbie (Warner Bros) | $11.4m | $1.4bn | $5.5m | $782.2m | 74 |
| 8. | No More Bets (various) | $8.5m | $516.8m | $8.5m | $515.8 | 6 |
| 9. | Gran Turismo: Based On A True Story (Sony) | $7.5m | $93.3m | $4.2m | $57.7m | 64 |
| 10. | Teenage Mutant Ninja Turtles: Mutant Mayhem (Paramount) | $6.7m | $161.3m | $4.1m | $50m | 58 |
Credit: Comscore. All figures are estimates.
'The Nun II' tops worldwide box office
Having topped the worldwide box office chart for much of July and August with Barbie, Warner Bros returns to the summit again with its latest from the Conjuring universe: The Nun II.
The ninth film in the horror series (which also includes the Annabelle movies), debuted with an estimated $32.6m in North America and $52.7m from 69 international markets, combining to deliver $85.3m. That's the second-biggest opening for a Conjuring-universe film, behind only The Nun, released September 2018.
The biggest international markets for the original The Nun were Mexico, Brazil, UK/Ireland and – not usually among the top territories for a US film – Indonesia.
For The Nun II, Mexico leads the international pack with a sensational estimated $8.9m, the biggest horror opening of the pandemic era. Next come Brazil and Indonesia, tied with an estimated $4.4m each.
Italy (estimated $3.3m) and Spain ($2.3m) both deliver numbers ahead of UK/Ireland ($2.1m) – the latter market impacted by some unseasonably warm September temperatures, and audiences seemingly preferring outdoor activities for which opportunities will soon decline.
In Italy, box office has rebounded after the country's traditionally quiet August. The Nun II (opening 22% above The Nun) is battling a buoyant Oppenheimer, now in its third week of play.
The Nun II is the top US title in 52 international markets, including Spain, UK/Ireland, Australia and all of Latin America and Asia (where released).
There are seven markets yet to release including key territories France (September 13), Germany (September 21), South Korea (September 27) and Japan (October 13).
The original The Nun proved the top-grossing film of the Conjuring universe, with $117.5m in North America, $248.1m in international markets, and $365.6m worldwide. The Nun II will have to more than quadruple its opening number to match that total.
Director Michael Chaves tackles his third film in the sprawling horror franchise, following The Curse Of La Llorona (2019) and The Conjuring: The Devil Made Me Do It (2021), with Taissa Farmiga returning as a young woman in religious orders tangling with the demon nun.
Also for Warner Bros, Barbie has pushed through the $1.4bn barrier, with latest estimated global box office of $11.4m taking the total to $1.403bn. The film ranks 15th in the all-time global ranking, behind Avengers: Age Of Ultron on $1.405bn.
'Jawan' sets Bollywood records with $64m global opening
The box office power of Shah Rukh Khan is once again confirmed by the opening numbers for Jawan, with an estimated $42m launch in India, $7.6m including previews in North America, and $14.5m from 76 international markets outside India.
The numbers add up to a $64.1m global debut – the biggest ever launch for a Hindi-language film.
Box office reporting in India can be a little hazy, but it seems that the India opening likewise sets a record, achieving in four days more than Khan starrer Pathaan did in five days.
Vigilante action thriller Jawan stars Khan as a man setting out to rectify wrongs in society, while also reckoning with his own past. The Red Chillies Entertainment production is directed by Atlee, aka Arun Kumar, who previously made four Tamil films, beginning with 2013's Raja Rani. Jawan is his debut film in Hindi. Yash Raj Films sells alongside Panorama Studios and distributes in markets including North America and UK/Ireland.
'The Equalizer 3' cracks $100m in 10 days
Sony's The Equalizer 3 drops from the global top spot to third place – but the studio will be happy to see the vigilante thriller cross the $100m barrier at the weekend, reaching $107.7m after two sessions in the market.
The Equalizer 3 added an estimated $23.6m globally, including $11.5m for 50 international markets.
Top international markets are currently UK/Ireland ($5.9m), France ($4.4m) and Germany ($4.2m), followed by Australia ($4.0m) and Spain ($3.2m).
Key markets yet to release include Brazil (October 5), Japan (October 6) and Mexico (October 12).
The first two films in The Equalizer series grossed $192.3m and $190.4m globally respectively in 2014 and 2018. The third film is more than 55% of the way to matching those lifetime numbers.
'Oppenheimer' closes in on $900m worldwide
Ranking fourth for the weekend globally, Universal's Oppenheimer added an estimated $22.5m, taking its worldwide total to $891m. The film will pass the $900m barrier this week.
The relatively recent release in both China (where it added another $9.6m at the weekend) and Italy (adding an estimated $2.7m) is helping swell international numbers on the film.
Globally, Oppenheimer ranks third in the Nolan canon, behind The Dark Knight Rises ($1.08bn) and The Dark Knight ($1.01bn). It will have to add another $110m globally to catch The Dark Knight.
'My Big Fat Greek Wedding 3' starts with poor $12.7m
Universal's My Big Fat Greek Wedding 3 lands in sixth place in the worldwide chart (behind China local release Dust To Dust), with a mediocre estimated $12.7m, comprising $10.0m in North America and $2.7m in 21 early international markets.
Top international market was Australia, with a five-day $1.3m. UK/Ireland ranks second, with an estimated $484,000.
For comparison, My Big Fat Greek Wedding 2 debuted in North America in 2016 with $17.9m, on its way to $59.7m for the domestic market. The film was weaker in international markets, totalling $30.9m, and the global total was $90.6m.
The original My Big Fat Greek Wedding delivered $241.4m in North America in 2002, and $368.7m worldwide.