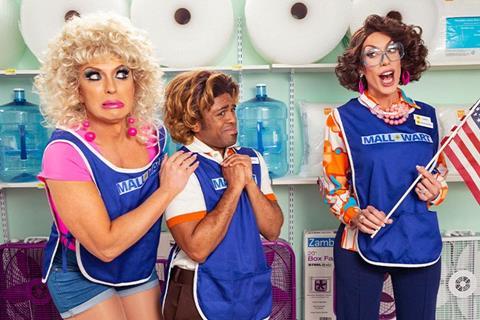 D'Arcy Drollinger's Shit & Champagne and Pixar Animation's short film Out are among the roster of 77 films at Frameline44, the world's largest virtual LGBTQ+ film festival, set to run from September 17-27.
Films from 25 countries including Argentina, Ivory Coast and Taiwan will take part in the 11-day event featuring 10 world premieres, four international premieres, three North American premieres, and one US premiere.
Ticket-holders in California will be able to watch nearly every film at any time during the festival, and will get access to live and pre-recorded intros and Q&As, as well as Frameline's first virtual gala and live auction on September 26.
Highlights include the world premieres of Drive-In Centerpiece Shit & Champagne, episodes two and three of HBO Max's Equal, and Lauren Fash's Frameline44 Centerpiece, Through the Glass Darkly.
Also screening are Ali LeRoi's Frameline44 Centerpiece The Obituary Of Tunde Johnson, Elegance Bratton's documentary Pier Kids, and Ashley O'Shay's documentary Unapologetic.
The festival will also present a free Community Screening of groundbreaking Pixar Animation Studios short film Out, followed by a live panel with writer/director Steven Clay Hunter, producer Max Sachar, and members of the filmmaking team.
"Frameline remains the largest virtual LGBTQ+ film festival in the world," said executive director James Woolley. "As trailblazers in the industry for over four decades, Frameline continues raising the bar through virtual and interactive programming ensuring important LGBTQ+ stories are being told to a wider audience. Building on the success of our virtual Pride Showcase in June, we have assembled a lineup of films that promise to engage, inspire, and entertain film lovers across California."
"Although we are not able to gather in person, the need to be inspired, and to share one another's stories of LGBTQ+ lives around the globe, is even more palpable," added director of exhibition and programming Paul Struthers. "Representing 25 countries from around the world, this year's line-up touches on a variety of themes, including the urgency of Black Lives Matter, all with one goal in mind – to celebrate the power of queer storytelling.
"This will be my last festival with Frameline. Thanks for a charming past three years and all my very best for another 44 years of showcasing the best LGBTQ+ cinema."
For further details on the line-up, click here.