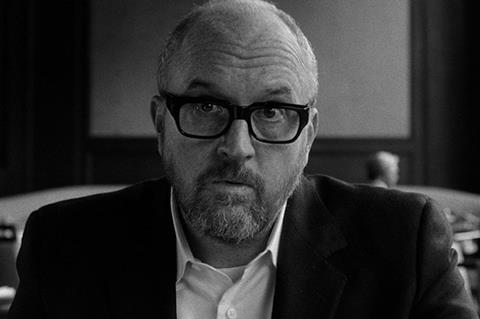 The Orchard has acquired worldwide rights to Louis C.K's secret film project, I Love You, Daddy, which premiered over the weekend in Toronto. The deal was negotiated by The Orchard and 3 Arts' Dave Becky and Mike Berkowitz from APA on behalf of Louis C.K..
The dark comedy, which C.K. shot earlier this year in black and white and on 35mm, is a brazen and comedic look at beloved artists who are trailed by scandal. I Love You, Daddy was written by Louis C.K. from a story by he and Vernon Chatman.
C.K., John Malkovich, Chloë Grace Moretz, Rose Byrne, Edie Falco, Charlie Day, Pamela Adlon, Helen Hunt, and Ebonee Noel star in the film produced by C.K., Chatman, John Skidmore, Dave Becky and Ryan Cunningham.
"Though we were already fans of the comic genius and incisive cultural commentary of Louis C.K., I Love You, Daddy surpassed even our wildest expectations," Danielle DiGiacomo, The Orchard's vice-president of acquisitions, said. "It's a multi-layered comedy that tackles provocative issues head on, combining a style that shows a clear passion for cinema with Louis' singular voice. We are thrilled to start this journey with Louis and bring his film to audiences worldwide."
Paul Davidson, The Orchard's executive vice-president of film & TV, added: "Louis C.K. is an innovative risk taker which has been evidenced by the way in which he distributed his past movies and TV shows. The Orchard shares his passion for taking chances and testing new disruptive models of engaging audiences in the distribution landscape – as partners we will break new ground together."
C.K. said: "I really enjoyed meeting the team at The Orchard and found their approach to releasing the movie to be thoughtful and creative. I'm excited that we are bringing the movie to theaters and beyond together."