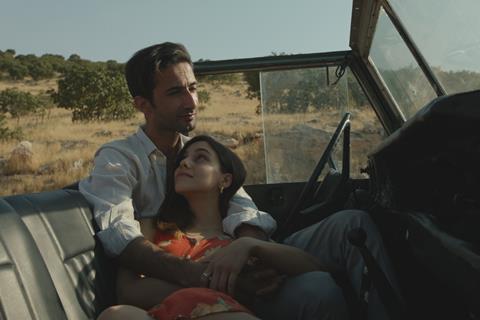 Paris-based The Party Film Sales has boarded world sales on Iraqi-Kurdish filmmaker Hiner Saleem's upcoming drama Goodnight, Soldier.
Set in contemporary Kurdistan, it revolves around a young couple who have overcome their families' hatred for one another but find themselves facing another challenge when the husband is rendered impotent after being shot at the front.
The Party Film Sales has released a first image for the film [pictured] which is currently in post-production.
Saleem, who lives between France and his native Iraqi Kurdistan, is producing the film under the banner of his company HS Productions with long-time collaborator Marc Bordure at Paris-based Agat Films.
"For Hiner, it's a comeback to Kurdistan, through a powerful and sensual melodrama," said Bordure, adding that the film is in the vein of Saleem's drama My Sweet Pepperland, which premiered in Cannes Un Certain Regard in 2013.
Saleem explained that the film captures Kurdistan at a time of "profound metamorphosis" as younger generations demand greater "freedom, democracy and equality".
"Girls dream of independence and boys hope to marry for love. I'm fascinated by the bravery of women breaking free, while some young men don't recognise themselves anymore in this traditionalist East and try to think for themselves," he said.
The Party Film Sales is the new company formed out of the merged sales operations of French distributor Jour2Fête and its recent acquisition Doc & Film International.
Jour2Fête, which has retained its original name for its distribution activities in France, has also taken French rights for Goodnight, Soldier. It previously released Saleem's 2007 film Dol.
"We have been fascinated by the first images, it examines an unusual love story and a very modern sensuality, which is very far from clichés," said Jour2Fête and The Party Film Sales CEOs Sarah Chazelle and Etienne Ollagnier.