Universal's Ride Along 2 is the week's highest new entry with $3m (£2.13m) from 418 sites to chart second.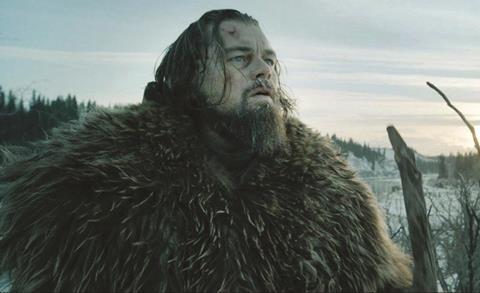 FOX
The Revenant continued to reign over the UK box office as it retained the top spot for the second straight week.
Fox's awards contender dropped just 28% on its way to a confirmed $5.5m (£3.87m) for $17.2m (£12.07m). As expected, it had already become director Alejandro González Iñárritu's best-ever UK performer during its first week.
The Revenant is currently tracking ahead of Leonardo DiCaprio's previous Oscar hopeful, The Wolf Of Wall Street, which stood at $15.5m (£10.88m) at the same stage in its run.
The Wolf Of Wall Street's final tally of $32.4m (£22.7m) seems as good a target as any for The Revenant.
Also for Fox, Snoopy And Charlie Brown: The Peanuts Movie fell just 22% with $532,000 (£374,092) fifth weekend for $13.3m (£9.33m) to date, while Joy has reached $6.8m (£4.8m) after four weeks in play.
Bridge Of Spies stands at $10.9m (£7.62m), still narrowly behind the $11.7m (£8.18m) result of Steven Spielberg's previous awards effort Lincoln.
UNIVERSAL
Despite soft reviews, Ride Along 2 is the week's highest new entry at the UK box office in second.
Universal's comedy sequel enjoyed an excellent $3m (£2.13m) debut from its 418 sites for a strong $7,281 (£5,105) site average. That's ahead of Ride Along's $2m (£1.42m) bow from 382 sites.
Ride Along went on to take $5.9m (£4.14m) in the UK, a target that should be easily surpassed by the sequel as long as it avoids a dramatic collapse.
Also for Universal, The Danish Girl took a further $550,000 (£385,853) for $9.2m (£6.43m) after four weeks in play.
DISNEY
Dropping one place to third, Star Wars: The Force Awakens fell just 37% for a $2.9m (£2m) sixth weekend.
Disney's record-breaking juggernaut is now up to a staggering $167.3m (£117.3m), and should hit the £120m milestone either by the end of this coming weekend or shortly after it.
Also for Disney, The Good Dinosaur is up to $19.7m (£13.8m) following a $315,000 (£221,000) ninth weekend, and will end its run as Pixar's lowest grosser in the UK.
PARAMOUNT
Following its surprise PGA win, The Big Short charted fourth on its UK debut.
Paramount's financial comedy-drama took $1.9m (£1.3m) from its 408 sites, including minimal previews, for a solid $4,544 (£3,186) site average. It's not one of director Adam McKay's biggest debuts, but it's arguably not as broadly accessible as the likes of Anchorman and The Other Guys.
In terms of this year's Best Picture nominees, The Big Short's debut ranks as the fifth biggest with Spotlight to open this Friday [Jan 29]. Currently, The Martian is the highest grossing nominee with $33.5m (£23.5m).
Also for Paramount, Daddy's Home fell a respectable 33% on its way to a $1.4m (£1m) fifth weekend for a terrific $22.1m (£15.53m) to date.
WARNER BROS
Creed is on the ropes at the UK box office after it fell almost 50% in its second weekend.
Warner Bros' continuation of the Rocky franchise added $1.7m (£1.21m) for a ten-day tally of $6.1m (£4.3m), and looks to be following the fast-burn nature of Rocky Balboa.
That film, however, stood at $9.4m (£6.63m) at the same stage in its run after a 54% drop in its second weekend.
Also for Warner Bros, Our Brand Is Crisis could only manage a $39,000 (£27,600) UK opening from its 127 sites for a paltry $309 (£217) site average, although it's worth noting that it probably wasn't playing full showtimes in each site.
STUDIOCANAL
Aided by a site expansion to 299, Room boosted 11% (excluding previews) with a $921,000 (£645,705) second weekend.
Studiocanal's adaptation is up to $2.5m (£1.78m) and will need similarly strong holds in order to remain in cinemas through the next few weeks of awards season.
Also for Studiocanal, The Assassin recorded a healthy $109,000 (£76,350) UK opening from its 23 sites.
ENTERTAINMENT
In its third weekend, Entertainment's The Hateful Eight added $809.000 (£567,527) for $9m (£6.34m) to date.
It will likely end its run as the sixth highest grossing Quentin Tarantino outing in the UK, behind Kill Bill Vol 2's $13.1m (£9.16m).
SONY
The 5th Wave struggled to make an impact as it landed ninth at the UK box office.
Sony's adaptation posted a $712,000 (£500,000) debut from its 340 sites for a $2,097 (£1,471) site average. With an increasingly busy market (including four saturation releases this week), it could find it hard to hold on this weekend.
Comparisons to fellow young adult outings in the UK, such as The Hunger Games or The Maze Runner, are tricky given that The 5th Wave was a higher certificate (15) than the rest.
EONE
From its one site through eOne, Gillian Flynn adaptation Dark Places grossed $891 (£625) on its UK bow, the majority ($634/£444) coming from previews.
UPCOMING RELEASES
This week sees saturation releases for Lionsgate's Dirty Grandpa (opens today), Paramount's 13 Hours: The Secret Soldiers Of Benghazi, eOne's Spotlight and Paramount's Capture The Flag.
StudioCanal's Youth and Warner Bros' The 33 both receive wide releases, while Arrow Films' Backtrack and Soda Pictures' Innocence Of Memories are among the films receiving a limited release.