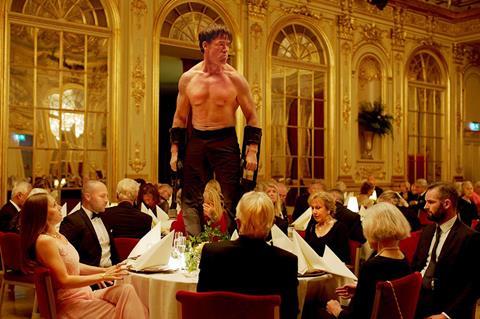 The nominations for the 2017 European Film Academy awards were revealed this afternoon at the Seville European Film Festival, with Ruben Östlund's The Square leading the way on five nominations.
Scroll down for list of nominations
The Cannes Palme d'Or winner is nominated for best film, best director, best screenplay, best actor and best comedy.
Ildikó Enyedi's Berlin Golden Bear winner On Body And Soul has earned four nominations; best film, best director, best actress and best screenplay.
Cannes premieres The Killing Of A Sacred Deer, by Yorgos Lanthimos and Loveless, by Andrey Zvyagintsev have three nominations. Aki Kaurismäki's The Other Side Of Hope, François Ozon's Frantz, Robin Campillo's BPM, Michael Haneke's Happy End and William Oldroyd's Lady Macbeth also make the list.
After the announcement at the Seville European Film Festival (November 3-11), more than 3.000 EFA members will now vote for the winners.
The awards will be handed out in Berlin on 9 December. The ceremony will travel to Seville in 2018.
As announced previously, French actress and director Julie Delpy will receive the honorary European Achievement in World Cinema award in recognition for her "rich and diverse career in front of and behind the camera". The Lifetime Achievement Award will be awarded to Russian filmmaker Aleksandr Sokurov for his "outstanding work in the field of directing, dramaturgy and cinematography".
The nominees are:
EUROPEAN FILM
BPM (Beats Per Minute), Robin Campillo (France)
Loveless, Andrey Zvyagintsev (Russia/Belgium/Germany/France)
On Body And Soul, Ildikó Enyedi (Hungary)
The Other Side Of Hope, Aki Kaurismäki (Finland/Germany)
The Square, Ruben Östlund (Sweden/Germany/France/Denmark)
EUROPEAN COMEDY
King Of The Belgians, Jessica Woodworth & Peter Brosens (Belgium/Netherlands, Bulgaria)
The Square, Ruben Östlund (Sweden/Germany/France/Denmark)
Vincent And The End Of The World, Christophe van Rompaey (Belgium/France)
Welcome To Germany, Simon Verhoeven (Germany)
EUROPEAN DIRECTOR
Ildikó Enyedi for On Body And Soul
Aki Kaurismäki for The Other Side Of Hope
Yorgos Lanthimos for The Killing Of A Sacred Deer
Ruben Östlund for The Square
Andrey Zvyagintsev for Loveless
EUROPEAN ACTRESS
Paula Beer for Frantz
Juliette Binoche for Bright Sunshine In
Alexandra Borbély for On Body And Soul
Isabelle Huppert for Happy End
Florence Pugh for Lady Macbeth
EUROPEAN ACTOR
Claes Bang for The Square
Colin Farrell for The Killing Of A Sacred Deer
Josef Hader for Stefan Zweig-Farewell To Europe
Nahuel Pérez Biscayart for BPM (Beats Per Minute)
Jean-Louis Trintignant for Happy End
EUROPEAN SCREENWRITER
Ildikó Enyedi for On Body And Soul
Yorgos Lanthimos & Efthimis Filippou for The Killing Of A Sacred Deer
Oleg Negin & Andrey Zvyagintsev for Loveless
Ruben Östlund for The Square
François Ozon for Frantz
EUROPEAN DOCUMENTARY
Austerlitz, Sergei Loznitsa (Germany)
Communion, Anna Zamecka (Poland)
La Chana, Lucija Stojevic (Spain/Iceland)
Strangers in Paradise, Guido Hendrikx (Netherlands)
The Good Postman, Tonislav Hristov (Finland/Bulgaria)
EUROPEAN DISCOVERY – Prix FIPRESCI
Bloody Milk, Hubert Charuel (France)
Godless, Ralitza Petrova (Bulgaria/Denmark/France)
Lady Macbeth, William Oldroyd (UK)
Summer 1993, Carla Simón (Spain)
The Eremites, Ronny Trocker (Germany/Austria)
EUROPEAN ANIMATION FEATURE FILM
Ethel & Ernest, Roger Mainwood (UK/Luxembourg)
Louise By The Shore, Jean-François Laguionie (France/Canada)
Loving Vincent, Dorota Kobiela & Hugh Welchman (Poland/UK)
Zombiellénium, Arthur de Pins & Alexis Ducord (France, Belgium)