Dir: Daniel Burman. Argentina, 2015, 80 mins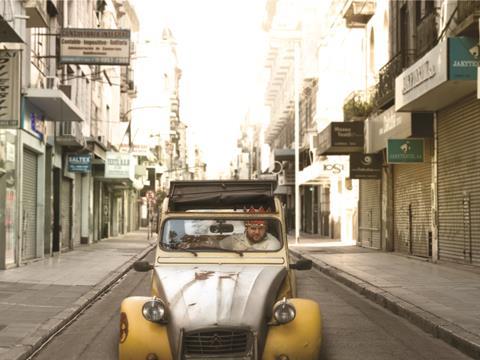 Argentina's Jewish community is the background for the story of a belated coming of age in The Tenth Man. Low-key in mood, Daniel Burman's film adeptly balances character-driven drama, picaresque street humour and quasi-documentary content, depicting a milieu that will feel intriguingly unfamiliar even to viewers who think that cinema has shown them every possible angle of Jewish life.
An eye for cultural detail that feels authentic without being folkloric should bring plentiful esteem for Burman
An eye for cultural detail that feels authentic without being folkloric should bring plentiful esteem for writer-director Burman, whose Lost Embrace won a Silver Bear in Berlin in 2004. Sales prospects should be moderate, but the film will score at festivals, especially with Jewish and/or Latin American specialisms.
The film follows Ariel (Alan Sabbagh) over the days of a week, announced in chapter headings, leading to the festival of Purim. A middle-aged economist living in New York, Ariel heads back to Buenos Aires to visit his father Usher, but he is nowhere to be seen. Instead, Ariel discovers the benevolent foundation that Usher runs in the Jewish district known as 'el Once'. The foundation hands out food, clothing and medicine to needy residents, among whom Usher enjoys an almost God-like status – and like God (or Godot), he's mysteriously invisible, not least to Ariel, who's never forgiven his father for being available to everyone except him.
Ariel's guide to this world is a woman named Eva (Julieta Zylberberg), to whom he takes a shine – the only problem being is that she's Orthodox, so won't address a word to him. Gradually, though, Ariel discovers aspects of Jewish life that are quite new to him, and in which he literally immerses himself – a key experience being his visit to a ritual bath.
Taking care of bits of business with which Usher has entrusted him, Ariel finds himself becoming a new, more confident man and even clicks with Eva – although the plausibility of her attraction to this decidedly ungainly man requires a pinch of screen-romance salt.
The film's implicitly conservative thrust – the idea that, eventually, you have to go home again – is nevertheless conveyed with wit and energy, not least through Sabbagh's characterful playing. Daniel Ortega's photography gives the film a bustling energy, notably in hand-held shots of the district's chaotic streets.
The enigmatic quality of the elusive Usher owes a lot to the fact that he is a real person, who genuinely runs the kind of foundation depicted here. He's just part of a populous crowd of locals who bring the kind of energetic realism to The Tenth Man that Central Casting simply can't buy you.
While 'El Once' means 'district eleven', the film's English title refers to the Jewish requirement of a quorum of ten for a religious service to take place.
Production companies: BD Cine, Pasto, Telefe, Alegoria
International sales: Filmsharks, guido_rud@filmsharks.com
Producers: Diego Dubcovsky, Daniel Burman, Barbara Francisco
Co-producers: Alejandro Gorodisch, Alfredo Odorisio, Axel Kuschevatzky
Screenplay: Daniel Burman
Cinematography: Daniel Ortega
Production designer: Margarita Tambornino
Editor: Andrés Tambornino
Main cast: Alan Sabbagh, Julieta Zylberberg, Usher, Elvira Onetto, Adrian Stoppelman