Na Hong Jin's fantasy horror took the best film prize and audience award.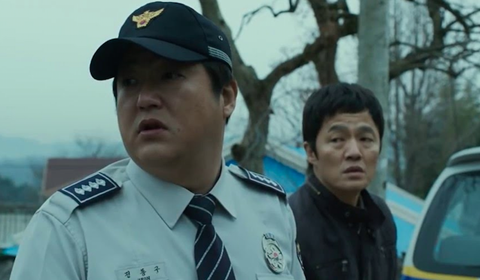 Asia's largest genre film fest, the Bucheon International Fantastic Film Festival (BIFAN), wrapped its 20th edition today with Na Hong Jin's The Wailing winning the top Best of Bucheon prize as well as the Audience Award.
In the midst of location scouting, Na recorded and sent a heartfelt and unintentionally humorous video that depicted him and his cameraperson dodging cars on the side of a road.
"The Wailing is a film that many people worked on for five, six years. I had so many doubts along the way, but kept to what I thought would be right, which is why I'm so happy to receive this great award from you. Thank you very much for telling me to keep going down the road I want to go. I will do so without wavering now," he said about the top prize.
The Korean horror thriller, which became a hit upon its May release locally, made its international premiere in Cannes. The director also had his debut feature The Chaser screen in the "20 Years, 20 Favorites" retrospective of features BIFAN audiences most wanted to see again from past editions.
The jury for the Bucheon Choice: Features international competition comprised veteran actress and professor Chang Mihee, Cannes Film Department head Christian Jeune, actor Jung Jin-young, producer Garrick Dion and filmmaker Khavn De La Cruz.
They described The Wailing as "a masterful, complex film that builds to a shattering climax and which favorably echoes such genre-transcending classics as The Exorcist and Seven. Like Friedkin and Fincher, director Na Hong Jin has crafted a hugely entertaining cinematic experience that resonates with enough subtleties and layers to inspire repeat viewings."
In the Korean Fantastic: Features competition, launched to commemorate BIFAN's 20th anniversary, Kim Sang-chan's Karaoke Crazies picked up Best Korean Fantastic Film, along with the Korean Fantastic Best Actress award for Bae So-eun.
Lee Sangho, whose Truth Shall Not Sink With Sewol sparked the still on-going controversy at the Busan film fest, picked up Special Mention with documentary Who Killed Kim Kwang-seok?
BIFAN on the rise
Setting a record for itself, BIFAN screened 320 films (85 more than last year) from 49 countries including 52 world premieres.
Festival director Choi Yongbae said the 20th edition "also had more audiences" this year. Final figures are yet to be announced.
The fest closed with Yeon Sang-ho's zombie animation Seoul Station, the prequel to his current box office hit Train To Busan, the live action zombie thriller that premiered in Cannes.
Yeon asked the audience not to try to find too many similarities but to simply think of Seoul Station as what happens one day before Train To Busan. Distributor NEW is set to release Seoul Station locally on Aug 18.
Originally planned to host 2,500 people on the Grass Square of City Hall with an outdoor screening of the closing film, the fest's awards ceremony was moved indoors to the 500-seat Eoul Madang inside the building due to rain forecasts.
Attendees included Yeon with actress Shim Eunkyung from his closing film; Anne Parillaud, the star of Nikita, which screened in the Gaumont retrospective; Xin Zhilei, star of competition film Crosscurrent from China; and filmmakers such as Park Chan-wook and Jaime Shim.
BIG awards
The newly expanded BIFAN Industry Gathering (BIG) wrapped yesterday, running July 22-28, with the Network of Fantastic Films (NAFF) top prize, the Bucheon Award of $13,300, going to Alejandro Suarez Lozano's US horror project Mogwai.
The project also won the Aurora Media Holdings Award, which comes with $5,000.
The NAFF Award with a cash prize of $8,900 went to Zeng Zeng's Chinese revenge thriller Dust To Dust.
China ties
On July 22, BIFAN fest director Choi signed an MoU with the China Film Distribution and Exhibition Association vice-chairman Geng XiLin, agreeing to promote film and cultural exchange, as well as China-Korea co-productions.
In addition, at the Case Study: Korea-China Co-production Forum on July 23, the Korean Film Producers Association director Lee Eun and Producers Guild of Korea president Ahn Youngjin, China Film Producers' Association chief secretary Wang Fengling and BIFAN's Choi signed a four-party agreement to create a platform for regular exchange and co-production between the two countries.
BIFAN kicked off July 21 with a balmy, star-studded outdoor opening ceremony at City Hall, which featured the presentation of Achievement Awards to people who contributed to the growth of the fest, including former programmer and festival director Hong-Joon Kim, whose politically-tinged firing after the eighth edition prompted an industry boycott.
With BIFAN Rush, the fest has two more days of screenings including a couple of surprise films.