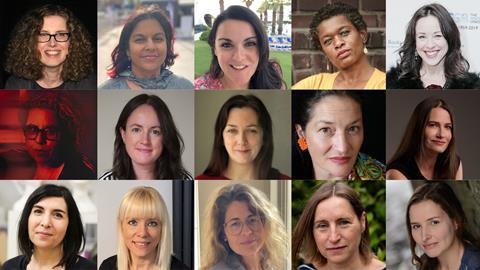 The Writers Lab UK and Europe has set the 15 participants taking part in the 2023 edition, which for the first time is offering a combined UK and Europe edition, with participants from all four UK nations, plus Ireland, Greece, Italy, Germany and Austria.
The development and marketplace programme devoted to script development for women and nonbinary screenwriters over 40 launched in 2015 with a US edition, expanding to the UK in 2021, and Europe in 2022. It provides an opportunity to discover and nurture new talent, matching selected writers with leading film and TV industry advisors as they develop their projects over a period of six months.
It is produced by Untamed Stories' Julia Berg and The Writers Lab co-founders Elizabeth Kaiden and Nitza Wilon. This edition includes additional partners Gaumont, Eleven, and Maia Pictures, with more to be announced soon.
Previously announced partners include Fís Éireann/Screen Ireland, Screen Scotland, Northern Ireland Screen, Ffilm Cymru Wales, The Austrian Film Institute, ORF, FISAplus – Film Industry Support Austria and Drehbuchforum Wien (Screenwriters Forum Vienna) in association with German Films and Reclaim The Frame.
Jessica Connell from Gaumont London, producer of Netflix series Obsession, said: "In a time of so much uncertainty in the industry it's more important than ever to be developing new writing talent," while founder of Maia Pictures and former commissioner at Channel 4 Rachel Springett, echoed the urgency "to support women in this industry with their careers and [support] undiscovered, exceptional talent".
"The underrepresentation of women writers over the age of 40 needs to change. We are proud to play our small part in encouraging more women to write for film and TV," noted CEO of Sex Education outfit Eleven, Jamie Campbell.
As previously announced, advisors and guests will include Succession writer Susan Soon He Stanton, Call My Agent! star Camille Cottin, The Split writer Abi Morgan, I May Destroy You story consultant Stephanie Yamson, Call Me By Your Name casting director and line producer Stella Savino, founder of the British Blacklist Akua Gyamfi, Better Things creator and star Pamela Adlon and 11 Flowers producer Didar Domehri.
The Writers Lab UK and Europe 2023
Black Friday, Kerstin Schütze (feature comedy/drama, Austria)
Carnage, Christine Entwisle (TV comedy, UK)
The Comeback Kid, Jo Spencely (TV drama, UK)
Dayfer, Christina Mitropoulou (TV thriller/sci-fi, Greece)
Doing Good, Katja Meier (TV drama, It)
Forough, Tina Gharavi (feature historical, UK)
From Out Of Nowhere, Morna Pearson (TV comedy, UK)
Home Truths, Maura Campbell (TV drama, UK)
House Winnings, Lemba De Miranda (TV drama, Ger)
A Means To An End, Niamh Heery (feature drama, Ire)
Mogi/Suffocate, Mared Swain (feature drama, UK)
The Oaperative, Aisling Corristine (TV comedy, Ire)
Prisoners Of Love, Jane Mcgee (TV comedy/drama, UK)
Ria's Room, Mariem Omari (TV drama, UK)
Without You, Sharmila Chauhan (feature drama, UK)