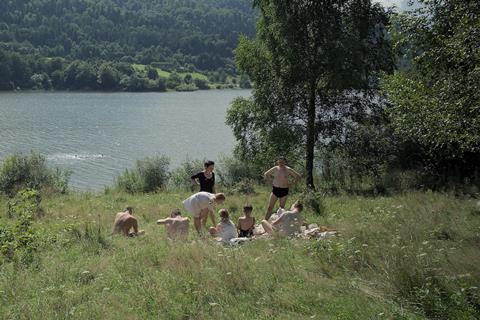 The European Film Academy has added a further 21 features to its shortlist for the 2023 European Film Awards, including Cannes premieres The Zone of Interest and Club Zero and Venice competition titles Green Border and Io Capitano.
The shortlist for the European Film Awards now comprises 40 features. The first 19 titles titles in the running for the 2023 European Film Awards were unveiled in August and included Anatomy Of A Fall, How To Have Sex, The Old Oak and Firebrand.
The European Film Academy said that more than 40% of all selected films are directed by women.
The official nominations of the European Film Awards will be revealed on 7 November.
The awards ceremony takes place on 9 December in Berlin.
EFA Feature Film Selection 2023 – Part 2
Animal (Gre-Austria-Bulg-Rom-Cyp)
Dir: Sofia Exarchou
Blaga's Lessons (Bulg-Ger)
Dir: Stephan Komandarev
Club Zero (Austria-UK-Ger-Fr-Den-Qatar)
Dir: Jessica Hausner
Do Not Expect Too Much From The End Of The World (Rom-Lux-Fr-Cro)
Dir: Radu Jude
Excursion (Bos-Cro-Ser-Fr-Nor-Qatar)
Dir: Una Gunjak
Explanation For Everything (Hun-Slovakia)
Dir: Gábor Reisz
Green Border (Pol-Fr-Cz-Belg)
Dir: Agnieszka Holland
Holly (Belg-Lux-Neth-Fr)
Dir: Fien Troch
Housekeeping For Beginners (N Mac-Cro-Ser-Pol-Kos)
Dir: Goran Stolevski
Io Capitano (It-Belg)
Dir: Matteo Garrone
Paradise Is Burning (Switz-It)
Dir: Mika Gustafson
Society Of The Snow (Sp)
Dir: J. A. Bayona
Stepne (Ukr-Ger-Pol-Slovakia)
Dir: Maryna Vroda
Sweet Dreams (Net-Swe-Reunion-Neth)
Dir: Ena Sendijarević
Tatami (Geo-US)
Dirs: Guy Nattiv, Zar Amir Ebrahimi
The Pot-Au-Feu (Fr)
Dir: Tran Anh Hung
The Promised Land (Den-Ger-Swe)
Dir: Nikolaj Arcel
The Universal Theory (Ger-Austria-Switz)
Dir: Timm Kröger
The Vanishing Soldier (Isr)
Dir: Dani Rosenberg
The Zone Of Interest (UK-Pol-US)
Dir: Jonathan Glazer
Woman Of… (Pol-Swe)
Dirs: Malgorzata Szumowska, Michal Englert