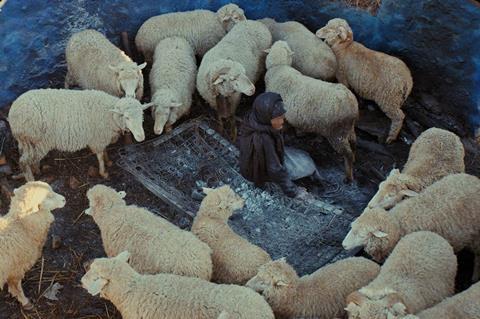 Lemohang Jeremiah Mosese's This Is Not A Burial, It's A Resurrection won the main New Visions Award, the Golden Puffin, at the Reykjavik International Film Festival which wrapped its 17th edition on Sunday, October 4.
Set in Lesotho, the film is about an 80-year-old widow who learns her village will be resettled.
The jury, comprised of filmmakers Shahrbanoo Sadat and Ísold Uggadóttir and New Europe Film Sales CEO Jan Naszewski, praised the film as "a voyage to a magical and isolated place where the 80-year-old protagonist is fighting for nature to stay as nature before it is smashed by modernity, considered as her last mission in life as she is on the edge."
The film also received the top prize at Athens Film Festival this weekend.
A special mention in Reyjavik went to the Argentine film Piedra Sola by Alejandro Telémaco Tarraf.
The A Different Tomorrow Award went to Songs of Repression by Estephan Wagner and Marianne Hougen-Moraga, with a special mention to The Earth is Blue as an Orange by Iryna Tsilyk.
Shorts prizes were Yes-People by Gísli Darri (best Icelandic short); Animalia by Rúnar Ingi (Icelandic shorts special mention); The Life of Bella by Andri Már Enoksson and Anna Knight (best Icelandic student short); Drifting by Hanxiong Bo (best international short) and Entre Tú Y Milagros by Mariana Saffon (international shorts special mention).
This marked the first edition of RIFF under new artistic director Frederic Boyer, who also works for Tribeca and Les Arcs.
This year's festival was a hybrid edition which included some physical screenings, but the RIFF Industry Days sessions being streamed globally for the first time.
One highlight of the industry days was the Icelandic works-in-progress, in partnership with the Icelandic Film Centre, where Icelandic filmmakers were on stage at the Nordic House in Reykjavik, moderated by Boyer.
The pitches were Tinna Hrafnsdóttir's drama Quake, about a single mother reconciling her a painful truth about her past; Árni Ólafur Ásgeirsson's Wolka, about a Polish ex-convict searching for a woman she once knew on Iceland's Westman Islands; Álfrún Örnólfsdóttir's music documentary Band: This is not a Band; Gudjón Ragnarsson's Raise the Bar, about a girls' basketball team with a controversial coach; TV series Sisterhood, about three women who have carried a burden from their teenage years; Baldvin Z's series The Journey starring Ólafur Darri Ólafsson and Víkingur Kristjánsson as versions of themselves on a road trip in the Westfjords; and the third series of global hit Trapped.
Panel discussions also looked at the rise of VOD platforms with episodic work and how filmmakers are safely shooting in Iceland during the COVID pandemic.