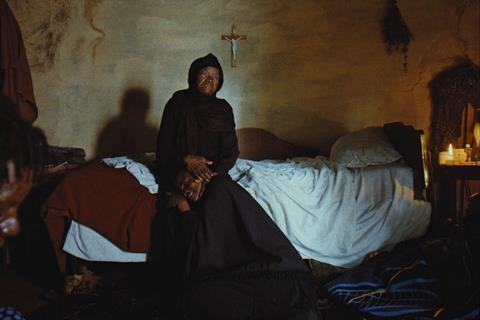 Lemohang Jeremiah Mosese's This Is Not A Burial, It's A Resurrection has won the Golden Athena for best film at the Athens International Film Festival in Greece.
Along with the top award, which includes a cash prize of €2,000, the film picked up the newly-created Europa Film Festivals Award at the ceremony on Sunday (October 4).
This Is Not A Burial… was shot entirely in the director's native Lesotho and centres on an 80-year-old widow who finds new purpose when her village is threatened with forced resettlement. It previously won a special jury award at Sundance in January.
Athens' best director award went to French filmmakers Fanny Liatard and Jérémy Trouilh for their debut feature Gagarine, which received the Cannes 2020 label earlier this year.
The film centres on a teenager with dreams of becoming an astronaut who embarks on a mission with his friends to save the tower block he calls home. Sold by Totem Films, it will be released in Greece by Weirdwave.
French writer Jean-Louis Milesi won the screenplay award for Josep, the animated feature debut of comic artist Aurel (aka Aurélien Froment). The film, which also won the audience award, received its world premiere in Athens after receiving a Cannes 2020 label.
The film pays tribute to Catalan artist and left-wing political cartoonist Josep Bartoli, who fled Franco's dictatorship in 1939 only to be interned in a French concentration camp until 1943. It will be distributed in Greece by Cinobo, following a deal with The Party Film Sales.
The jury gave a special mention to Wisdom Tooth by first-time director Chinese director Lian Ming, which screened at IFFR and Goteborg earlier this year.
Athens' international documentary competition was won by Petit Samedi, directed by Paloma Sermon-Daï. The prize included €2,000. The Belgian documentary, which first screened in the Berlinale Forum, centres on a mother and her adult son, who is a heroin addict. It is sold by Greek firm Heretic Outreach.
A special mention went to In A Whisper, which marks the debut of Cuban filmmakers Patricia Perez Fernandez and Heidi Hassan. The Spain-France-Cuba co-production previously won best feature documentary award at IDFA in 2019.
The festival went ahead as a physical event and screened 90 films. The entire screening schedule was shifted to eight open-air venues after the Greek government ordered the closure of indoor venues due to a rise in Covid-19 cases, just two days before the start of the festival on September 23.