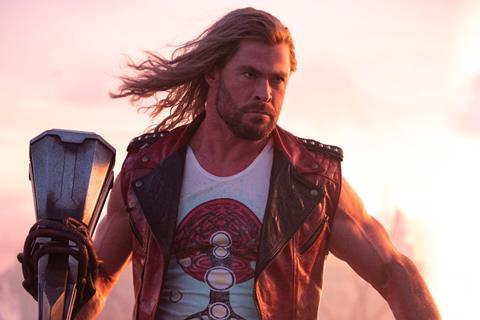 World Box Office July 8-10
| Rank | Film (distributor) | 3-day (world) | Cume (world) | 3-day (int'l) | Cume (int'l) | Territories |
| --- | --- | --- | --- | --- | --- | --- |
| 1. | Thor: Love And Thunder (Disney) | $302m | $302m | $159m | $159m | 48 |
| 2. | Minions: The Rise Of Gru (Universal) | $102m | $399.9m | $56.4m | $189.8m | 65 |
| 3. | Top Gun: Maverick (Paramount) | $38.5m | $1,183.6m | $23m | $586.2m | 66 |
| 4. | Lighting Up The Stars (various) | $27.6m | $176.2m | $27.6m | $176.2m | 1 |
| 5. | Jurassic World Dominion (Universal) | $23.2m | $876.5m | $15.5m | $526.1m | 73 |
| 6. | Detective VS. Sleuths (various) | $22.6m | $23m | $22.6m | $23m | 3 |
| 7. | Elvis (Warner Bros) | $19.7m | $155.1m | $8.7m | $64m | 57 |
| 8. | The Black Phone (Universal) | $12.6m | $99.1m | $4.9m | $36.8m | 50 |
| 9. | Lightyear (Disney) | $7.8m | $204.5m | $4.9m | $92.2m | 31 |
| 10. | I Love You (various) | $2.6m | $2.7m | $2.6m | $2.7m | 5 |
Credit: Comscore, all figures estimated, click top right to expand
'Thor: Love And Thunder' beats debuts of previous 'Thor' films
UPDATE: Disney's release of Thor: Love And Thunder has continued the upwards trajectory of Marvel's hammer-wielding franchise, which has seen steady box office increases with each successive Thor film.
The latest in the series – which is the fourth, and the second directed by Taika Waititi – has debuted with a confirmed $303.4m worldwide, comprising $144.2m in North America and $159.2m from 47 international territories.
Thor: Love And Thunder, which has yet to open in China, Russia or France, topped the box office chart in all its Asian and Latin American markets, and in all its European territories except Germany and Finland.
Disney estimates that in like-for-like markets, the opening number is 29% ahead of 2017's Thor: Ragnarok, as well as 38% ahead of Paramount's Top Gun: Maverick, and 23% ahead of Universal's Jurassic World Dominion. However, the opening number is 32% below Marvel's own Doctor Strange And The Multiverse Of Madness in like-for-like markets.
Love And Thunder performed particularly strongly in Australia and New Zealand – delivering the second-highest opening of the pandemic era, and the highest in 2022 to date.
In revenue terms, the top five opening markets for the film are: South Korea ($14.8m), UK/Ireland ($14.8m), Australia ($13.8m), Mexico ($11.6m) and India ($10.5m).
IMAX punched hard, with a $23m global tally. Disney reports that premium formats, including IMAX, premium large format brands, 3D and motion auditoriums accounted for 36% of the film's overall box office. Market intelligence firm EntTelligence reports that 97% of audiences watching a film in North America in a premium format saw Love And Thunder.
Previously for this franchise, Thor grossed $449m in 2011, followed by Thor: The Dark World with $645m in 2013, and Thor: Ragnarok with $854m, 2017. On the latter title, China accounted for $112m, and Russia/CIS $24m. Disney has yet to land a China release date for Love And Thunder, but would nevertheless push the film past Ragnarok's total if it can triple the new film's opening number over the full run of its release.
'Minions' sequel boosted by France opening
UPDATE: Facing competition from the arrival of Disney's Thor film, albeit not directly competitive for the family audience, Universal's Minions: The Rise Of Gru fell 57% in North America (with confirmed takings of $46.1m) and 35% in international holdover markets (with $60.8m), combining for a $106.9m weekend session. Total after two weekends (or three weekends in the case of sole early market Australia) is $405.8m.
For international, the Illumination Entertainment title was boosted by arrival in France, delivering $6.8m including previews, plus $1.4m in Belgium.
In holdover territories, Mexico ($5.7m) was just ahead of UK/Ireland ($5.2m), although the countries are tied for cumulative totals on $22.1m.
Australia is very buoyant with a $20.4m total following a $4.3m haul in the third session, and Germany, where box office for the title gained 11% on $5.3m for $11.5m after two weekends.
Future key markets yet to release include Japan (July 15), South Korea (July 20) and Italy (August 18).
The Rise Of Gru is chasing a global tally of $1.16bn for 2015's Minions, as well as $1.03bn for 2017's Despicable Me 3 – the most recent in Illumination's Despicable/Minions franchise.
Also for Universal, Jurassic World Dominion added a confirmed $23.9m worldwide, pushing the total to $876.5m. That number places Dominion in 74th place in the all-time global box office chart. In this chart, the top 50 titles are all above $1bn.
Universal/Blumhouse's The Black Phone added $12.5m, pushing the global total to $99m. Mexico remains far and away the strongest international territory, with $11.4m. Future key markets include Australia and Brazil (both July 21), and South Korea (September 14).
The Black Phone is one of eight titles (including two Asian films) grossing at least $10m worldwide at the weekend. The global chart is currently demonstrating notable strength in depth, more typical of pre-pandemic patterns than has recently been the case.
'Top Gun: Maverick' cracks top 25 globally with $1.18bn
UPDATE: Paramount and Skydance's Top Gun: Maverick added a confirmed $40.2m at the weekend, bringing the global total to $1.185bn comprising $587.9m internationally and $597.4m from North America. That places the Tom Cruise belated sequel in 22nd place in the all-time global box office ranking, just ahead of Minions ($1.16bn), and below Iron Man 3 ($1.21bn).
Top Gun: Maverick fell 40% in international holdover markets – steeper than was previously the case for this gravity-resistant title, and in the face of competition from the Thor film. The North America drop was likewise 40%.
South Korea, where the film is only in its second week of play, added $7.4m, taking the total there to $38.4m.
In cumulative totals, UK/Ireland remains the top territory, with $87.8m so far, ahead of Japan ($63.3m), Australia ($55m) and France ($45.1m).
So far, there is no release in China or Russia scheduled for the film.
Local hits boost China box office
Sentimental drama Lighting Up The Stars added another $27.6m at China's box office, taking its total to a robust $176.2m. But Liu Jiangjang's film faced fresh competition from another local film performing strongly: Detectives Vs Sleuths, with $22.6m. Writer/director Wai Ka-Fai reteams with his Mad Detective (2007) star Sean Lau (aka Lau Ching-wan) for this Hong Kong crime action film.
The presence of these two titles together in the market helped drive China weekend box office to a $61.3m total (according to Artisan Gateway) – the highest weekend tally since late February, when the market was still dominated by Chinese New Year holiday titles, and before the current (albeit now declining) Covid surge.