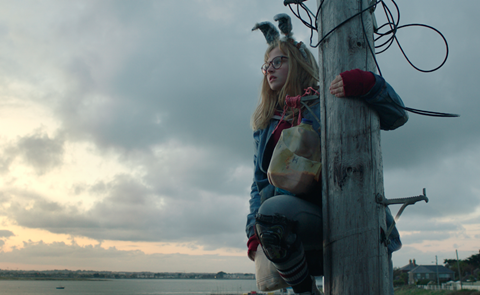 The biggest ever line-up of Discovery films at this year's Toronto International Film Festival (TIFF) comprises 45 titles including world premieres for Anders Walter's I Kill Giants (pictured), Constanza Novick's The Future Ahead, and Daniel Kokotajlo's Apostasy.
Discovery has expanded by 25% this year and opens with Tigre by Silvina Schnicer and Ulises Porra Guardiola, and closes with Rungano Nyoni's I Am Not A Witch

Toronto top brass also announced the line-up of on-stage conversations with the likes of Helen Mirren, Angelina Jolie and Javier Bardem, and announced TIFF Kids, TIFF Next Wave, the return of Festival Street.
"Uncovering new talent is one of the key roles of the Festival," Piers Handling, TIFF director and CEO, said. "The Discovery programme allows us to carve out a space for emerging filmmakers to be seen by the international film industry and has helped launch the careers of award-winning filmmakers like Maren Ade, Barry Jenkins, Steve McQueen, Christopher Nolan, and Dee Rees."
"If you don't support the future of filmmaking, you fall behind," TIFF artistic director Cameron Bailey said. "So we're always looking for new talent. The fact that the Discovery programme continues to grow is deeply encouraging, and speaks to the fact that there are a lot of people that want to make films when it is often increasingly more difficult to do so."
The final wave of programming means the festival will screen a total of 339 films, down from 397 last year. There will be 255 features compared to 296 last year following the much-publicised 20% cull.
Of the features roster, 238 are world, international or North American premieres. Of those, 147 are world premieres (139 in 2016), 19 are international (30), and 72 are North American (97).
There were 7,299 total submissions (6,933): 6,166 international (5,693) and 1,133 from Canada (1,240). The festival comprises 13 programmes compared to 16 last year. The longest film will be Ex Libris – The New York Public Library at 197 minutes.
The 42nd edition of TIFF runs from September 7 to 17.
DISCOVERY
1% (Australia), Stephen McCallum WP
¾ (Three Quarters, Germany-Bulgaria), Ilian Metev,
NAP
A Fish Out Of Water (Taiwan), Lai Kuo-An, WP
*A Worthy Companion (Canada), Carlos Sanchez, Jason Sanchez, WP
*All You Can Eat Buddha (Canada), Ian Lagarde, WP
Apostasy (UK), Daniel Kokotajlo, WP
*AVA (Iran-Canada-Qatar), Sadaf Foroughi, WP
*Black Cop (Canada), Cory Bowles, WP
The Butterfly Tree (Australia), Priscilla Cameron, IP
*Cardinals (Canada), Grayson Moore, Aidan Shipley, WP
Disappearance (Napadid Shodan, Iran-Qatar) Ali Asgari, NAP
Five Fingers For Marseilles (Menoana e Mehlano ea Marseilles, South Africa) Michael Matthews, WP
The Future Ahead (El Futuro Que Viene, Argentina) Constanza Novick, WP
The Garden (Sommerhäuser, Germany) Sonja Maria Kröner, IP
The Great Buddha+ (Taiwan), Huang Hsin-Yao, IP
Gutland (Luxembourg-Germany-Belgium), Govinda Van Maele, WP
High Fantasy (South Africa), Jenna Bass, WP
Human Traces (New Zealand), Nic Gorman, NAP
I Am Not A Witch (UK-France), Rungano Nyoni, NAP– Discovery Closing Film
I Kill Giants (UK), Anders Walter, WP
Indian Horse (Canada), Stephen Campanelli, WP
Killing Jesus (Matar a Jesús, Colombia-Argentina) Laura Mora, WP
Kissing Candice (Ireland), Aoife McArdle, WP
*Luk'Luk'I (Canada), Wayne Wapeemukwa, WP
*Mary Goes Round (Canada), Molly McGlynn, WP
Messi And Maud (Netherlands-Germany), Marleen Jonkman, WP
Miracle (Stebuklas, Lithuania-Bulgaria-Poland) Egle Vertelyte, WP
Montana (Israel), Limor Shmila, WP
*Never Steady, Never Still (Canada), Kathleen Hepburn, WP
Oblivion Verses (Los Versos Del Olvido, France-Germany-Netherlands-Chile) Alireza Khatami, NAP
Oh Lucy! (USA-Japan), Atsuko Hirayanagi, NAP
The Poet And The Boy (Si-e-nui Sa-rang, South Korea) Kim Yang-hee, IP
Princesita (Chile-Argentina-Spain), Marialy Rivas, WP
Ravens (Sweden), Jens Assur, WP
Scaffolding (Pigumim, Israel-Poland), Matan Yair, NAP
Shuttle Life (Malaysia), Tan Seng Kiat, NAP
Simulation (Iran), Abed Abest, NAP
Soldiers. Story From Ferentari (Soldaţii. Poveste din Ferentari, Romania-Serbia-Belgium), Ivana Mladenovic, WP
Suleiman Mountain (Kyrgyzstan-Russia), Elizaveta Stishova, WP
The Swan (Svanurinn, Iceland) Ása Helga Hjörleifsdóttir, WP
Tigre (Argentina), Silvina Schnicer, Ulises Porra Guardiola, WP – Discovery Opening Film
Valley Of Shadows (Skyggenes Dal, Norway) Jonas Matzow Gulbrandsen, WP
Village Rockstars (India), Rima Das, WP
Waru (New Zealand), Briar Grace-Smith, Ainsley Gardiner, Renae Maihi, Casey Kaa, Awanui Simich-Pene, Chelsea Cohen, Katie Wolfe, Paula Jones, IP
Winter Brothers (Vinterbrødre, Denmark-Iceland) Hlynur Pálmason, NAP
*Title was previously announced on August 9 with the complete Canadian feature line-up.
IN CONVERSATION WITH…
This year's guests include Javier Bardem, Gael García Bernal, Angelina Jolie and Helen Mirren. Each on-stage conversation will feature clips, followed by a brief Q&A.
"Through insightful and dynamic conversation, this programme provides a unique platform to engage with these cinematic stars," Theresa Scandiffio, In Conversation With… programmer and senior director, TIFF Learning, said. "All of this year's guests have made a huge mark in the world of film with epic onscreen roles — but we'll also learn more about the vital work they do behind the scenes, and the stories that brought them to where and who they are today."
In Conversation With… Angelina Jolie
Angelina Jolie brings the international premiere of her latest directorial outing, First They Killed My Father, and also served as executive produced on Nora Twomey's animated feature The Breadwinner.
In Conversation With… Javier Bardem
The Spanish superstar is a lead in two TIFF selections this year: Loving Pablo and mother!
In Conversation With… Helen Mirren
Dame Helen Mirren stars in festival entry and Gala Presentation The Leisure Seeker.
In Conversation With… Gael García Bernal
Gael García Bernal stars in Joan Chemla's TIFF feature, If You Saw His Heart.
TIFF SPEAKER SERIES
The sixth year of the TIFF Speaker Series sees the festival partner with the University of Toronto's Munk School of Global Affairs on a series of extended discussions with filmmakers and scholars following the second public screening of selected films.
The Journey
Aisha Ahmad, assistant professor in the department of political science and co-director of the Islam And Global Affairs Initiative, joins Iraqi-Dutch filmmaker Mohamed Jabarah Al-daradji for a Q&A following the screening of his political thriller The Journey.
The Legend Of The Ugly King
Robert Austin, associate professor at the Centre For European, Russian and Eurasian Studies, joins director Hüseyin Tabak to discuss German film The Legend Of The Ugly King, which explores the legacy of Palme d'Or-winning Kurdish filmmaker, political dissident and convicted murderer Yilmaz Güney.
Catch The Wind (Prendre Le Large)
Joseph Wong, the Ralph and Roz Halbert professor of innovation, professor of political science, and Canada research chair in health, join French actor-director Gaël Morel for a Q&A after his drama.
Silas
Teresa Kramarz, director of Munk One, a programme for first-year undergraduate students, joins Anjali Nayar and Hawa Essuman to discuss their latest documentary Silas, about the life of Liberian activist Silas Siakor.
Scaffolding
Munk School founding director Janice Gross Stein joins Matan Yair to talk about his documentary Scaffolding, in which a teenager is torn between the teaching of his literature teacher and the expectations of his brash workman father.
TIFF KIDS, TIFF NEXT WAVE
"Curating film selections with our younger festival-goers in mind allows us to bring the same transformative films from around the world to a new generation of film lovers," Elizabeth Muskala, director of youth learning and TIFF Kids, said. "There is a film for everyone at the festival; families and young cinephiles have a special place here at TIFF, and we hope this movie-going experience inspires future filmmakers and critics alike."
TIFF KIDS
The Big Bad Fox & Other Tales (Le Grand Méchant Renard Et Autres Contes, France) Benjamin Renner, Patrick Imbert, NAP
Contemporary World Cinema
Recommended for ages nine and up
The Breadwinner (Canada-Ireland-Luxembourg), Nora Twomey, WP
Special Presentations
Recommended for ages 10 and up
I Kill Giants (UK) Anders Walter, WP
Discovery
Recommended for ages 12 and up
TIFF NEXT WAVE
AVA (Iran-Canada-Qatar), Sadaf Foroughi, WP
Discovery
Call Me By Your Name (Italy-France), Luca Guadagnino, CP
Special Presentations
Dark (Germany), WP
Two episodes
Showrunners: Baran bo Odar, Jantje Friese
Director: Baran bo Odar
Primetime
High Fantasy (South Africa), Jenna Bass, WP
Discovery
Killing Jesus (Matar a Jesús, Colombia-Argentina) Laura Mora, WP
Discovery
Lady Bird (USA), Greta Gerwig, IP
Special Presentations
Scaffolding (Pigumim, Israel-Polamnd), Matan Yair, NAP
North American Premiere
Discovery
Sheikh Jackson (Al Sheikh Jackson, Egypt), Amr Salama, WP
Special Presentations
The Rider (US), Chloé Zhao, CP
Special Presentations
Unicorn Store (USA), Brie Larson, WP
Special Presentations
What Will People Say (Hva Vil Folk Si, Norway-Germany-Sweden), Iram Haq, WP
Contemporary World Cinema
Youth (Fāng Huá, China) Feng Xiaogang, WP
Special Presentations
FESTIVAL STREET
The fourth edition of Festival Street takes place over opening weekend, September 7-10, on King Street West between Peter Street and University Avenue.
"The public have always been the beating heart of the festival," TIFF artistic director Cameron Bailey said. "Festival Street is the place where everyone can come together, take in some music, eat food that reflects the city's rich diversity and see a few screenings – all for free. It embodies the spirit of the festival and truly is a special place to be."
Besides a range of spectacles, food trucks and experiences including the Slaight Music Stage, TIFF has partnered with the Toronto Transit Commission (TTC), giving Metropass holders early access to tickets, launching a social contest for opening night tickets, and setting up a number of pop-up giveaways at select subway stations.
As part of Canada On Screen, TIFF will also screen music videos as part of its list of 150 essential moving image works from Canada's cinematic history and will include appearances from special guests. Among other events, Festival Street–goers can experience 2167, a collection of VR works created by Indigenous artists that envision Canada 150 years in the future.
FIPRESCI and NETPAC JURIES
On September 17 at TIFF's awards closing ceremony, the FIPRESCI Jury will award the Prize of the International Critics for the Special Presentations and Discovery programmes.
Last year's FIPRESCI Special Presentations Prize went to Feng Xiaogang's I Am Not Madame Bovary, while the Discovery Prize was awarded to Mbithi Masya for his debut feature Kati Kati. The NETPAC Jury will present the NETPAC Award for World or International Asian Film Premiere. Maysaloun Hamoud received the 2016 award for her film In Between.
FIPRESCI jury
Jonathan Rosenbaum (USA), jury president; Robert Daudelin (Canada); Martin Horyna (Czech Republic); Ivoneta Pinto (Brazil); Marietta Steinhart (USA); and Jim Slotek (Canada).
NETPAC jury
Rashmi Doraiswamy (India), jury chairperson; Jian Hao (China); and Savine Wong (Canada).
For further details click here.