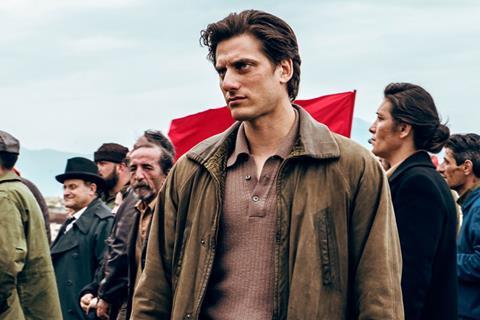 TIFF on Thursday announced that Pietro Marcello's Martin Eden has won the 2019 Toronto Platform Prize and named two FIPRESCI winners as it cancelled Sunday's upcoming awards ceremony in favour of announcing winners via social media and a press release.

A statement released on Thursday afternoon read, "By the 10th and final day of the festival, many filmmakers have left the city, and TIFF made the decision to announce the remaining awards via press release and on social media channels on Sunday, September 15th. Capturing them on social media allows them to celebrate their award and for audiences to share the moment."
Martin Eden won the CAD $20,000 (roughly USD $15,180 as of September 12) prize. The Jack London adaptation stars Luca Marinelli as a sailor who struggles to reinvent himself as a writer and escape privation. It screens again today (12), Saturday, and a free screening on Sunday. Kino Lorber recently picked up North American rights.
Honourable mentions went to Platform honourable mentions went to Kazik Radwanski's Anne At 13,000 Ft and Alice Winocour's Proxima.
Meanwhile the FIPRESCI jury awarded its Discovery programme prize to Heather Young for Murmur, which tells of an aging woman ordered to perform community service for a DUI who adopts pets to fill the void in her life. Murmur screens again today (12) and Sunday.
The jury noted Heather Young's film "for its impressive, minimalist, and precise storytelling – both in its structure and its use of static camerawork and framing – and for its empathetic and powerful simplicity in deconstructing the effects of anaddictive personality."
The FIPRESCI Prize for the Special Presentations programme went to Coky Giedroyc for How To Build A Girl, which stars Beanie Feldstein and is based on Caitlin Moran's memoir about her entry into the boys' club of rock music criticism. It screens again on Friday (13).
TIFF will announce further festival award winners, including the Grolsch People's Choice Award, on Sunday.