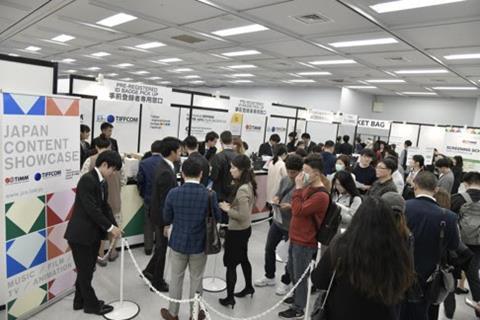 TIFFCOM organisers have announced plans to expand into two new screening venues in Ikebukuro from 2019 as the Tokyo district gears up to become "an international city of arts and culture".
From next year, the market will start holding screenings at a new 12-screen, 2,500-seat complex, Grand Cinema Sunshine, expected to be Tokyo's biggest cinema when it opens in July 2019, as well as the Hareza Ikebukuro complex, which will have a soft opening in October 2019.
Hareza Ikebukuro will comprise three interconnected buildings, with a 10-screen cinema operated by Toho Cinemas, and several theatres for classical and contemporary live performances.
The new venues form part of ambitious plans for urban renewal outlined by Yukio Takano, mayor of Toshima City, the Tokyo ward that the district of Ikebukuro sits within. Takano said the city was building out its arts and cultural infrastructure in the run-up to the Tokyo 2020 Summer Olympics and will soon rival Tokyo's trendier districts such as Shinjuku and Shibuya.
TIFFCOM CEO Yasushi Shiina confirmed that the market, held as part of Japan Content Showcase (JCS), would remain in Sunshine City – a shopping, hotels and conference complex in Ikebukuro – at least for the next two editions. The market moved to the complex from its previous home in Odaiba in Tokyo Bay last year.
The move has drawn a mixed response from buyers and sellers – although bigger and more central than Odaiba, the new venue's bad acoustics, harsh lighting and lack of daylight or free wi-fi has had some market attendees griping.
The new venue has allowed the event to expand – this year it drew a record number of exhibitors: 382 from 24 countries compared to 371 in 2017. Although Japanese film and TV companies still occupy most of the booths, delegations from South Korea, Taiwan and Thailand are also hosting large pavilions. Countries exhibiting for the first time include Armenia, Malta and Romania.
Although the proportion of foreign (ie non-Japanese buyers) has increased from 66% last year to 74% this year, the overall number of buyers is not increasing.
"We're not seeing as much growth as we would like among buyers from the US and Europe, which we believe is due to the regional aspect and timing," said Shiina. "We had MIPCOM last week and next week is AFM."
Shiina also said that he wanted to expand the three-day market into a four-day event, but it's difficult to book venues for that length of time in the run up to the Olympics.
From next year, JCS will also start collaborating with other cultural events in Ikebukuro, including the Tokyo Anime Award Festival and Ikebukuro Halloween Cosplay Festival, which takes place in October.
TIFFCOM organisers also said the market is increasing collaboration with Italy's major film promotion body ANICA. Roberto Stabile, head of ANICA's international department, said the agency is in talks to sign an agreement of collaboration with the City of Toshima and UniJapan.
"We would like to become a stronger partner in the future," said Stabile. "We started working with China two years ago and decided to next start working with Japan. We hope to sign some kind of co-production agreement between Italy and Japan."
This year TIFFCOM has also introduced a new initiative, Japan Now Presentation, to introduce Japanese talent to foreign buyers and producers. Four films were selected and presented at a "Meet The Creators" event on the first day of the market – Shinichiro Ueda's One Cut Of The Dead, a sleeper hit that has racked up more than 2 million admissions; Takahisa Zeze's The Chrysanthemum And The Guillotine, Gakuryu Ishii's Punk Samurai Slash Down and Shuichi Okita's Mori, The Artist's Habitat.
The next edition of TIFFCOM will take place October 22-24, 2019.