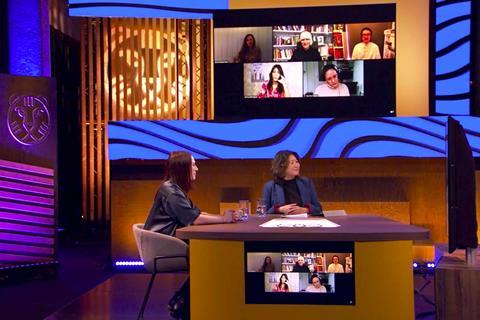 Four directors with features selected for the Tiger competition at this week's International Film Festival Rotterdam (IFFR) discussed the importance of women to their stories and using historical trauma to spotlight contemporary issues at the first of the festival's live online daily press conferences.
Directors Ainhoa Rodríguez, Taiki Sakpisit, Marta Popivoda and Itonje Søimer Guttormsen spoke via video call with festival director Vanja Kaludjercic.
Destello Bravío, the debut feature from Spain's Rodríguez, centres on a group of women – played by non-professional actors – in a rural town in southwest Spain and takes inspiration from surrealism and magic realism.
"I wanted to show real women with their natural bodies, not the hegemonic view of women that we get from the mainstream media," said Rodríguez. "I also wanted to portray the sexual drive of these women as a freeing force."
The filmmaker also shared the reason she initially set out to write, direct and produce her first feature alone. "Although directing it alone meant it was going to be difficult, it gave me more freedom to give it my personal touch without the limits or boundaries of the industry," she said.
Barcelona-based Luis Miñarro, whose credits include Apichatpong Weerasethakul's Cannes Palme d'Or winner Uncle Boonmee Who Can Recall His Past Lives and Rotterdam Tiger award-winner Finisterrae, boarded as a co-producer in post-production.
Serbia's Popivoda also places the focus on women in her unorthodox documentary Landscapes Of Resistance, telling the story of one of the first female partisan in Serbia, who helped lead the resistance in Auschwitz.
"I was interested in the womanly side of the war, which we don't know, because heroes and historical narratives are mainly constructed from a dominant, patriarchal, male history position," said Popivoda.
"We want to speak very prominently about how women who were part of the Second World War in Yugoslavia. 200,000 women were anti-fascist fighters and made a great contribution. But also, their way of remembering the war is different from the dominant narrative."
Although centred on events from the 1940s, Popivoda said the film has urgency today. "The story becomes more powerful in a contemporary moment with rising fascism in Europe and wider. We need to learn how to become anti-fascist fights and how to politicise ourself. I deal with history but don't see it as something dead. As we know, history is repeating itself, unfortunately."
Contemporary relevance
Thailand's Sakpisit also considers contemporary issues in his second feature, The Edge Of Daybreak, despite his film taking place against the backdrop of the 1976 Thammasat university massacre and military coup of 2006. "I wanted to say something really important now about the current situation in Thailand," said Sakpisit.
"I tried to make a political film without being too political. I wanted to tell a personal story."
Women also prove central to his story, he said, and outlined how "the family [in the film] is portrayed through the women". "Ultimately, the film is about maternal love for… the next generation," he added.
Norway's Guttormsen focusses on a troubled but driven woman in Gritt – the first Norwegian film to be selected to play in IFFR's Tiger Competition.
The eponymous character, played by Birgitte Larsen, is an artist undeterred by a lack of support, and who embarks on a mission to bury capitalism and the patriarchy.
"I felt constricted by the classic filmmaking regime and wanted to break through," said the Oslo-based artist and director, who described Gritt as a "driven, active, possessed female character who is like a lone wolf but still really wants to change something".
"It can be a bit frustrating in Scandinavian society," explained Guttormsen, when asked what drew her to explore this character. "It is extremely privileged… but the mentality might be a bit homogenic. I was drawn to the free and wild spirits, and people who need to break out. Gritt represents that inner freedom."
The 50th IFFR is running entirely online from February 1-7.