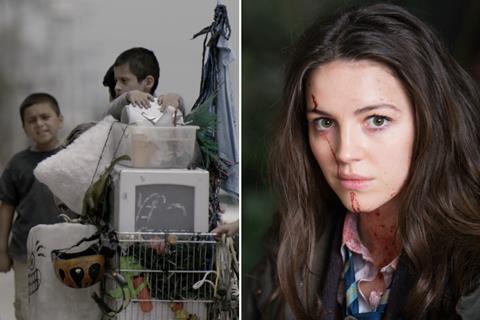 Manchester horror event Grimmfest has given out the awards for its 2018 event, with Issa López's Tigers Are Not Afraid taking four prizes including best feature.
The film is a dark fairy tale about a gang of five children trying to survive the horrific violence of the cartels and the ghosts created every day by a drug war.
As well as best feature, it also picked up best screenplay for writer-director López, best actor for Juan Ramón López and the audience award, voted for by Grimmfest attendees.
It also received a special mention in the best director category for López.
John McPhail won the best director prize for his zombie Christmas musical Anna And The Apocalypse.
The film, which sees a group of teenagers battle the zombies that have beset their town as they prepare for the school Christmas show, also received best score, as well as special mentions in best feature, best actress for Ella Hunt and the audience award.
Both the best feature and best director prizes come with a £40,000 prize of post-production services provided by festival sponsor BCL Finance Group, which can be used for a future film.
The festival jury consisted of actress and writer Lauren Ashley Carter, film sales agent Caroline Couret-Delegue, acquisitions consultant, festival programmer and producer Annick Mahnert, writer, actress and producer Joanne Mitchell, Dread Central journalist Anya Stanley and Rue Morgue executive editor Andrea Subissati.
Actress Barbara Crampton, who has specialised in horror films including 1985's Re-Animator and 2011's You're Next, received the lifetime achievement award. Crampton has also agreed to become head of the festival jury for the 2019 event, which will take place in early October.
Grimmfest 2018 winners
Best feature: Tigers Are Not Afraid
Special mentions: Anna And The Apocalypse
Best director: John McPhail (Anna And The Apocalypse)
Special mentions: Issa López (Tigers Are Not Afraid), Clayton Jacobson (Brothers' Nest)
Best screenplay: Issa López (Tigers Are Not Afraid)
Special mentions: Clayton Jacobson (Brothers' Nest), Andy Mitton (The Witch In The Window)
Best score: Anna And The Apocalypse
Special mentions: Piercing, Summer Of '84
Best actor: Mia Wasikowska (Piercing)
Special mentions: Ella Hunt (Anna And The Apocalypse), Abigail Cruttenden (Await Further Instructions)
Best SFX: Girls With Balls
Special mentions: Await Further Instructions, Framed
Best kill: Girls With Balls
Special mentions: Puppet Master: The Littlest Reich, Office Uprising, Satan's Slaves
Best scare: Witch In The Window
Special mention: Satan's Slaves
Best short: We Summoned A Demon
Special mention: Conductor, Dead Cool, The Old Woman Who Hid Her Fear Under The Stairs
Audience award: Tigers Are Not Afraid
Special mentions: Summer Of '84, The Witch In The Window, Anna And The Apocalypse, Brothers' Nest
Lifetime achievement award: Barbara Crampton