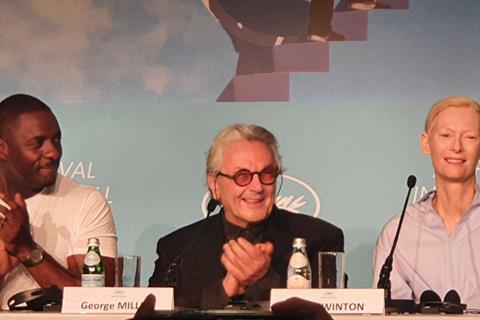 Tilda Swinton and George Miller teased the prospect of working together again at the press conference for their Cannes 2022 out of competition title Three Thousand Years Of Longing.
"I realised very early on that I joined that great club of directors with whom Tilda has worked, some several times," said Miller. "There's a reason for that – how comprehensively you approach the films as an actor, artist and filmmaker."
"I've had a first taste, I'm a nascent member of that club; and I hope that the future sees us doing something like that again."
"I've got witnesses," quipped Swinton in response.
After Tom Cruise earlier this week, Swinton became the latest A-list star to champion the cinema experience.
"My province is not the small screen but the biggest one possible, I'm proud to say," said Swinton. "This big screen here [in Cannes] is possibly the most beautiful one on the planet – that's the temple.
"The thing about big screens is that you can see everything," she continued. "It's this portal, it's a very forensic space. Woe betide anybody who thinks that the camera ever lies."
The film is a contemporary retelling of the story of the djinn (or genie), who grants three wishes to a lonely scholar on a trip to Istanbul.
"From a performance perspective, there's very little difference between big scale and small scale [films]," said Swinton's co-star Idris Elba. "There are landscapes, realms that require amplification [but] in terms of our drive as a performer, it's the same engine."
The trio were joined by producer Doug Mitchell and writer Augusta Gore, with the latter revealing that Covid lockdowns in Australia worked in favour of the late 2020 shoot.
"One of the benefits of Covid was when Idris and Tilda came to Australia they had to spend two weeks in quarantine," said Gore, "so we had two weeks of uninterrupted rehearsal time over Zoom!"
Mitchell also revealed that one of several delays to the production was Elba himself catching Covid.