Matthew McConaughey and Scarlett Johansson win actor prizes.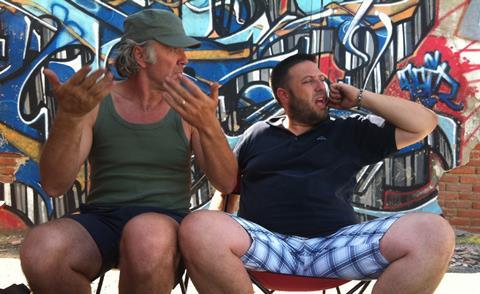 Scroll down for full list of winners
Tir, the first narrative film by Italian director Alberto Fasulo, has picked up the Golden Marc Aurelio Award for best film at the 8th Rome Film Fesival.
The docu-drama explores the current econmic crisis as seen through the eyes of a former professor who becomes a trucker to solve his money problems. It stars Slovenian actor Branko Zavrsan (No Man's Land).
Fasulo is best known for documentaries including White Noise (Rumore bianco). Tir is being sold internationally by Fandango Sales.
One of 18 competition titles, Tir beat heavyweight US titles including Jean-Marc Vallee's Dallas Buyers Club, Spike Jonze's Her and Scott Cooper's Out of the Furnace.
However, all three of those films did manage to secure wins at the festival on Saturday evening.
Scarlett Johansson, who walked the red carpet at Rome earlier in the festival, won the best actress award for Her, in which she voices a computer operating system and never appears on camera.
Matthew McConaughey won the best actor prize for his portrayal of a macho Texan who battles the medical establishment after contracting HIV in Dallas Buyers Club. The film also won the audience award for best film.
Out of the Furnace, starring Christian Bale and Casey Affleck, picked up the award for best first/second film. The drama is Scott Cooper's follow up to his Oscar-winning 2009 debut Crazy Heart.
Rome's main jury, headed by US director James Gray, awarded the best director prize to Japan's Kiyoshi Kurosawa for Seventh Code. It also picked up the technical award for the work of Koichi Takahash.
Opening as a love story before evolving into a detective drama, it is set in Vladivostok and marks Kurosawa's first film shot outside Japan.
The Special Jury prize went to Romanian director Andrei Grunzsniczk for Quod Erat Demonstrandum, set during Communist oppression in his country and shot in black and white.
The festival will close on Sunday evening (Nov 17) with Benny Chan's Chinese detective drama The White Storm.
Strong year
It will mark the end of one of the best years yet for the Rome Film Festival, following the appointment of Marco Müller as festival director last year.
The veteran festival director of Venice, Locarno and Rotterdam promised a mix of challenging cinema and red carpet crowdpleasers and delivered on both fronts.
The Auditorium Parco della Musica was packed daily across its run (Nov 8-17), with industry professionals rubbing shoulders with an abundance of young Italians, attracted by high profile titles and red carpet premieres.
Crowds peaked on Thursday (Nov 14) when Jennifer Lawrence, Josh Hutcherson and Liam Hemsworth were greeted by around 10,000 screaming fans for the Italian premiere of The Hunger Games: Catching Fire.
Organisers compared it more to a rock show than a film festival event and it was undoubtably the Rome Film Festival's biggest gala since its inception in 2006.
Overall attendance was up 20% on last year, with a total of 402 screenings across the 10 days.
Business up
On the industry side, the Business Street boasted a 10% boost to badge-holders. There were 200 buyers in attendance (up 15% on last year) while international badge-holders, including 70 sales agents from 45 countries, was up 30%.
However, an overlap with the American Film Market will need to be addressed next year and Müller said at a press conference that the 2014 edition of the festival would be pushed back by about a week.
The Eurimages Co-production development award, worth $40,000 (€30,000), went to Little Crusader from Czech director Vaclav Kadrnka.
The film, from producers Alice Tabery and Marko Skop, was one of 24 projects pitched at Rome's New Cinema Network co-production market.
COMPETITION
The International Jury, chaired by James Gray and composed of Verónica Chen, Luca Guadagnino, Aleksei Guskov, Noémie Lvovsky, Amir Naderi, and Zhang Yuan, assigned the following awards to the films in competition:

Golden Marc'Aurelio Award for Best Film
Tir, Alberto Fasulo
Best Director Award
Kiyoshi Kurosawa, Seventh Code (Sebunsu kodo)
Special Jury Prize
Quod Erat Demonstrandum, Andrei Gruzsniczk
Best Actor Award
Matthew McConaughey, Dallas Buyers Club
Best Actress Award
Scarlett Johansson, Her
Award for Emerging Actor or Actress
the entire cast of Acrid (Gass)
Award for Best Technical Contribution
Koichi Takahashi, Seventh Code (Sebunsu kodo)
Award for Best Screenplay
Tayfun Pirselimoğlu, I Am Not Him (Ben o değilim)
Special Mention
Cui Jian, Blue Sky Bones (Lanse gutou)
CINEMAXXI
The CinemaXXI International Jury chaired by Larry Clark and composed of Ashim Ahluwalia, Yuri Ancarani, Laila Pakalnina, and Michael Wahrmann, assigned the following awards to the films in the CinemaXXI competition:
CinemaXXI Award for Best Film
Nepal Forever, Aliona Polunina
CinemaXXI Special Jury Prize
Birmingham Ornament 2 (Birmingemskij ornament 2), Andrey Silvestrov and Yury Leiderman
CinemaXXI Award for Short Films
The Incomplete (Der Unfertige), Jan Soldat
Special Mention CinemaXXI Short Films
The Buried Alive Videos, Roee Rosen
PROSPETTIVE DOC ITALIA
The jury headed by Marco Visalberghi and composed of Christian Carmosino, Gerardo Panichi, Giusi Santoro, and Sabrina Varani, assigned the following awards:
Premio Doc It - Prospettive Italia Doc for the Best Italian Documentary
Dal profondo, Valentina Pedicini
Special Mention
Fuoristrada, Elisa Amoruso
AWARD FOR BEST FIRST/SECOND FILM
The jury headed by Roberto Faenza and composed of Fausto Brizzi, Carlo Freccero, Alessandra Mammì, Valerio Mieli, Camilla Nesbitt, and Andrea Occhipinti assigned the following awards:
Taodue Golden Camera Award for Best First/Second Film
Out of the Furnace, Scott Cooper
Taodue Award for the Best Emerging Producer
Jean Denis Le Dinahet and Sébastien Msika, Il sud è niente
BNL AUDIENCE AWARD FOR BEST FILM
Relying on an electronic system, the festival enabled the participation of the audience in choosing the winner of the BNL Audience Award for Best Film. The films competing for this award were those in Competition. The audience awarded the:
BNL Audience Award for Best Film
Dallas Buyers Club, Jean-Marc Vallée