Japan's prime minister Shinzo Abe jostled for the spotlight with Meryl Streep at the opening night of this year's Tokyo International Film Festival.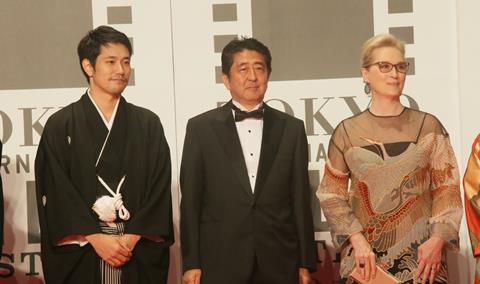 Fresh off his surprise turn as Super Mario at the closing ceremony of the Rio Olympics, Japan's prime minister Shinzo Abe once again pulled the red carpet out from under the stars at the Tokyo International Film Festival (TIFF).
Standing between cinematic legend Meryl Streep and Death Note actor Kenichi Matsuyama, Shinzo Abe kicked off the opening of the 29th edition of the festival by praising Streep for her portrayal of late British prime minister Margaret Thatcher in 2011's The Iron Lady.
"'I have done battle every day of my life', that's a line I clearly remember from the film," the conservative lawmaker told Streep.
Abe later wise-cracked, saying that he wanted to see the latest installment of the Godzilla series, but his wife Akie regretfully informed him that the prime minister and the chief Cabinet secretary characters are quickly killed off.
While the line-up of 204 films to be screened at this year's festival isn't particularly political, politics nevertheless loomed large.
At a press conference on Monday for the festival's opening film, historical comedy-drama Florence Foster Jenkins, Streep did her best to diplomatically deflect questions related to the upcoming US presidential election.
"It can't come soon enough, this election. We've been very burdened by it," she said in response to being asked if she thought she should receive an Oscar for her parody portrayal of US presidential candidate Donald Trump.
But Streep later did concede that she wouldn't be able to stick around for the entire festival as she has matters to attend to in the US.
"I have to go back and help our new president get elected," the unabashed supporter of presidential candidate Hilary Clinton said during the opening ceremony.
The festival's jury, which is led by Diva and Betty Blue director Jean Jacques Beineix, includes directors Mabel Cheung and Hideyuki Hirayama as well as actor Valerio Mastandrea and Spotlight producer Nicole Rocklin.
Asked about the things she'd like to do while in Japan, Rocklin joked that she'd like to buy land in case "a certain person wins the US presidential election."
The festival runs from October 25 to November 3.