Star suffers broken ankle in London; Paramount sticks to release date.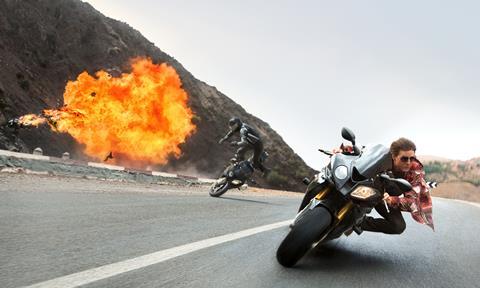 Paramount Pictures and Skydance have put M:I 6 – Mission Impossible on hiatus that Screen understands could last eight to 10 weeks while Tom Cruise recovers from a broken ankle.
The studio said it would still release the film as planned on July 27, 2018. A studio spokesperson had not commented at time of writing on whether the hiatus would push back the start date of Cruise's next film with Paramount and Skydance, Top Gun: Maverick. That tentpole is scheduled to open on July 12, 2019.
Cruise was injured while performing a stunt on set in London that involved leaping from one rooftop to another while attached to a wire. He fell short and was seen limping away after he slammed into the side of the target building. He was hoisted back to the original platform and received attention.
The star is famous for performing his own stunts. He clung to the side of an Airbus 400 as it took off in Mission: Impossible –Rogue Nation (pictured), hung from the Burj Khalifa in Dubai for Mission: Impossible – Ghost Protocol, and more recently performed 64 takes in zero gravity for a plane crash sequence on The Mummy.
Paramount, which is co-financing M:I 6 with Skydance Media, issued the following statement: "During production on the latest Mission: Impossible film, Tom Cruise broke his ankle while performing a stunt. Production will go on hiatus while Tom makes a full recovery, and the film remains on schedule to open July 27, 2018. Tom wants to thank you all for your concern and support and can't wait to share the film with everyone next summer."

There have been two tragedies involving stuntpeople in the last month. Fox shut down production in Vancouver on Deadpool 2 on Monday after a stuntwoman died in a motorbike crash. The deceased has been identified as professional road racer Joi "SJ" Harris.
In mid-July stuntman John Bernecker died after he fell on the Georgia set of TV hit The Walking Dead.