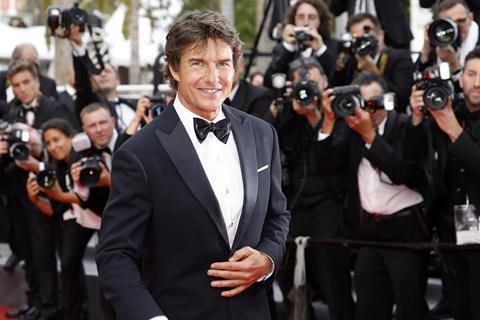 Tom Cruise gave a passionate defence of cinemagoing to an enraptured audience on stage at the Cannes Film Festival.
Responding to a question about whether Paramount were tempted to debut Top Gun: Maverick online during the pandemic, Cruise said, "They wouldn't dare. That was never going to happen," bringing laughter and applause from the crowd.
The actor was speaking ahead of the Cannes screening of Top Gun: Maverick this evening (May 18), where he was later awarded a surprise Palme d'Or.
In conversation with French journalist Didier Lelouch at the Grand Palais' Debussy theatre, Cruise outlined why, unlike many of his fellow A-list actors, he has remained resolutely in the cinema realm. "It is a different skill writing a movie than something for television," said the actor. "How to shoot and how to communicate is just different, and it's a whole different skillset."
Discussing his decision to return to the skies, he revealed that Don Simpson and Jerry Bruckheimer, producers of the original Top Gun, had wanted to go into production on a sequel immediately after the first film was released in 1986.
"I wasn't ready," said Cruise. "I was like 'I need to grow as an artist, I need to understand what cinema is, and I know what I don't know.'
"I'm learning, and some of the things I've learned in terms of Mission: Impossible, doing sequels – I've learned I can have a dialogue with an audience."
Cruise also revealed that the DVDs and memorabilia fans bring for him to sign "inform" what he goes on to make.
Long career
Cruise detailed his path to a career in film, saying "I was four years old, and I wanted to fly aeroplanes and have adventure in my life. I was always a kid that was doing wild things, climbing the tallest trees."
He recounted how, aged 18 on the set of his first film Taps, he tried to learn from every member of the crew. "I studied every single department because I thought if I never get to make another movie again, I want to understand what it is."
The collaborative element of filmmaking is as important to him as ever. "I love the team of creating something together, that it's a group, it's this wonderful communication of all these characters and this story that we're trying to create," said Cruise.
Regarding his collaborators, he prefers to work with those who aren't afraid to fail or say they don't know. "It's better to create," said Cruise. "And even if you fail on some degree, I always try to walk away with something.
"It's always better to try – ask a question and don't be afraid. I have a rule [on set]: you can ask anything about the movie. Please: I expect you to contribute. And I've never made less of someone for asking something, because I lived through those times where people rolled their eyes.
"I would go around asking these questions, and the people who were very competent and capable would say 'I'll get your answer' or 'I don't know, who has to take a look at this?', 'what do you think?'. And the ones that were arrogant about it, they didn't know so much."
The hour-long session began with a 15-minute highlight reel from the actor's career, with clips from titles including Rain Man, Jerry Maguire and A Few Good Men among others. Several moments brought spontaneous applause from the euphoric audience, including the Risky Business hallway dance and Mission: Impossible theme.