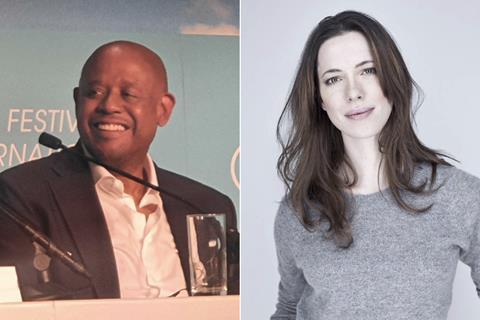 Competition juror Rebecca Hall and honorary Palme d'Or recipient Forest Whitaker responded to conversations around the lack of diversity in the Cannes line-up, on the first day of the 75th festival.
Answering a question at the jury press conference about the festival's efforts to achieve gender and racial diversity, Hall shrugged and said: "I think the jury was picked well." The actress and filmmaker, who is of mixed-race heritage, is one of four non-white members of the nine-strong jury, and one of four women.
Among the 21 films they are judging, none are from Black filmmakers; with five (24%) directed by women.
"That question is extremely hard to answer," continued Hall, whose debut feature Passing, centred on a light-skinned African American woman in 1920s New York who 'passes' as a white woman. "It is a work-in-progress – it is not over. This needs to be addressed on a grassroots level as well [as through festival selection]. It's about crews, it's about the minutiae of what is going on – people who don't have access to those doors."
"We are in a better place than we have been, but I don't think it's done."
Forest Whitaker also discussed the topic of achieving more diverse festivals in the press conference for his honorary Palme d'Or. "We need to continue to rattle the chain and let people be aware," said Whitaker."Right now we're seeing different opportunities with streaming – it's allowing there to be more niche markets."
Filmmakers from underrepresented groups should take control of their projects as much as possible, he said, citing his own Significant Productions which has made titles including Ryan Coogler's Fruitvale Station, Boots Riley's Sorry To Bother You and Hall's Passing. "All the films we've done with Significant – they've been produced through us raising the funds for them. That's a model that's been working for us."
Yesterday delegate general Thierry Fremaux defended the lack of diversity in the 2022 Cannes line-up, saying the number of women in Competition was not "so few" and that "it takes time for cinema to come into its own."
Regarding the development of film industries in underrepresented countries, distribution is key. "As long as you can find your distribution chain, and you have the skillsets to make a film, then it's possible to tell the stories," said Whitaker. "The biggest thing is just about funding the distribution – that is the same issue that people have all over the world."
The US actor-producer has not directed a film since 2004 comedy First Daughter, and said he has no plans to return to that role. "It would have to be a proper story; I'm not saying it won't happen again, just not right now," said Whitaker.
Coppola's Megalopolis
He also teased his upcoming role in Francis Ford Coppola's Megalopolis, describing his part as "significant."
"It looks like we'll be starting to shoot in August," said Whitaker. "The story deals with the city and the power structures within it – one progressive and one conservative."