In his first interview about anticipated drama The Danish Girl, director Tom Hooper reveals why he cast Eddie Redmayne as transgender pioneer Lili Elbe.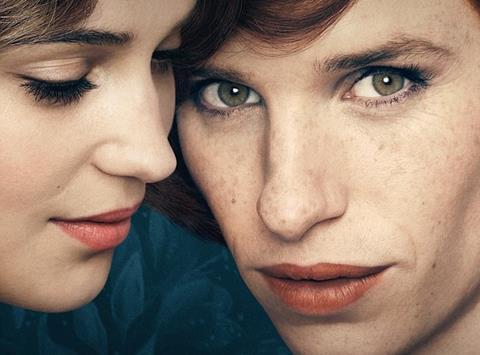 Eddie Redmayne's 'gender fluidity' helped convince director Tom Hooper to cast him as transgender pioneer Lili Elbe in upcoming drama The Danish Girl, the director has revealed to Screen.
In his first interview about the anticipated Venice-bound drama, produced by Working Title, Oscar-winner Hooper described why he cast Redmayne as 1920's artist and transgender woman Elbe, one of the first known recipients of sex reassignment surgery.
"Eddie was really the person I wanted to make the film with, and I was very passionate about that," the director said of his Les Miserables collaborator, who won this year's Best Actor Oscar for his portrayal of Stephen Hawking in The Theory Of Everything.
"I was a great believer in him as an actor. I think also there's a certain gender fluidity that I sensed in him, that I found intriguing and it led me to think he might be a really interesting person to cast in this role."
"I felt that there was something in him that was drawn to the feminine," said Hooper. "That was something that I felt he might be interested to explore further."
The casting of Redmayne has generated intrigue but also controversy with some questioning why a trans actor wasn't cast in the role.
Co-producer Gail Mutrux told Screen the production had at one time considered casting a transgender actor but that the right performer had not emerged.
Hooper, who cast a number of trans actors in the film, admitted that the industry could do more. "I think there's a tremendous pool of talented trans actors out there, and I think there's probably a journey to go on to make sure that talented trans actors have the same access to opportunities both in front of and behind the character as cisgendered actors."
"I hope we're at the beginning of a revolution that will improve access for trans actors and trans filmmakers - but there's a long way to go," he added.
"What's extraordinary is when I first fell in love with the idea of making this film, it was perceived to be a very hard film to finance, and now people talk to me as if it was an obvious film to do, and that's just in five or six years."
The Danish Girl, due for release in the US on November 27 and in the UK on January 1, will receive its world premiere at the Venice Film Festival on September 5.
Screen subscribers can click here to read the full interview.