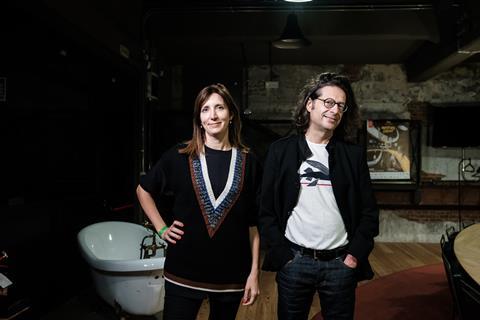 Italy's TorinoFilmLab (TFL) has selected 10 fiction feature film projects at an advanced development stage for its 2022 FeatureLab, which will run from June to November this year.
The projects include six debut features and four second features; there are 21 participants across the 10 creative teams, including 14 women, six men and one non-binary person. They were selected from 134 applications from 60 countries.
Scroll down for the full list of projects
Among the selection are Mexican writer-director Marta Hernaiz Pidal with Straight Ahead, On Your Right. The film centres on the meeting between a group of posh teenage girls who party at an exclusive nightclub; and the Jehovah's Witness who sneaks out from her house to work there.
Pidal's debut feature The Chaotic Life Of Nada Kadić debuted in the Forum strand at the 2018 Berlinale; her 2016 short Fine was in the Cinefondation selection at Cannes. Rosa Galguera produces Straight Ahead through her company Cine Vendaval.
Konstantinos Kontovrakis, producer at Greece's Heretic, is participating with The Future Is An Elder Cow, written and directed by Janis Rafa. The film is set in a small town ravaged by infertility, where rumours start spreading that women are giving birth to animals.
Rafa previously directed fantasy feature Kala azar, which won an award from Dutch journalists on debut in the Tiger competition at International Film Festival Rotterdam in 2020.
The selected teams will receive script consultations and advice on technical filmmaking aspects, as well as on financing, sales and audience engagement. They will then present their projects to an audience of producers and sales agents, and have one-to-one meetings with decision makers, at the TFL Meeting Event in November.
"The geographical richness of the selection is not such an amazing particularity anymore, considering the fully connected reality of our world," said a statement from TFL head of studies Violeta Bava and curator Vincenzo Bugno. "Instead, let's start talking about the multiplicity of the world(s): we are dealing with projects which are trying to deconstruct the respective worlds and realities.
"Some projects are working on history as ironic creative material and memories becoming private and social archives, as surviving strategies. Even more than in the past we are discovering different layers of utopia in "our" projects. Personal, social, environmental utopias which become or could be reality."
The FeatureLab is supported by the Creative Europe Media programme, in partnership with the Polish Film Institute, German Films and Unifrance.
Projects selected for the FeatureLab in recent years include Mounia Akl's Costa Brava, Lebanon and Laura Samani's Small Body in 2018, which went on to debut in Horizons Extra at Venice and in Critics' Week at Cannes respectively last year.
TorinoFilmLab FeatureLab 2022 projects
Synopses provided by TFL
Abitanti (Ger) wri-dir. Kirstin Neuwirth, prod. Sophie Ahrens for Schuldenberg Films
Alba returns to the mountain village of her childhood, now in ruins, where her mother is doggedly trying to knit together a community out of a ragged group of strangers. Forces of nature make approaching one another difficult - only the memory of past familiarity nourishes the hope that they can survive together.
Birth Right (Isr) wri-dir. Inbar Horesh, prod. Alona Refua for Green Productions
A group of young Russian Jews arrive in Israel on a heritage tour. One of them is Natasha, who recently found out she was Jewish, at her father's funeral. Escaping her grief and her mother, she hopes to find a new home. As sexual experiences clash with Jewish nationalism, Natasha discovers an Israel so different from the one she imagined.
Burning Well (US) wri-dir. MG Evangelista, prod. Karishma Dev Dube for Burning Well
A reimagining of the Prodigal Son story with TikTok, egg rolls and a queer romance featuring Fran, a genderqueer influencer, who returns home to Upstate New York. Realizing that they've shunned their small-town family and friends, Fran must repair relationships that remain close to their heart.
Dengue (India) wri-dir. Prantik Basu, prod. Tanaji Dasgupta for Riverine Films
During a sudden summer rain, an unlikely friendship blossoms between a migrant worker and a medical student in the suburbs of Calcutta. Their relationship is soon put to test by the fear of a fatal virus.
Glory B (Gr) wri-dir. Konstantinos Antonopoulos, wri. Luigi Campi, prod. Fani Skartouli for Either/Or Productions
703AD. Two pilloried convicts – a naive beekeeper and a dethroned emperor – face each other and themselves, as they struggle to escape the deserted island they have shipwrecked on.
Lightly On The Earth (It) wri-dir. Sara Fgaier, prod. Marco Alessi for Dugong Films
Gian, an aging composer, has lost his memory. A forgotten diary, resurfaced from the depths of his past, will show him the way back from oblivion. The guiding star: Leila, the love of his life.
Que Facil Me Has Olvidado (Neth) wri-dir. Isabel Lamberti, prod. Stienette Bosklopper for Circe Films Production
By forming a chaotic family together in their small apartment in Madrid, four female Latin American migrants find comfort far away from home.
Straight Ahead, On Your Right (Mex) wri-dir. Marta Hernaiz Pidal, prod. Rosa Galguera for Cine Vendaval
Every weekend, a group of posh teen friends party at an exclusive nightclub. Meanwhile, Estela secretly sneaks out from her house to go there to work, to emancipate from the strict rules of the Jehovah's Witness community she belongs to. Inside the women's toilet, the girl's paths will cross to show us how they handle the limits and expectations of their own societies.
Terra (Fr) wri-dir. Gabrielle Demeestere, prod. Clementine Mourao-Ferreira for so-cle
A PoliSci professor and former radical activist moves to an isolated college for her first teaching job. She becomes intertwined with a charismatic female student who draws her back into her former pursuits, and her desire to effect change leads her down an extreme path.
The Future Is An Elder Cow (Gr) wri-dir. Janis Rafa, prod. Konstantinos Kontovrakis for Heretic
In a small town ravaged by infertility, rumours spread that women started giving birth to animals.