As TIFF 2016 gets underway, two titles are prompting industry buzz.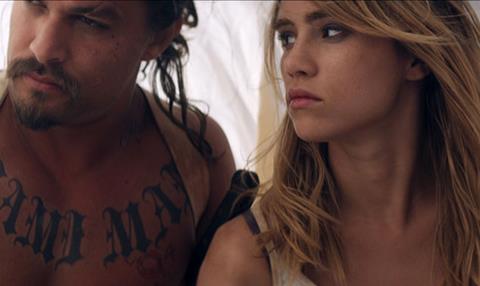 As the industry descended on Toronto International Film Festival (Sept 8-18), buyer interest heated up around Venice hit Jackie ahead of Sunday's North American premiere and Netflix reportedly circled a global streaming deal on The Bad Batch [pictured].
Completed films in the festival, such as Pablo Larrain's English-language debut and Lily Ana Lily Amirpour's second feature, represent one kind of opportunity for buyers, albeit one that has prompted familiar gripes about a lack of broadly commercial must-haves.
However the late arrival of a handful of enticing packages on the eve of Toronto has quickened pulses for savvy buyers willing to risk early investment on select prospects.
This time last year Paramount pounced on a promo reel for Florence Foster Jenkins and the film has amassed $24m and counting in North America.
So all eyes will be on thriller Labyrinth, a Good Universe sales title from Good Films set to shoot later this year starring Johnny Depp. WME Global and UTA handle US rights.
WME Global and Good Universe will also shop sci-fi Kin starring James Franco, while CAA will introduce the package Inner City with Denzel Washington and show a promo reel for Rebel In The Rye, a Bloom international sales title financed by Black Label.
Bloom will talk up Paul Weitz's adaptation of love story Bel Canto with star Julianne Moore, Ken Watanabe and Demián Bichir. WME Global represents the US.
There should be plenty of interest, too, in Papillon starring Charlie Hunnam from Red Granite International.
Noticeable is that most of these titles features at least one piece of major in-demand talent.
"Buyers are less risk-averse," said Radiant Films International head Mimi Steinbauer, in town shopping Misfortune with Daniel Zovatto and John Cusack. The Exchange and UTA will talk up genre dramedy Irreplaceable You, about two lifelong soulmates who must deal with a death if they are to sustain their relationship. Stephanie Laing, who directed episodes of Veep, will direct.
Producer Michael Benaroya, who financed Werner Herzog's Toronto selection Salt And Fire, said investing in a film – let alone buying one – was a balancing act.
"You have to focus on doing some of the smaller independent projects with emerging talent," said Benaroya. "The other way to do it is to go really big and have the one star you need instead of trying to do the ensemble, where you have multiple pieces that might fall apart."
Talent comes at a price and with Netflix and Amazon Studios on the prowl alongside an increasingly confident Hulu, anything with the whiff of bankability can sell for more money than sales agents would have expected several years ago.
"There's definitely been some price inflation but it's cyclical," said Howard Cohen of Roadside Attractions.
What seems certain is that buyers will have been chastened by the ongoing trials and tribulations of Nate Parker and festival selection The Birth Of A Nation.
It remains to be seen going forward how closely they will vet relatively unknown actors or film-makers before snapping up rights, regardless of how comprehensive the talent's Wikipedia entry appears to be.