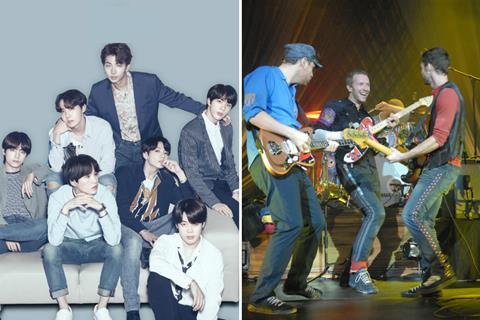 Event distributor Trafalgar Releasing has acquired global rights to music films Burn The Stage: The Movie, about South Korean boyband BTS, and Mat Whitecross' Coldplay documentary A Head Full Of Dreams.

Originating from a YouTube series of the same name, Burn The Stage: The Movie marks the film debut for BTS (an acronym of Bangtan Sonyeondan or 'Beyond the Scene').
Directed by Park Jun Soo, the film follows BTS' 2017 'The Wings' world tour and feautures on-stage footage as well as behind-the scenes moments and interviews with the band members. The tour was attended by more than 550,000 fans across 40 concerts in 19 cities.
Trafalgar is working with BTS' management Big Hit on the November 15 release, which will take place on November 15.
Whitecross' A Head Full Of Dreams covers two decades of Coldplay history, from their rise from playing London pubs to selling out stadia around the world. The film features footage dating from when Whitecross met the four band members at college in London in the 1990s.
The film will stream on Amazon Prime Video in the UK, US, Australia and New Zealand from November 16, with local language versions to folow.
This release will be preceded by a one-night screening of the film in more than 2,000 cinemas around the world on November 14 via Tralfalgar.
The band will also release three live tracks on Amazon Music from October 26 – Stayin' Alive (live from Glastonbury with Barry Gibb), Us Against The World (live from Leipzig) and Don't Panic (live from Paris).