These are vibrant times for filmmaking in the regions, but are they growing principally as service industries due to a lack of capacity in London and the southeast? Screen reports.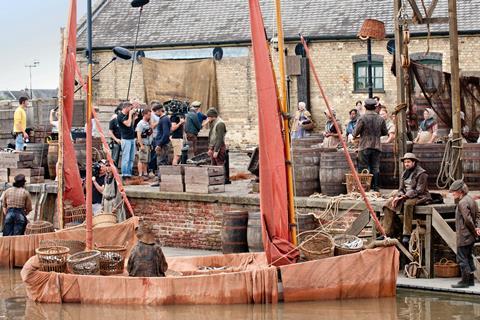 During the long, hot summer of 2018, every corner of the UK was humming to the sound of clapperboards and catering trucks. Drawn in large part by the UK's tax reliefs for film and high-end TV, inward investment revenue from international productions reached more than $3bn in 2017. London may be the gateway for these productions, but much of the money is being spent many hundreds of miles from the capital.
Even if it wanted to, the southeast — with its flagship studios Pinewood, Shepperton and Leavesden — can no longer service the huge and growing demand from local and international film and TV producers.
In theory, this activity and investment should have a knock-on effect. The arrival of big projects creates employment and training opportunities while also attracting investor interest. Their support, and that of local government and the BFI, should then allow regional talent to flourish and sustainable production centres to be built outside London. Yet there are those who doubt the dominance of London in UK film production is being eroded in any real sense.
"I don't think power in any meaningful sense is devolving to the nations and regions as much as I think it should," says Iain Smith, producer and chair of the British Film Commission. He sees the UK as two industries that sit side by side — the booming inward investment business and the struggling UK independent sector. "I've always hoped the inward investment business would help to sustain the indigenous industry. It's debatable whether it is doing that enough or not," Smith says.
At the same, the BFI and other organisations are supporting a host of new national talent initiatives, such as the National Film and Television School's first regional hub in Glasgow. The aim is to nurture a new generation of film and TV makers, both in front of and behind the camera, that is more in tune with the UK as a whole. The buzzword is 'inclusivity' — socially, ethnically and geographically too.
Small and big screen changes
The film industry has watched as growing pressure from the government to help stimulate jobs and economic growth outside London prompted the BBC to move much of its operations to Salford in 2012 (BBC Films remains in London), and Channel 4 plans to relocate many of its staff outside London (Film4 is expected to stay in the capital).
"All the investments we make in filmmakers and talent development, and supporting industry infrastructure, have an increasing emphasis on outside London and the southeast," says Ben Roberts, director of the BFI Film Fund.
Yorkshire is home to some leading production companies such as Warp, whose credits range from Shane Meadows' Dead Man's Shoes to Jeremy Dyson and Andy Nyman's Ghost Stories.
The region has hosted high-profile feature shoots including Armando Iannucci's The Personal History Of David Copperfield, which visited Hull (and also shot in Norfolk), and Paul Thomas Anderson's Phantom Thread, which headed to Whitby, while the University of York, Screen Yorkshire and the BFI recently secured creative cluster funding from the Arts and Humanities Research Council to support and grow the screen industries in Yorkshire and Humber.
"People have greater confidence in coming [to Yorkshire] than in the past because they know the quality of the crews and infrastructure is sufficient to support them," says Hugo Heppell, head of investments at Screen Yorkshire.
But Liverpool-based producer Roy Boulter of Hurricane Films, the outfit behind A Quiet Passion, Sunset Song and A Prayer Before Dawn, is less upbeat. Although he and partner Sol Papadopoulos do not have to pay the crippling rents of London-based companies, Boulter says they have to fight to stay on the radars of funders and decision-makers. They make fortnightly two-hour train trips to London and ensure they are present at every major market. He has not noticed a power shift away from the streets of Soho: "Liverpool as a service centre is booming," he says. "But it's just location shoots. It is easier for us to shoot films abroad than it is in our own city. There is nothing that supports you shooting here other than the tax credit."
Boulter applauds the work of the BFI and Creative England in helping young regional filmmakers develop their skills, but says: "There is nothing apparent [in the new initiatives] that make it easier for companies like us to produce features."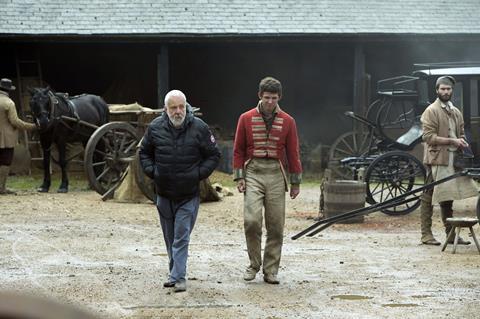 There is more optimism elsewhere. Gillian Berrie of Glasgow-based Sigma Films, who produced David Mackenzie's Scotland-shot Outlaw King, is "very positive" about the prospects for the regions. "It is 30% cheaper to make drama in Scotland than it is in London," she says. But she too acknowledges the decision-makers are still predominantly based in London. "That needs to change. We've been shouting about it for 20 years."
For Berrie, that has meant establishing relationships outside the UK. "I felt I could reach out to Denmark instead and [also] build relationships with other parts of Europe," she explains.
Producer Rachel Robey of Nottingham-based Wellington Films — whose credits include Matt Palmer's Calibre — is equally pragmatic. "We've never felt at a disadvantage being based outside of London. We've always made it work for us but we've had to go here, there and everywhere for meetings at short notice when we've needed to," she explains.
Nottingham is less than two hours from London and Robey jokes with producers based in the further reaches of Greater London that she can reach Soho just as quickly as they can. Even so, the travel can grind.
"Many a time, we have been on the train to London, going especially for a meeting, and have received a phone call saying whoever it is had to rearrange. At that point, we have to bite our tongues," she says. Robey for one welcomes the decision of StudioCanal UK's new CEO Nicola Shindler to remain based in Manchester, where she also heads heavyweight TV company Red Productions.
Regional power bases are gradually emerging. Creative Scotland has launched Screen Scotland and hired former BFI executive Isabel Davis as its executive director. Funding for local projects is available in Northern Ireland and Wales, as well as Yorkshire, and Creative England's iFeatures initiative supports films by first-time producers based in the English regions.
"It definitely feels like you don't need to be in London to start your career and make some noise on the festival circuit," says Manchester-based producer Loran Dunn of Delaval Film — a 2017 Screen International Star of Tomorrow and recipient of a BFI Vision award. "However, for features the industry is still almost in its entirety based in London.
"It is incredibly frustrating," she adds, "especially as new filmmakers are now establishing themselves in the regions, and then finding it hard to sustain themselves and stay on the radar with a lack of infrastructure for development outside of London."
Dunn asks why there are not regional bases for the key funders such as BBC Films, Film4 and the BFI — the regional BFI hubs support shorts and early-stage feature treatment work but its focus is on talent, not feature filmmaking.
Distributors set in the south
In the distribution sector, decision-making has become more, not less, concentrated in the southeast. Until quite recently, the major distributors all had regional sales executives. Geraldine Moloney, now a policy consultant for the Film Distributors' Association, recalls when she started working for United Artists in the mid-1970s, it had four or five regional sales representatives. "One was based in Ireland. We had someone who travelled round the northeast, someone who travelled round Scotland, someone who did Birmingham and somebody who also did the southwest."
The sales reps had close contact with cinema managers and independent cinemas. They knew their customers' tastes. Cinema managers would be encouraged to mount local marketing campaigns. "For mainstream cinemas, that's been lost," Moloney says.
The potential value of local releasing campaigns was underlined by eOne's experience with Ken Loach's I, Daniel Blake, for which it hired local marketing executives all over the UK. They worked closely with trade union groups and came up with tailored campaigns for their areas. The result was a $4m (£3m) gross at the UK box office — an impressive figure for a polemical film without stars. The company is planning to pursue a similar strategy for Mike Leigh's Amazon-backed historical epic Peterloo, about the 1819 Manchester massacre, that will have its UK premiere in that city as part of the BFI London Film Festival.
No one doubts these are vibrant times for filmmaking regionally. But for all the activity everywhere from Belfast to Cumbernauld, Cardiff to Bristol, the key decisions are still being made in the same places. However, given the obvious determination among industry leaders to devolve power and the fact the southeast cannot cope with the level of demand on its own, it seems inevitable London's stranglehold on the industry will eventually be loosened — a little.