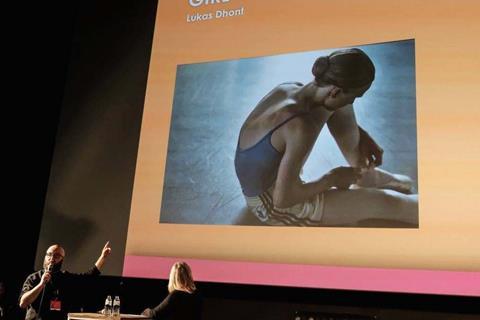 Belgian filmmakers introduced 8 films as works in progress during Flanders Image's Connext industry event in Ghent, with the Grid Work In Progress prize going to Lukas Dhont's debut feature Girl.
Girl, which was presented by co-screenwriter Angelo Tijssens, is about a 15-year-old girl trapped in a boy's body, who dreams of being a ballerina. The filmmakers were inspired by a real story from a ballet school in Antwerp.
Tijssens said, "Imagine being a boy who is actually a girl, which is already a complex thing, and combine that with having to conform to a standard [in ballet] that almost no one can live up to, and being a teenager at the same time."
Dancer Victor Polster takes the lead role of Lara. Dirk Impens produces for Menuet; no sales company is attached yet. The film wrapped principal photography last week and will be delivered in autumn 2018.
The jury for the Work In Progress award was comprised of Bobby Allen from MUBI, Jim Kolmar from SXSW, Clare Crean from The Works, Tim League from Neon and Drafthouse ,and Pamela Leu from Be For Films. The jury said, "The film has the potential to reach a wide international audience."
International industry attendees were also buzzing about Coureur, a cycling drama that marks the feature debut of Kenneth Mercken and could be ready for early 2018 festivals.
The full list of WIPs at Connext 2017:
Ascension, dir Bas Devos, prod Tomas Leyers (Bel-Neth)
Alba Rohrwacher, Lubna Azabal and Willy Thomas star in a drama showing diverse citizens of Brussels in the aftermath of the terror attacks of March 2016.
The film is still shooting and will be delivered in 2018. Devos previously directed Violet.
Coureur, dir Kenneth Mercken, prod Eurydice Gysel, Koen Mortier (Bel-It)
The first-time-feature director, a former cycling champion himself, delves into the intimate world of cycling to follow a cyclist who is willing to risk his life to win, and to please his demanding father. The film won the project award at Connext 2016 and is now in the final stages of post to be delivered in January 2018.
Don't Shoot (Niet Schieten), dir Stijn Coninx, prod Peter Bouckaert (Bel)
Coninx's sixth feature, shooting now, is based on the true story of a nine-year-old boy who survived a 1985 gang robbery that killed his parents and sister. His grandparents try to give the boy a new perspective on life, as well as seeking justice for the murders. Jan Decleir, who also starred in Coninx's Daens 25 years ago, plays the grandfather.
Gangsta (Paster), dirs Adil El Arbi & Bilall Fallah; prods Kobe Van Steenberghe, Hendrik Verthe (Bel-Neth-Mor)
Four drug dealers trigger a gang war in Antwerp when they steal a shipment of cocaine. Indie Sales handles sales on the film, which is targeting an 18-34 year-old audience and will be delivered in December 2017.
Girl, dir Lukas Dhont, prod Dirk Impens (Bel-Neth)
The story of a 15-year-old girl, trapped in a boy's body, who wants to become a ballerina. The feature directorial debut of Lukas Dhont, who says the film is about "Lara's daily confrontation with the big gap between her male biology and her female identity."
Ploey – You Never Fly Alone, dirs Arni Asgeirsson, Ives Agemans, prods Hilmar Sigurdsson, Ives Agemans (Bel-Ice)
This $8.2m (€7m) animated feature is about a plover chick who has to make new friends to survive an arctic winter. It will be delivered in November 2017. ARRI Worldsales handles sales.
Rosie & Moussa, dir Dorothee Van Den Berghe prod Helena Vlogaert, Bram Sterckx (Bel)
This family feature, adapted from the children's books written by Michael de Cock and illustrated by Judith Vanistendael, is about two young friends who meet in an apartment building full of lively characters. Attraction Distribution handles sales.
Zooks, dirs Kristoff Leue, Dimitri Leue, prod Peter De Maegd (Bel)
This animated family film is about a 10-year-old who tries to restore the balance between man and nature. The filmmakers are collaborating with the World Wildlife Fund. The film will be delivered in November 2017.