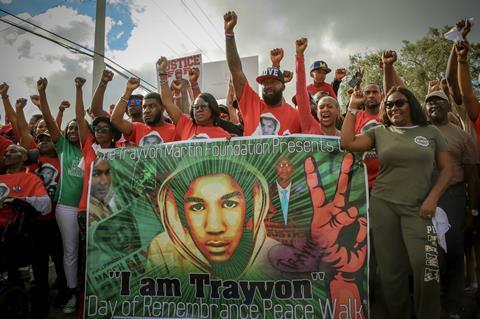 World premieres of Rest In Power: The Trayvon Martin Story from executive producer Jay-Z, and National Geographic's Genius: Picasso starring Antonio Banderas are among small-screen highlights in the Tribeca TV line-up announced on Wednesday (March 21).
The TV roster includes 18 shows, with eight series premieres, three season premieres, one mid-season premiere, two feature documentaries and five independent pilots.
There are world premieres for Freaks And Geeks: The Documentary and Mr. SOUL!, as well as YouTube Red's Cobra Kai with Ralph Macchio reprising his role from The Karate Kid opposite his old rival played by William Zabka. The Season Two premiere of HBO's Westworld gets its New York premiere.
The second year of Pilot Season showcases Zosia Mamet, Trace Lysette and Gugu Mbatha-Raw in Fabled, an anthology of fairy tales reimagined from the perspective of their female characters. Refinery29, Evan Jonigkeit, Alex Gayner and Zosia Mamet serve as executive producers. Among other entries is the Israeli autism documentary On The Spectrum.
Festival brass also unveiled the fifth edition of N.O.W. (New Online Work), whose selections comprise 18 online creators, with programmes in the Episodic and Short Form showcases, the Creators Market, and The New York Times Op-Docs.
Among anticipated section highlights in the Episodic Showcase are Dinette, Snugglr, and Pig: The Dam Keeper Poems. The Short Form Showcase includes Flint Is A Place, The Last Fisherman, and Crime Cutz. All online creators and a further 15 curated participants who include VR and immersive filmmakers are invited to the Creators Market.
Tribeca TV premieres in previous years include The Handmaid's Tale, The Sinner, and The Night Of. Prior N.O.W. programme highlights include High Maintenance and The Gay And Wondrous Life.
"Tribeca has become a destination for some of the most highly anticipated and well-received shows on television," said Cara Cusumano, director of programming at the Tribeca Film Festival.
"While we continue that tradition with an exciting slate of new and returning series premieres, we also sought to pay homage to the rich cultural history of TV through two feature documentaries about ground-breaking shows of the past, and all-new episodes of a true-crime trailblazer."
"We started Tribeca N.O.W. five years ago to recognize a truly unique brand of storytellers emerging from the online space," said Liza Domnitz, senior programmer of the Tribeca Film Festival. "Here were creators who found the Wild West landscape of the web the perfect playground for their hysterical, provocative and moving visions."
The 2018 Tribeca Film Festival presented by AT&T will take place from April 18-29 in New York City. For the entire line-up announced on Wednesday, click here.