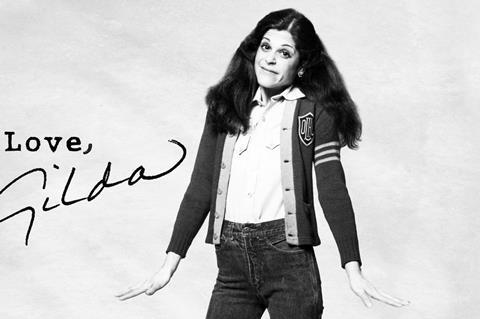 The world premiere of Love, Gilda will open the 17th edition of the Tribeca Film Festival on April 18, festival brass announced on Tuesday (February 6).
The CNN Films documentary follows the career and impact of Emmy and Grammy award-winning comedian Gilda Radner and is produced by 3 Faces Films in association with Motto Pictures.
Radner was an original cast member on Saturday Night Live (SNL) who famously poked fun at television presenter stereotypes. She was married to Gene Wilder until her death from ovarian cancer in 1989 at the age of 42.
Director Lisa D'Apolito uses audiotapes, home movies, diary entries, and interviews with those who knew Radner, among them SNL alumni Bill Hader, Amy Poehler, Maya Rudolph, and Cecily Strong. Chevy Chase, Laraine Newman, Paul Shaffer, and Lorne Michaels also feature in the documentary. Submarine handles sales.
"As a festival that has always supported women's voices and is largely run by women we are incredibly proud to celebrate the inimitable voice of Gilda during the opening night of our festival," Jane Rosenthal, festival co-founder and CEO, said. "Gilda Radner was a powerful comedic force of nature who opened doors and thrilled audiences while becoming one of the most prolific comedians of a generation."
"Love, Gilda is the right film at the right time and the perfect way to open our festival," Tribeca Enterprises executive vice-president Paula Weinstein said.
"Gilda inspired me and many other women with her remarkable spirit and unique talent that changed the world of comedy," D'Apolito added. "I'm grateful and honoured to share the extraordinary legacy of Gilda Radner at the Tribeca Film Festival."
Bronwyn Berry, Meryl Goldsmith, and James Tumminia served as producers on the film. Executive producers are Julie Goldman, Christopher Clements, Carolyn Hepburn of Motto Pictures, Alan and Robin Zweibel, Amy Entelis and Courtney Sexton of CNN Films.
The 2018 Tribeca Film Festival will run in New York City from April 18-29.