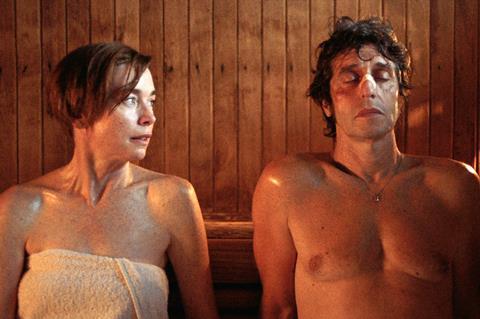 Ryan Kampe's Visit Films heads to the Croisette with a bumper sales slate led by Tribeca Film Festival Nora Ephron Award winner Initials S.G.
The roster includes Tribeca selection CRSHD, SXSW winners Alice, Saint Frances and Tito, SXSW selection The Wall Of Mexico, and Sundance selection Adam.
Visit will screen Lucía Garibaldi's Sundance World Cinema Dramatic Competition best award-winner The Sharks, about a girl's sexual awakening in a small beach town. Kampe will also present teaser footage from the upcoming adventure documentary The Sanctity Of Space and punk rock doc White Riot.
Rania Attieh and Daniel Garcia wrote and directed the dark comedy Initials S.G., which follows an aging Serge Gainsbourg wannabe who struggles with an acting career he can't seem to get on track, an affair he doesn't want, and a crime he didn't mean to commit. Diego Peretti and Julianne Nicholson star.
Producers are Ivan Eibuszyc, Georges Schoucair, Shruti Ganguly, Attieh, and Garcia through Frutacine, En Passant, Schortcut Films, and honto88.
CRSHD is a teen comedy that follows a college freshman as she tries to lose her virginity with the help of her two best friends by getting into an invite-only "Crush Party." Emily Cohn wrote and directed CRSHD, which stars Isabelle Barbier, Deeksha Ketkar, and Sadie Scott. Former chairman and CEO of MTV Networks Judy McGrath served as executive producer, and Cohn produced with Jennifer George, Abby Pucker, and Barrett Rouen.
SXSW Grand Jury Award winner Narrative Feature and Cherry Picks Female First Feature Award winner Alice tells of a young woman who, after discovering that her husband's addiction to escorts has left their family penniless, gets drawn into the world of high-end prostitution to provide for herself and her child. Josephine Mackerras wrote, directed, and produced, and Emilie Piponnier, Martin Swabey, and Chloe Boreham star.
Winner of the SXSW Audience Award for Narrative Feature and Special Jury Recognition for Breakthrough Voice, dramedy Saint Frances stars Kelly O'Sullivan as a young woman who becomes a nanny for a bright youngster, after terminating her own pregnancy. Ramona Edith-Williams, Lily Mojekwu, Charin Alvarez, and Max Lipchitz, and Jim True-Frost star. Alex Thompson directed, and producers are James Choi, Pierce Cravens, Ian Keiser, Eddie Linker, and Raphael Nash. The film is a Runaway Train production in association with Easy Open Productions and Metropolitan Entertainment.
SXSW selection The Wall Of Mexico stars Jackson Rathbone as a young handyman who begins working for a wealthy Mexican-American family and is drawn into a bitter feud when the family decides to build a wall to stop white locals from stealing their well water. Esai Morales, Xander Berkeley, Moises Arias, Carmela Zumbado, Marisol Sacramento, Alex Meneses, and Mariel Hemingway also star in Zachary Cotler's film. Marla Arreola, Adrian Durazo, and Sarahi Castro produced for The Winter Film Company and Spécola.
Winner of the Adam Yauch Hörnblowér Award at SXSW, Tito stars Grace Glowicki in a cross-gender performance as a traumatised man whose cheerfully intrusive neighbour changes his life. Ben Petrie also stars, and Grace Glowicki directed. Miriam Levin-Gold, Petrie, and Grace Glowicki opoduced the Featured Creatures production in association with Hawkeye Pictures.
Sundance selection Adam stars Nicholas Alexander as a high schooler mistaken for a transgender man at a party who must keep up the charade to win over the girl of his dreams. Bobbi Salvör Menuez, Leo Sheng, Chloë Levine, and Margaret Qualley round out the key cast. Transparent producer Rhys Ernst directed, and Howard Gertler and James Schamus produced. Production companies are Meridian Entertainment, Symbolic Exchange, and Little Punk.