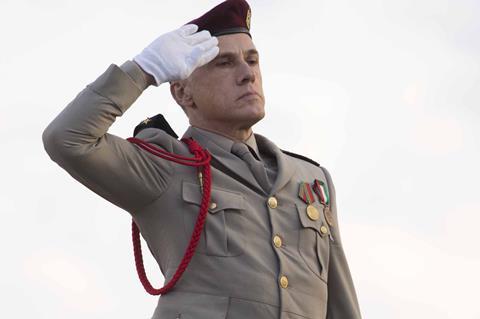 New work from Werner Herzog, the directorial debut of Christoph Waltz and a documentary about the late INXS front man Michael Hutchence are among the line-up at the 18th Tribeca Film Festival presented by AT&T, which includes the inaugural Tribeca Critics Week.
Unveiling the programme on Tuesday (5), festival brass noted that female directors account for half of the three competition strands. The feature programme includes 103 films from 124 filmmakers, of whom 42 are first-timers, and 19 return to Tribeca.
Some 40% of the feature films have one or more women directors, 29% are directed by people of color, and 13% are by individuals who identify as LGBTQIA. The 2019 Festival was programmed from more than 9,295 total submissions, and runs from April 24-May 5.
US Narrative entries include the Amber Heard and Terence Howard dystopian Los Angeles drama Gully, and Louisiana-set family drama Burning Cane starring and produced by Wendell Pierce. Among the US Narrative Documentary selections is Mystify: Michael Hutchence about the late INXS front man and features Kylie Minogue, and Leftover Women, about the pressure on Chinese woman to marry
Spotlight includes the world premiere of Waltz's feature directorial debut Georgetown (pictured), as well as previously-seen Charlie Says from Mary Harron, and Joe Berlinger's Extremely Wicked, Shockingly Evil, And Vile. Antoine Fuqua brings the world premiere of his documentary What's My Name | Muhammad Ali in Spotlight Documentary, which also includes the world premiere of Herzog's Nomad: In The Footsteps Of Bruce Chatwin.
International Narrative Competition selections include Sharon Maymon and Tal Granit's plastic surgery drama Flawless (Israel-Germany), Bhaskar Hazarika's Indian taboo drama Aamis, and the North American premiere of Michela Occhipinti's Italian arranged marriage drama Flesh Out.
Viewpoints brings the world premiere of Jared Leto's A Day In The Life Of America, a documentary that chronicles activity over the July Fourth holiday across 50 US states, and also screens Toronto hit Wild Rose starring Jesse Buckley. Midnight includes Berlinale Generation hit Knives And Skin, and the world premiere of Ant Timpson's Come To Daddy starring Elijah Wood.
The world premiere of Abel Ferrara's New York-set documentary The Projectionist, which focuses on the experience of a longtime cinema owner to chart the changes in the city's theatrical landscape, screens in This Used To Be New York, a curated section reflecting quintessential New York cultural eras that shaped and have come to define the city.
Peter Strickland's In Fabric is among five selections in Tribeca Critics' Week curated by New York-based film critics in what is a first for a North American film festival. As previously announced, The Apollo will open the festival. Tribeca will announced its immersive selections on Wednesday.
The Movies Plus section will include performances by Sheryl Crow and an on-stage conversaiton with Chelsea Manning.
"Every festival is shaped by and reflective of its community, and we are fortunate that our hometown just happens to be the most diverse city on Earth," said festival director Cara Cusumano. "So our curatorial mandate is to bring to the screens a cinematic celebration- in only 100 features – whose breadth of stories and storytellers is as prismatic and adventurous, local and global, diverse and inclusive as our incredible city."
The films in competition will compete for cash prizes totalling $165,000, as well as artwork from the Art Awards programme, offering work from acclaimed contemporary artists in select categories. For the seventh year, the Nora Ephron Award, presented by CHANEL, will award $25,000 to the female filmmaker in this year's programme who embodies the spirit and boldness of the late filmmaker.
In addition to Cusumano and artistic director Frederic Boyer, the programming team includes vice-president of shorts Sharon Badal; senior programmers Liza Domnitz (features, TV, and online work), Loren Hammonds (immersive and features), senior programmer Lucy Mukerjee (features); programmer Ben Thompson (shorts); and programme advisors Paula Weinstein and Tammie Rosen, alongside a team of associate programmers.
U.S. NARRATIVE COMPETITION
Blow The Man Down (Danielle Krudy, Bridget Savage Cole); Burning Cane (Phillip Youmans); Clementine (Lara Jean Gallagher); Gully (Nabil Elderkin); Initials SG (Iniciales SG, Argentina-Lebanon-USA, Rania Attieh, Daniel Garcia); Low Tide (Kevin McMullin); The Place Of No Words (Mark Webber); The Short History Of The Long Road (Ani Simon-Kennedy); Stray Dolls (Sonejuhi Sinha); and Swallow (Carlo Mirabella-Davis).
DOCUMENTARY COMPETITION
17 Blocks (Davy Rothbart); The Dog Doc (Cindy Meehl); For They Know Not What They Do (Daniel Karslake); Leftover Women (Israel, Shosh Shlam, Hilla Medali); Mystify: Michael Hutchence (Richard Lowenstein); Our Time Machine (China, Yang Sun, S. Leo Chiang); Recorder: The Marion Stokes Project (Matt Wolf); Rewind (Sasha Joseph Neulinger); Scheme Birds (Scotland-Sweden, Ellen Fiske, Ellinor Hallin); Seahorse (UK, Jeanie Finlay); Watson (USA-Costa Rica-Tonga, Lesley Chilcott); and A Woman's Work: The NFL's Cheerleader Problem (USA-UK, Yu Gu).
INTERNATIONAL NARRATIVE COMPETITION
Aamis (India, Bhaskar Hazarika); Flawless (Haneshef, Israel-Germany, Sharon Maymon, Tal Granit); Flesh Out (Italy, Michela Occhipinti); The Gasoline Thieves (Huachicolero, Mexico-Spain-UK-USA, Edgar Nito); House Of Hummingbird (Beol-sae, South Korea, Bora Kim); Noah Land (Nuh Tepesi, Germany-Turkey-USA, Cenk Erturk); A Regular Woman (Nur Eine Frau, Germany, Sherry Hormann); Roads (Germany, Sebastian Schipper); Run (UK, Scott Graham); and White As Snow (Blanche Comme Neige, France, Anne Fontaine).
SPOTLIGHT NARRATIVE
American Woman (USA, Semi Chellas); Buffaloed (USA, Tanya Wexler); Charlie Says (USA, Mary Harron); Crown Vic (USA, Joel Souza); Dreamland (USA, Miles Joris-Peyrafitte); Extremely Wicked, Shockingly Evil And Vile (USA, Joe Berlinger); Georgetown (USA, Christoph Waltz); Good Posture (UK-USA, Dolly Wells); The Kill Team (USA, Dan Krauss); Lost Transmissions (USA, Katharine O'Brien); Only (USA, Takashi Doscher); Plus One (USA, Jeff Chan, Andrew Rhymer); Safe Spaces (USA, Daniel Schechter); Skin (USA, Guy Nattiv); Standing Up, Falling Down (USA, Matt Ratner).
SPOTLIGHT DOCUMENTARY
After Parkland (USA, Emily Taguchi, Jake Lefferman); At The Heart Of Gold (USA, Erin Lee Carr); Devil's Pie - D'Angelo (Netherlands-UK-USA, Carine Bijlsma); Dominican Dream (USA, Jonathan Hock); Framing John DeLorean (USA, Don Argott and Sheena M. Joyce; Halston (USA, Frédéric Tcheng); A Kid From Coney Island (USA-China, Chike Ozah, Coodie Simmons); Lil' Buck: Real Swan (France, USA, Louis Wallecan); Maiden (UK, Alex Holmes); Nomad: In The Footsteps Of Bruce Chatwin (UK, Werner Herzog); Picture Character (USA-Germany-Japan-Argentina-Austria-UK-Scotland, Martha Shane, Ian Cheney); The Quiet One (UK, Oliver Murray); Sublime (USA, Bill Guttentag); A Taste Of Sky (USA, Michael Yuchen Lei); What's My Name | Muhammad Ali (USA, Antoine Fuqua); and Woodstock: Three Days That Defined A Generation (USA, Barak Goodman).
VIEWPOINTS
37 Seconds (Japan-Thailand, Hikari); All I Can Say (USA, Danny Clinch, Taryn Gould, Colleen Hennessy, Shannon Hoon); Changing The Game (USA, Michael Barnett); Circus Of Books (USA, Rachel Mason); CRSHD, (USA, Emily Cohn); A Day In The Life Of America (USA, Jared Leto); Goldie (USA, Sam De Jong); Lost Bayou (USA, Brian C. Miller Richard); Lucky Grandma (USA, Sasie Sealy); One Child Nation (China-USA, Nanfu Wang, Jialing Zhang); Pearl (France-Switzerland, Elsa Amiel); Plucked (USA, Joel Van Haren); Red, White & Wasted (USA, Andrei Bowden-Schwartz, Sam B. Jones); See You Yesterday (USA, Stefon Bristol); Two/One (UK-China-Canada, Juan Cabral); What Will Become Of Us (USA, Steven Cantor); Wild Rose (UK, Tom Harper).
TRIBECA CRITICS' WEEK
The inaugural Tribeca Critics' Week is a new section with a curated slate of five feature films from New York-based film critics. The opening night film will be the New York premiere of Netflix's American Factory from directors Steven Bognar and Julia Reichert, which explores the intersection of cultures that when a Chinese billionaire opens a factory in Dayton, Ohio.
American Factory (USA, Steven Bognar, Julia Reichert) New York Premiere, Feature Documentary; Driveways (USA, Andrew Ahn); In Fabric (UK, Peter Strickland); This Is Not Berlin (Esto No Es Berlín, Mexico, Hari Sama; and The Weekend (USA, Stella Meghie).
THIS USED TO BE NEW YORK
Martha (Australia-USA-Germany-Brazil, Selina Miles); Other Music (USA, Puloma Basu, Rob Hatch-Miller); The Projectionist (Greece-USA, Abel Ferrara).
MIDNIGHT
Bliss (USA, Joe Begos); Come To Daddy USA, Ant Timpson); Knives And Skin (USA, Jennifer Reeder); Something Else (USA, Jeremy Gardner and Christian Stella); and You Don't Nomi (USA, Jeffrey McHale).
MOVIES PLUS
Ask Dr Ruth (USA, Ryan White), followed by conversation with White and Dr. Ruth Westheimer, moderated by Columbia University Film Professor Annette Insdorf.
Earth Break: A Few Suggestions for Survival, with Additional Hints and Tips About How to Make Yourself More Comfortable During the Alien Apocalypse (USA, Aaron Katz), followed by a conversation with Katz and comedian, actor and author Jenny Slate.
Gay Chorus Deep South (USA, David Charles Rodrigues), followed by a performance by The San Francisco Gay Men's Chorus.
I AM HUMAN, (USA, Taryn Southern, Elena Gaby), followed by a conversation with the co-directors and producers, neurotech entrepreneur Bryan Johnson, and neurosurgeon at Toronto Western Hospital Dr. Andres Lozano, moderated by Futurism CEO Alex Klokus.
Inna De Yard, (France-Berlgium, Peter Webber), followed by a performance by reggae legend Ken Boothe.
Linda Ronstadt: The Sound of My Voice (US, Rob Epstein, Jeffrey Friedman), followed by a performance by Sheryl Crow in celebration of Ronstadt.
Making Waves: The Art Of Cinematic Sound (USA, Midge Costin), followed by a master class conversation with sound designers and editors from the film, including Oscar-winners Ben Burtt and Gary Rydstrom. Presented by The Dolby Institute.
The Remix: Hip Hop X Fashion (USA, Lisa Cortés, Farah X), followed by a musical performance inspired by the film.
Slay The Dragon (USA, Barak Goodman, Chris Durrance), followed by a conversation with directors, subject Katie Fahey, and Mother Jones senior reporter and author of Give Us the Ballot, Ari Berman.
Trixie Mattel: Moving Parts (USA, Nick Zeig-Owens), followed by a performance by Drag Race All-Star Trixie Mattel.
XY Chelsea, (UK, Tim Travers Hawkins), followed by a conversation with film subject Chelsea Manning, producer Isabel Davis, and director Tim Hawkins.
Awards in the three main competition sections – U.S. Narrative, International Narrative, and Documentary Competition – will be determined by a jury and presented in the following categories: Founders Award for Best U.S. Narrative Feature; Best Screenplay in a U.S. Narrative Feature; Best Cinematography in a U.S. Narrative Feature; Best Actor in a U.S. Narrative Feature; Best Actress in a U.S. Narrative Feature; Best International Narrative Feature; Best Screenplay in an International Narrative Feature; Best Cinematography in an International Narrative Feature; Best Actor in an International Narrative Feature; Best Actress in an International Narrative Feature; Best Documentary Feature; Best Editing in a Documentary Feature, and Best Cinematography in a Documentary Feature.
In addition, the festival juries will present awards for Best New Narrative Director and The Albert Maysles Award (Best New Documentary Director) for first time feature directors in any section.
One narrative film directed by or written by a woman making its world or international premiere will receive the Nora Ephron Award, which recognizes a woman who embodies the spirit and vision of the legendary filmmaker and writer Nora Ephron.
Two feature films – one narrative and one documentary – will be selected to receive the Audience Award, the audience choice for best feature film. Films playing in the Competition, Viewpoints, Spotlight, Midnight, Movies Plus, This Used To Be New York, and Tribeca Critics' Week screenings sections are eligible.