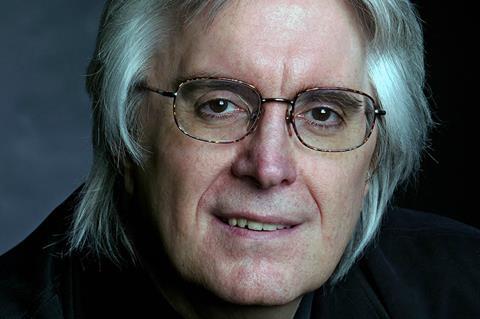 MAY 6 UPDATE: Industry tributes are pouring in for Robbie Little, the British producer, co-president of The Little Film Company and stalwart of the independent world, who died unexpectedly in London en route to Cannes .
Little, who served alongside his wife Ellen, was a widely admired, deeply experienced and beloved figure whom many regarded as a 'godfather' to the independent sector.
At the time of his death he was working with producer Debbie Gray on the Timothy Spall and Vanessa Redgrave drama Mrs Lowry & Son and The More You Ignore Me, and was planning to continue talks with international buyers on the Croisette.
Little was known for his dry wit, cultural appreciation and love of cinema. He was also a fervent fan of Liverpool Football Club and had been looking forward to cheering the team on in the Champions League final later this month.
IFTA chariman Michael Ryan said, "I was truly saddened to hear the news about Robbie this morning. Robbie was an original and a pioneer. When we had the idea to start the AFM which morphed eventually into the Association we have today, Robbie was one of the first to jump in with his investment.

"He then served on many of the boards as the AFM and IFTA grew. Not many people know he was a good bass player and coming from Liverpool, was there when those four boys rocked the world. We will miss his impish humour and his championing of the independent film family. My thoughts and love go out to Ellen and his family."
"Robbie Little was my mentor," Richard Guardian of Guardian Entertainment, and a co-founder of Lightning Entertainment, told Screen. "He introduced me to independent films sales when I consulted for him and sourced product from 1988-90 whilst I lived in Sydney. In 1990 he brought me to LA to head international sales for Overseas Filmgroup, where I enjoyed great times and experiences with him until I left for HBO in 1997.
"He taught me so and much and remained a confidant and counselor to me until yesterday. But most importantly, Robbie was a friend, a kind, caring, and compassionate individual. He and Ellen were very good to my family and me, generous to us during some trying times. As many know, he and Ellen loved animals, especially dogs, and together have done much for 'man's best friend.'
"Robbie and I shared a love of good food, of good (and bad) jokes, of music, and, while we worked in the film industry, we never took what we did too seriously, recognising that so many other endeavours contribute much more to society and the world. And we bonded as passionate supporters of Liverpool FC. Robbie, You'll Never Walk Alone. On May 26 I want the Redmen to win it for you! I'll miss you mate."
"He literally changed my life when I first came to LA in 1991," publicity maven Nikki Parker told Screen. "It was his idea that I start a company. He became my first client, providing me with an office and a computer. But for him, I wouldn't have had the courage to start Denmead Marketing, which was acquired by Rogers & Cowan 13 years later.
"It saddens me so deeply that one of the genuinely nice guys in the indie business has departed. He was passionate about his work, but he was also passionate about helping others. So many people have been touched by him. And not forgetting his love of animals. Together with Ellen, he tirelessly contributed time and money to their welfare. He will be sorely missed."
Jean Prewitt, president and CEO of IFTA, said, "Robbie was one of the small group of far-sighted sales agents who created IFTA and launched the AFM in 1908 and he remained a valued and outspoken member of our community. We grieve the loss of his love of film, his sarcastic wit, and his loyalty to the independent industry he helped build."
Little started his career selling Bruce Lee films and eventually ended up at Titanus In Rome, where he working with Dino De Laurentis, among others.
He and his wife Ellen left Rome in the early 1980s and moved to Los Angeles, where they founded one of the first independent sales companies, Overseas Filmgroup, before expanding into distribution in North America and founding First Look Media, which they eventually sold to Image and Millennium.
They left to up The Little Film Company and became founding members of the Independent Film And Television Alliance (IFTA), offering enthusiastic early support of the AFM.
The Little Film Company handled many prestigious and commercially successful titles, among them Tsotsi, which won the 2006 Oscar for best foreign language film.
Little served as executive producer on Tsotsi, as well as supernatural horror film franchise The Prophecy with Christopher Walken; Trading Mom starring Sissy Spacek; and more recently An American Haunting starring Donald Sutherland, Spacek, James D'Arcy and Rachel Hurd-Wood.
The Little Film Company championed a number of other foreign-language award-winners, among them 1995 Oscar winner Antonia's Line, and nominees The Scent Of Green Papaya (Vietnam), and The Other Side Of Sunday and Elling (Norway).
The Littles played a role in financing, producing and/or distributing more than 300 films over the course of their career, among them Waking Ned Devine, Before Night Falls, A Map Of The World, Julie Walking Home, The Unbelievable Truth, Between Strangers, Evelyn, and The Secret Of Roan Inish.
The Littles supported the early work of such acclaimed directors as Roland Emmerich (Ghost Chase and Moon 44), Bill Condon (Gods and Monsters), and Gurinder Chadha (Bhaji On The Beach).
They were founding members of The Archive Council, served on the board of the Antonio David Blanco Scholarship Fund, and supported scholarship funds honouring Irvin Shapiro and Walter Manley at the Tisch School of the Arts, New York University.