Trivisa scoops five awards including best film, while Mad World takes best new ditrector prize.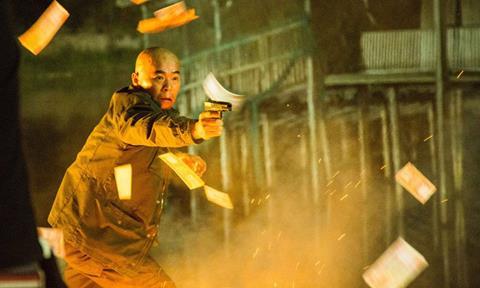 SCROLL DOWN FOR FULL LIST OF WINNERS
Hong Kong's new wave of filmmakers scored big at the Hong Kong Film Awards on Sunday night, where films from first-time directors walked off with most of the major prizes.
Johnnie To-produced crime drama Trivisa (pictured) was the big winner of the night, scooping five awards including best film and best director for its three first-time co-directors - Jevons Au, Frank Hui and Vicky Wong. The film, about a trio of notorious gangsters, also won best actor for Gordon Lam's performance, best screenplay and best editing.
Wong Chun's Mad World, also a first-time effort, picked up three awards, including best new director, best supporting actor for Eric Tsang's performance and best supporting actress for Elaine Jin. The film tells the story of a former stockbroker living with his father (Tsang) in a tiny apartment following an episode of mental illness.
Kara Wai took best actress for her performance as a women in the early stages of dementia in Happiness, the feature debut of scriptwriter Andy Lo. Tony Wu took best new performer for his role in Steve Chan Chi-fat's feature debut Weeds On Fire, based on the true story of a Hong Kong baseball team, which was also awarded best original film song.
Romantic drama See You Tomorrow took two awards - for Peter Pau and Cao Yu's cinematography and Alfred Yau's art direction. Chinese New Year release The Monkey King 2 also won two awards - for best costume & make-up design and best visual effects.
Other winners included Operation Mekong, which scooped best action choreography; Soul Mate, which picked up the award for best original film score; and Cold War 2, which won best sound design.
Taiwanese filmmaker Chung Mong-hong's Godspeed won best film from China and Taiwan.
Full list of winners
Best film
Johnnie To, Yau Nai-hoi, Trivisa
Best director
Frank Hui, Jevons Au & Vicky Wong, Trivisa
Best new director
Wong Chun, Mad World
Best actor
Gordon Lam, Trivisa
Best actress
Kara Wai, Happiness
Best supporting actor
Eric Tsang, Mad World
Best supporting actress
Elaine Jin, Mad World
Best new performer
Tony Wu, Weeds On Fire
Best screenplay
Loong Man-hong, Thomas Ng, Mak Tin Shu, Trivisa
Best cinematography
Peter Pau, Cao Yu, See You Tomorrow
Best film editing
Allen Leung, David Richardson, Trivisa
Best art direction
Alfred Yau, See You Tomorrow
Best costume & make-up design
Yee Chung Man, Dora Ng, The Monkey King 2
Best action choreography
Tung Wai, Operation Mekong
Best original film score
Peter Kam, Yusuke Hatano, Soul Mate
Best original film song
Anthem of Shatin Martins, Weeds On Fire
Best sound design
Kinson Tsang, Lee Yiu-Keung, Cold War 2
Best visual effects
Sungjin Jung, Sang Hun Kim, Chan Soo Kim, Chul Min Kim, The Monkey King 2
Best film from China and Taiwan
Godspeed, directed by Chung Mong-hong (Taiwan)