EXCLUSIVE: Film is an adaptation of Stephen Fry's novel.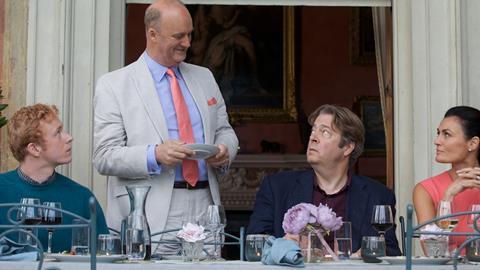 London-based sales agent Truffle Pictures has scored key territory deals on Stephen Fry book adaptation The Hippopotamus.
The comedy, which stars Roger Allam (The Lady In The Van), has been gone to Lightyear Entertainment, which has picked up all media rights for North America.
Further deals have been struck for Australia/New Zealand (Rialto Distribution), Scandinavia (Rialto Film Entertainment), Benelux (One 2 See Movies), Airlines (Terry Steiner International), CIS (Russian Report), Eastern Europe (HBO Europe). Truffle reported several more territories are in final negotiations.
Matthew Modine, Fiona Shaw and Tim McInnery also star. The film follows a disgraced poet and journalist who after being fired from his job decides to spend a month at his friend's country mansion. Upon arriving, he finds out that strange phenomena have been occurring at the mansion and he opts to investigate.
Distribution consultant Martin Myers will oversee the film's UK release in May on behalf of the producers.
The film has its premiered at the Palm Spring Film Festival in January.