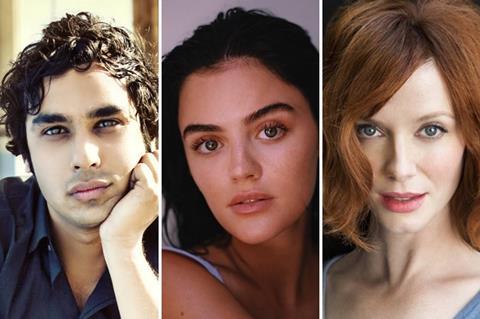 Kunal Nayyar, Lucy Hale and Christina Hendricks are to star in Hans Canosa's The Storied Life Of A.J. Fikry, which Mister Smith Entertainment will introduce to buyers at the Pre-Cannes Screenings next week.
The feature is an adaptation of Gabrielle Zevin's eponymous bestselling novel, which has been translated into 38 languages and sold more than five million copies worldwide. Zevin has also written the screenplay for the film, which is set to begin shooting this autumn. Arlie Day and Mike Page are casting the project.
The story centres on A.J. Fikry, played by The Big Bang Theory star Nayyar, who is at a low moment in his life. His wife has died, his bookstore is failing and his rare edition of Edgar Allen Poe stories has been stolen. But when he receives a mysterious package, Fikry is offered the chance to make his life over.
It will mark the fourth screen collaboration between US director Canosa and writer Zevin, after Alma Mater, Conversations With Other Women and Memoirs Of A Teenage Amnesiac.
Producers are Claude Dal Farra and Brian Keady of New York-based BCDF Pictures alongside Kelsey Law, Canosa and Zevin. Executive producers are BCDF's Brice Dal Farra, Nayyar, Hale and Hendricks.
David Garrett's London-based Mister Smith Entertainment is also co-financing two other features from BCDF Pictures: The Hating Game, also starring Hale, known for her role in US teen drama series Pretty Little Liars; and The Language Of Flowers, starring Kiersey Clemons.
Film rights to Zevin's most recent novel, Tomorrow, And Tomorrow, And Tomorrow, recently sold to Paramount for $2m following an auction that included more than 25 bidders.