The UCLA School Of Theater, Film And Television has established an award named after the former executive and Women In Film Crystal Award recipient.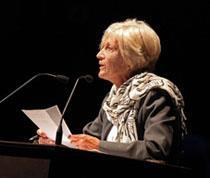 Albert Dorman, Boyle's brother and founding chairman of Los Angeles-based AECOM Technology Corp, has created the Barbara Boyle Promising Producers Prize in the UCLA TFT Producers Program.
The award will carry on Boyle's legacy in educating future filmmakers and starting in 2016 will be given to a UCLA TFT Producers Program student presenting in the annual Producers Marketplace during the UCLA School of Theater, Film and Television's Student Film Festival.
Boyle studied law at UCLA and from 1982-86 in her capacity as a production executive oversaw production on The Terminator and Platoon.
She co-founded Sovereign Pictures in 1990 with offices in Los Angeles and London and as an independent producer she made Phenomenon.
In April 2003 she stepped down from the presidency of Valhalla Motion Pictures to become chair of UCLA TFT's Department of Film, Television and Digital Media where she served for nine years.
She is currently the associate dean of entrepreneurial activities and special initiatives at UCLA TFT.