Companies including XYZ, Wild Bunch and Media Asia are set to attend.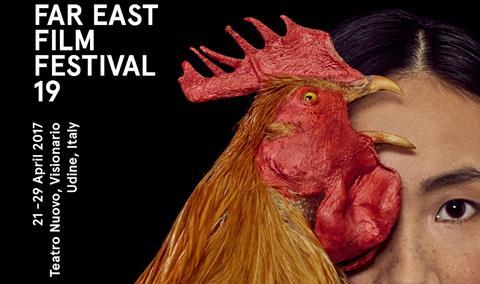 Scroll down for list of projects
Projects from 13 countries will be presented at this year's edition of Focus Asia, the co-production market held at Udine Far East Film Festival April 26-28.
More than 100 sales agents and financiers will gather for the event, including representatives of XYZ, Media Asia, M-Line, Showbox, Wild Bunch, Reel Suspects, and M-Appeal.
While last year's inaugural edition of Focus Asia featured screenings and events built around finished projects, this year's crop are all in the early stages of development.
The selection was curated from 72 submissions by a committee featuring representatives of the Bucheon International Fantastic Film Festival, Tallinn Black Nights Film Festival, Sitges International Fantastic Film Festival and the Nordisk Film & Fond's Nordic Genre Boost.
The project teams are from countries including Japan, Indonesia, France, Sweden, Italy, Singapore and Laos.
The Udine Far East Film Festival runs April 21-29 in 2017.
Focus Asia 2017 selected projects:
30 Thousand Kicks by Santiago Alvarado, produced by Joaquim Vivas Magno Entertainment (Spain)
Abracadabra by Faozan Rizal, produced by Ifa Isfansyah Fourcolours Films (Indonesia) and Isabelle Glachant Yisha Production (France)
Alone Like A Fool by Yutaka Tsuchiya, produced by Kazuhisa Matsumoto D-Atelier Inc. (Japan)
Femme Fatale by Kyoko Miyake, produced by Guillaume de Seille Arizona Productions (France) and Freddy Olsson Bokomotive (Sweden)
Last Memory by Wei-Hao Cheng, produced by Cody Huang Tape Writers (Taiwan)
Mr. Zhang by Patrizio Gioffredi, produced by Antonio Tozzi Yanez Film and Laura Catalano 8 Production (Italy)
The Inheritance di João Cândido Zacharias, produced by Tatiana Leite Bubbles Project (Brasil)
The Long Walk by Mattie Do, produced by Douangmany Soliphanh Lao Art Media (Laos) and Annick Mahnert Screen Division (France)
The Watchers produced by Giulia Achilli Dugong Srl (Italy)
Tiong Bahru Social Club by Bee Thiam Tan, produced by Bee Thiam Tan and Wan Ping Looi 13 Little Pictures (Singapore), Glenn Goei Tiger Tiger Pictures (Singapore) and Antti Toivonen (Finland)
Trials Of Chul by Danilo Bećković, produced by Marko Paljić and Danilo Bećković Gargantua Films (Serbia)
Vektor by Dain Iskandar Said, produced by Nandita Solomon Apparat Sdn Bhd (Malesia)
Vesper Seeds by Kristina Buozyte and Bruno Samper, produced by Kristina Buozyte Natrix Natrix (Lithuania)